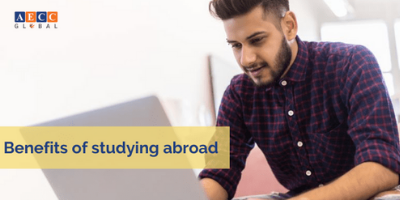 Benefits of studying abroad
Imagine this.
Studying Archaeology in Rio while enjoying locally brewed coffee every day,
Interning at a leading media firm amidst the bustle in New York,
Being mentored and shaped under the best lawyers in London, 
Ideating new App concepts with your peers while studying information technology in Perth,
Or just trying out that spinach ravioli recipe you came across, after a busy week at college in Rome!
Sounds exhilarating.
To have something to work towards is what keeps our wheels turning. To raise the bar at every juncture is necessary in today's fast-paced world. 
Here comes an overseas degree which acts as an upgrade to your qualification and becomes an added feather to your cap in the competitive world.
Every year there is a steady rise in the count of students traveling abroad to pursue higher education. Studying abroad can benefit you in more ways than you can imagine. 
Exploring and living amongst diverse cultures and ethnicities, Making lifelong connections and friendships, and receiving an education that enables holistic development. 
Now, this is just the tip of the iceberg.
Scroll down and get inspired to take that leap. 
Benefits of studying abroad 
Friendly atmosphere
Moving to a new place brings in new changes. You will experience different cultures, celebrate the new festivities, and enjoy the flavorsome delicacies every day. Students from different countries team up at the university, forming an exclusive network of fellow mates. This sets a unique platform where you can have exciting conversations and essential discussions.
Meeting a crazy bunch of new people and creating bonds is not only a benefit of studying abroad, but it's pretty much necessary!
Because you can hang along with them for the weekend getaways, they become your 2 AM study buddies; they take your parent's role when you need a shoulder to cry on while feeling homesick, and remain the happiest souls you can never forget for the rest of your life. 
Greater Exposure
The immense benefit of studying abroad is that it provides a more significant exposure with innovative progress ahead. Participating in the university events and meeting intellectuals from your field of study is a rejoicing experience. 
Universities come up with substantial projects and seminars. Hence the students will have enormous scope to expose their knowledge and share thoughts. 
Learn a new Language
Being multilingual is a beautiful thing. Whether you're doing it to advance your career, enhance your travels, explore the poet in you to use pick-up lines, or just out of pure merriment, the satisfaction of learning a new language is boundless.
Learning a language by reading a book, Taking a class, or using a language partner, for sure, helps us. Immerse yourself in this process and start speaking the language that you are inclined to.
Work Skills
The utmost benefit of studying abroad is that you will have the opportunity to work as a part-time employee or intern. Studying and also working abroad will aid your personal and professional growth.
In a globalized world, one of the best ways to set yourself apart is by having an international work or study experience.
You'll develop necessary personal qualities, professional skills, and you will be aware of the business flow in different countries.
Life skills coach
This benefit of studying abroad is remembered for a lifetime. The bulk of what you learn while studying abroad doesn't come from the classroom alone. For most of us, it might be the first time leading an independent life, and this is where a lot of intangible skills outshine.
Personal development, Individuality, Multitasking skills, organization, self-confidence; what not? These life skills help you evolve as a person.
See the world 
Studying abroad is not just a change of place. It is hard work, Exams, assignments, and educational events – your schedule will be packed. But free time can be spent exploring in and around different parts of the world.
Students, it's time to gear up your spirits. You have all the feasible options around you and have more energy than a can of Red Bull. Leave behind all your fears and leap your step.
Start your journey by having all the benefits of studying abroad in mind.
Eat the best fish tacos, sleep in a hostel room of your best buddies, have a drink of chilled cashew milk on the beach in Barcelona, wander in the middle of the night, and experience the world in a way most other people will never have the chance to.
---
By accepting you will be accessing a service provided by a third-party external to https://www.aeccglobal.in/