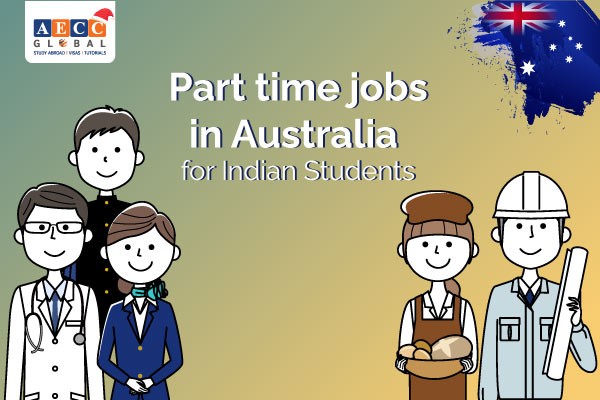 Part-Time Jobs in Australia for International Students
Australia is a popular study abroad destination for both Indian students and international students from all over the world. While a globally acknowledged excellent education system is one of the numerous draws, students also want to see the country's many tourism sites.
For Indian students, in particular, there may be a variety of reasons why they might want to work part-time while studying in Australia, such as paying off student loans, gaining local experience in Australia and establishing future work opportunities, or simply earning extra money to cover living expenses. Whatever the cause, there are several chances for overseas students to work part-time in Australia.
Continue reading to learn more about part-time jobs in Australia for foreign students, including potential possibilities, pay scales and taxes, and rules regulating part-time work for international students in Australia.
Part-Time Job Regulations For International Students In Australia
International students in Australia have the option of working up to 20 hours a week on a part-time basis. Anyone considering working part-time in Australia must follow the laws and regulations established by the government, as well as the policies outlined in the visa. If the requirements are followed correctly, the government has the authority to terminate students' visas.
Things You Should Know About Part-Time Jobs in Australia
Students in the Postgraduate Research Sector may also work an unlimited number of hours following the start of their research or Ph.D. thesis. Furthermore, if the student has enrolled in any preliminary courses, the student is authorized to work under the 40-hour-per-fortnight rule.
Graduate Stream students who have finished their studies in Australia may apply for a Post Study Work Permit.
Keep in mind that students will need to get a Tax File Number to work part-time. Students can apply for a TFN online through their school's official website. They are international students having passports that are up to date.
What Laws Apply to International Students for Working while Studying in Australia?
When it comes to working while studying, the Australian government gives all students the same benefits. In this regard, you have the following options:
The Fair Work Act of 2009 establishes a minimum wage for all workers.
Unfair dismissal from a job is being challenged.
Breaks and rest periods
A workplace that is safe and healthy
Finally, Australia provides great part-time employment options for overseas students. While it would not be enough to cover tuition, it is generally sufficient to support a reasonable way of life. Furthermore, there are other solutions accessible. As a result, if you want to study in Australia, be certain that there is more to it than simply superb education. Please check our website frequently if you are a student wishing to pursue your studies in Australia. AECC Global is associated with Australia's leading institutions and will help you through every stage of the overseas education process.
Norms for Part-Time Jobs in Australia
As of July 1, 2016, the rules for student visas in Australia have changed. Students who arrive in Australia on a Visa subclass 500 are now able to work 40 hours per week while the course is in session and an unlimited number of hours while the course is not in session (during breaks). The sole constraint is that the student cannot start working before the course begins.
The hours might be separated based on the needs of the students. A student, for example, may work 10 hours in week one and 30 hours in week two, or 15 and 25 hours. Students must be aware, however, that in the above example, if a student works 30 hours in week 2, they can only work for 10 hours the following week; otherwise, the requirement of 40 hours in a fortnight would be breached in a Visa cancellation.
Types of Part Time Jobs in Australia
If you are a professional pursuing additional education in Australia, you can apply for and obtain a position that is consistent with your qualifications. Aside from that, students typically work part-time in the following industries.
Retail sales positions at supermarkets and department shops
In dining establishments, cafés, and bar
In hotel and motel rooms (both in the kitchens and administration and housekeeping)
Agriculture and associated activities
Telemarketing and sales
Administration or clerical positions in many businesses
As a Tutor – both privately and in institutions
On-Campus Part-Time Jobs in Australia for International Students
Students may choose to work on campus, but these positions are only offered to deserving students. Because these occupations are in short supply, competition for them can be fierce. To name a few, students can work as library assistants, lab assistants, and assistant coaches in gyms and swimming pools. Students can apply for on-campus jobs through their individual departments.
How to find Part Time Jobs in Australia
While applying to Australian institutions for study, overseas students can seek a part-time or full-time job in the following areas:
Inquiring with friends or colleagues
Websites for online job postings
Dedicated university or college websites and job posting boards
Professional recruitment agencies
The institution's alumni groups
Students with past expertise in industries such as writing, design, and so on might look for freelance employment on internet job boards.
Several charities and non-governmental organisations (NGOs) in Australia want volunteers to assist with various tasks. International students are welcome to apply for a variety of volunteer ships.
| | |
| --- | --- |
| Job Role | Salary |
| Private Tutor | 20 to 40 Dollars |
| Cashier | 21 to 25 Dollars |
| Delivery Boy | 8 to 12 Dollars per Delivery |
| Waiter/ Waitress | 21 to 25 Dollars |
| Admin Officer | 25 to 30 Dollars |
| Bartender | 22 to 25 Dollars |
| Customer Care Executive | 25 to 30 Dollars |

How You Can Find Work
You'll need a résumé before you can start looking for and applying for employment. Many universities provide a careers department that can help you write and structure a professional résumé that includes your education, talents, interests, and past job experience. Your résumé must be error-free, so you should have it checked by someone fluent in English before you begin looking for work.
Once you have a résumé it's time to search for a job!
You can take your résumé to a nearby shopping center or retail strip and give it to businesses. Ask the management if there are any open opportunities, and if not, leave your résumé with them to be considered for future openings. It is critical that you dress nicely to make a good first impression.
You can locate job openings by searching the 'careers' section of employer or industry websites. Many of these websites will allow you to apply online.
You may look for part-time employment in your region by using an Australian job search website. Seek, MyCareer, CareerOne, and ApplyDirect are the most popular job-search websites.
Your college or university may also offer a careers department that may connect you with businesses or a job search page on their website that includes possible part-time employment.
Highest Paying Part Time Jobs for Students in Australia
Some of the finest high-paying part-time jobs for overseas students include:
Cab/taxi driver - high hourly wage of roughly $15
Tutor – about $20-$30 per day, depending on experience
Delivery partner for companies like Uber-eats
Authorized service providers
Waiter in a restaurant
Stylist
Secretary/Personal Assistant
Oral/Dental Hygienist - An associate degree is required.
Personal fitness instructor
Security guard – greater compensation for working evenings as well as during the day
---
By accepting you will be accessing a service provided by a third-party external to https://www.aeccglobal.in/