Study Abroad Consultants in Raipur
Ease your overseas education journey with FREE assistance from AECC. Walk in to your nearest AECC office today!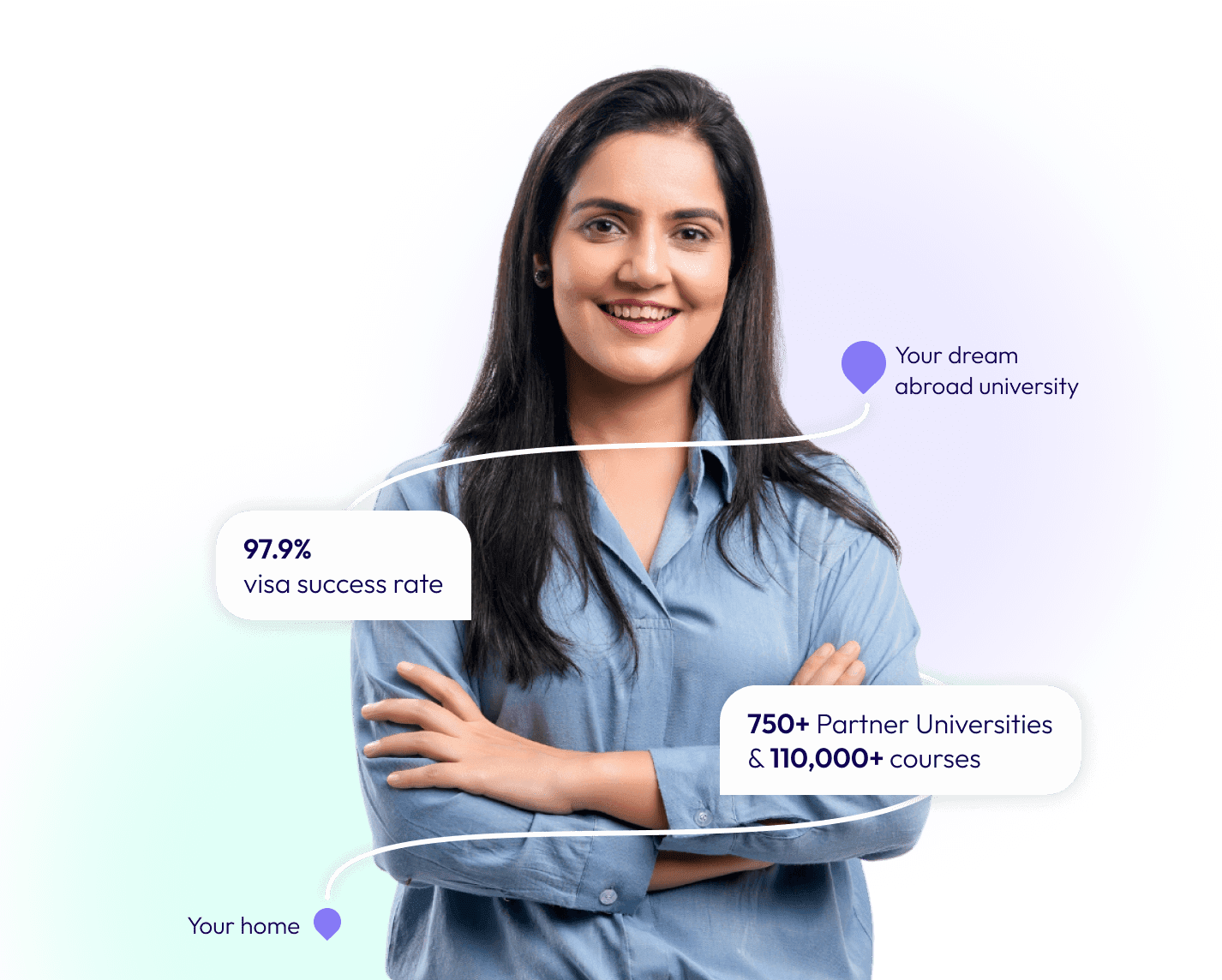 With you at every step of your
study abroad journey
Get personalised, friendly, honest
guidance for free
Get personalised, friendly, honest
guidance for free
With you at every step
of your
study abroad journey
Overseas Education Consultants in Raipur
AECC has been assisting students in realising their dreams of studying at top destinations like Australia, the USA, the UK, Canada, New Zealand, Ireland, Germany and Dubai for more than 14 years now.

Our association with 750+ universities that offer over one lakh courses covering all streams and disciplines have made us one of the best study abroad consultants in Raipur.

We have helped 55,000+ students' study at their preferred destinations and universities. Every year, several students from The Capital of Chhattisgarh achieve their dream of exploring newer opportunities abroad. Studying abroad is not only about pursuing a course away from your home country. It also opens the door to exploring new places, learning new languages and cultures, building friendships, and much more. It is a mix of all these experiences that make studying abroad a rewarding experience. 

If a student chooses to study in Canada, the opportunity to live and study at affordable costs is open. Similarly, for a student who opts to study in the USA, there is a chance of studying in a country with a stable economy.

Each destination has something unique to offer to the students. While a student who chooses to study in the UK gets the opportunity to study at a top-ranked university, a student who opts to study in Australia gets the chance to live in a sophisticated country. Studying abroad is no longer difficult, especially if students get the right assistance from industry experts like AECC.
Since 2008, AECC has established itself as one of the best overseas education consultants.
We offer free study abroad counselling to all students who approach us. We have trained professionals and counsellors who help students identify what they need and know their interests. This helps the students redefine themselves as well. At a time when the internet is the primary source of information used by students for anything and everything, there are chances of being misguided as well. It is here that the importance of AECC comes to picture.
Our experts make sure that every student gets what they deserve. Our team of 300+ counsellors aid students by offering correct information that is relevant and reliable at the same time. From researching the best courses and universities to visa guidance, from preparing impressive Letters Of Recommendation (LORs) and Statement Of Purpose (SOP) to applying to universities, we offer complete guidance to our students. All these have contributed to making AECC one of the best overseas education consultants in Raipur.
We have identified the needs of our students, and it was thus that we found out that the English proficiency test stands as a big burden in front of many Indian students. It is thus that we set up the best IELTS coaching centre. What makes AECC different is that we align our goals with that of our students - realising their dream of studying abroad.
Putting you first in your study abroad journey
We are thrilled to have been a part of 60,000+ successful student stories. Hear a few of their experiences
Team AECC has been a pleasure to work with; They always communicate clearly, respond quickly and treat me with professionalism, openness, and support. Many thanks to the education consultant for making the unthinkable - a reality by providing excellent assistance throughout the process and helping me get my application approved. I truly appreciate that!
Had a fantastic experience with AECC. I want to express my sincere gratitude to my counsellor for his assistance with the application and visa processes. I received incredible help throughout the procedure and was given close attention to every little detail during my visa processing and university application. He was only a phone call away for any queries. I would highly recommend AECC as the best consultancy. Thank you, AECC Team.
Had a great experience with AECC for my student visa. I got my visa on the first attempt, and the whole process was very smooth due to the excellent staff. They are very experienced and professional in their work and also supportive and friendly. Overall, my experience with AECC was great, and I would highly recommend AECC for student visa applications.