Some of the important points to know when applying for an Australian University and acquiring a student Visa are:
You can make online applications through ImmiAccount.

The application fee is around 630 AUD for subclass 500.
The funds required as proof for a single student are 62,222 AUD. 
Australian Student Visa (Subclass 500)

In July 2016, the student subclass 500 visa went into force. It is valid for the duration of your study programme and allows you to Stay in Australia for up to five years from the date of registration. The standard application fee for an Australian visa is 620 AUD (34,311 INR). Some of the benefits of acquiring this student visa include the ability to bring a family member to Australia, engage in a qualifying course of study, and apply for the programme of choice online in or outside of Australia.


International students must meet the following requirements in order to get a subclass 500 student visa:


In Australia, I am enrolled in a full-time on-campus programme.

You must have an OSHC (Overseas Student Health Cover) or fall into one of the excluded groups.
You must be at least 6 years old.
If you are under the age of 18, you must show documentation of a welfare arrangement.
Australia Student Visa Fees

The current charge for the Student Visa (Subclass 500) is AU$575 (US$414). As part of your visa application, you must arrange Overseas Student Health Cover (OSHC) for yourself and any accompanying family members, which must be valid for the duration of your stay.
As an international student, you must pay visa costs according to the categories listed below:
| | | | | |
| --- | --- | --- | --- | --- |
| Visa subclass | Base application charge | Additional applicant charges if 18 years or above | Additional applicant charges if less than 18 years | The subsequent temporary application charge |
| Student visa (subclass 500) | | | | |
| Student visa (subclass 500) (subsequent entrant) | | | | |
| Student visa (subclass 500) – Postgraduate research sector | | | | |
Apart from the visa subclasses, here are the other costs for visas in Australia: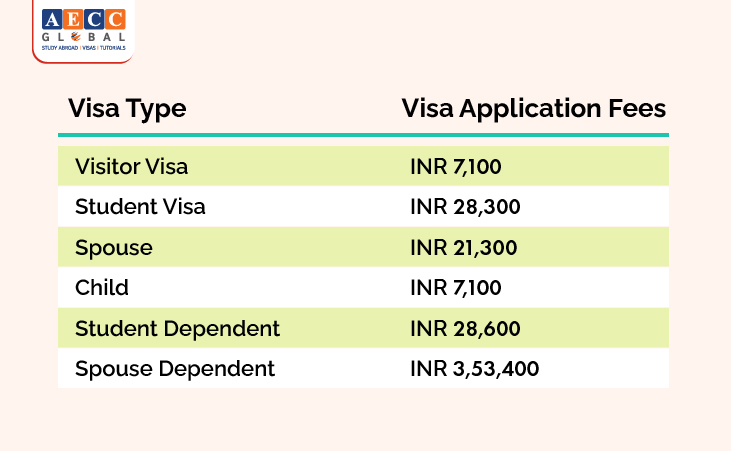 Australia Student Visa Requirements
Subclass 500 is the name given to the Australia Student Visa.

Only if you wish to study a registered course or a portion of it full-time will you be eligible for a student visa.

The student visa has a maximum validity period of five years.

The course you want to take must be on the Commonwealth Register of Institutions and Courses for Overseas Students (CRICOS).

You will be sent an electronic Confirmation of Enrolment (eCoE) certificate, which will validate your enrollment in an Australian university.

Genuine Temporary Entrant (GTE) statement - this is proof that you want to come to Australia simply to study and not to live.

four passport-sized photos taken recently

Certified or notarized copies of academic transcripts/documents

Overseas Student Health Cover (OSHC) - This health insurance is approved by the Australian government and offers basic medical and hospital coverage. This insurance is available through your university.

If you are a non-native English speaker, the results of English language examinations such as IELTS, TOEFL, and PTE are important.

Evidence of financial resources to meet all costs during the research period

Proof of civil status, if applicable

Prior to your application, the Australian University will notify you of any extra requirements.
Financial Requirements - In order to get a student visa, you must demonstrate that you have the finances to cover your course fees, travel, and living expenses.

Character Requirement - You must present a certificate proving that you have no criminal history.

Proof of visa fee payment - evidence that you have paid the necessary visa costs.
If there are any other additional requirements, the university you have been selected for will let you know about them.
Documents Required to Apply for Student Visa in Australia

When applying for your student visa for Australia, you will generally need: 
Proof of enrolment (your electronic confirmation of enrolment)

A valid passport

Your visa application fee

Your Genuine Temporary Entrant (GTE) statement 

Academic and work experience documents 

Evidence of your English proficiency skills (such as IELTS test scores) 

Evidence of financial ability (tuition fees, living expenses, expenses for dependents, return airfare)

Details of your health insurance policy (Overseas Student Health Cover) 

Passport-sized photographs
If you are under 18 years of age, you will also need to provide additional documents such as parental consent.
*Please note that these are the basic requirements, speak with your AECC counsellor for a detailed list of documents required for visa processing
Eligibility for Student Visa in Australia
As an overseas student wishing to Study in Australia, you must ensure that you meet the following eligibility requirements in order to receive a student visa:


Enroll in a study programme and provide evidence


Your Australian student visa application must include proof of enrolment, which is often accessible in one of the following formats:


CoE, or Confirmation of Enrollment, is sent to students who have been accepted for full-time courses that are registered on CRICOS (Commonwealth Register of Institutions and Courses for Overseas Students).

Packaged courses and CoEs: If you are applying for more than one course, your visa application must include all of the CoE codes, or your student visa will only cover the term of residence for the indicated CoE.

You may apply for two or more courses, with one course leading to the next. The time between the start of the two courses should not be more than two months. When the first course closes at the end of the academic year and the next course begins at the start of the next academic year, the gap time is waived.

Letter of Support: If you are admitted to a full-time study or training programme sponsored by the Australian Minister of Foreign Affairs and Trade scholarship programmes, you may submit your letter of support as proof of enrolment.

Similarly, if you are receiving funding from the Australian Department of Defense, you can apply for a student visa with your letter of support.

Acceptance Advice for Secondary Exchange Students (AASES): Students considering an exchange degree from Australia might include this in their application.

Letter from Instructor: PG students who need to stay in Australia while their thesis is being graded must present a letter from their educator confirming this.
Australia Student Visa Process
International applicants must apply for their Australian student visa at least 6 months before the course begins. Let us now brief the overall process involved in getting your student visa to study with Australian universities
: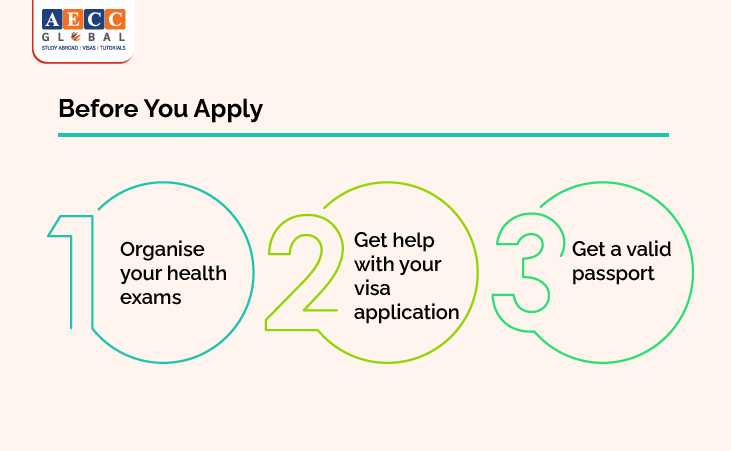 STEP 2: Documents required for an Australian student visa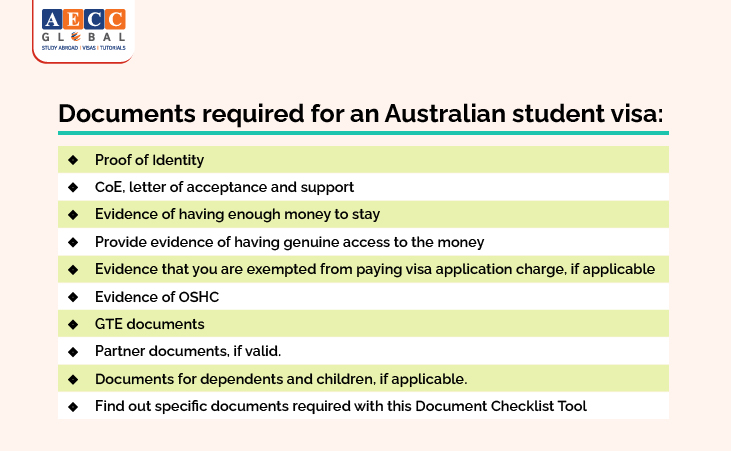 STEP 3: Where to Apply for Visa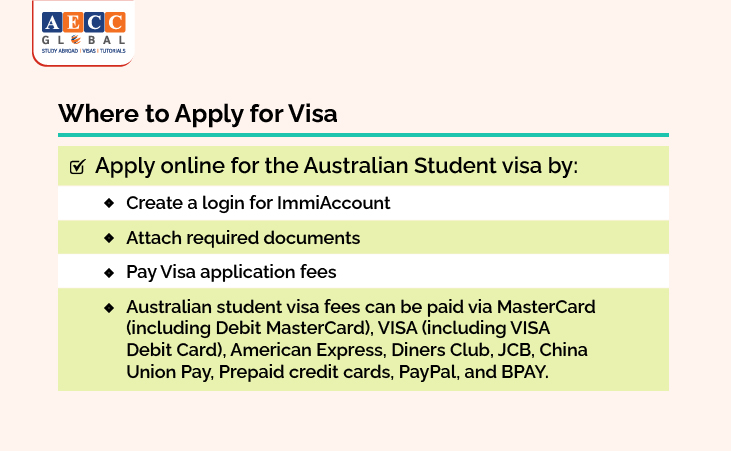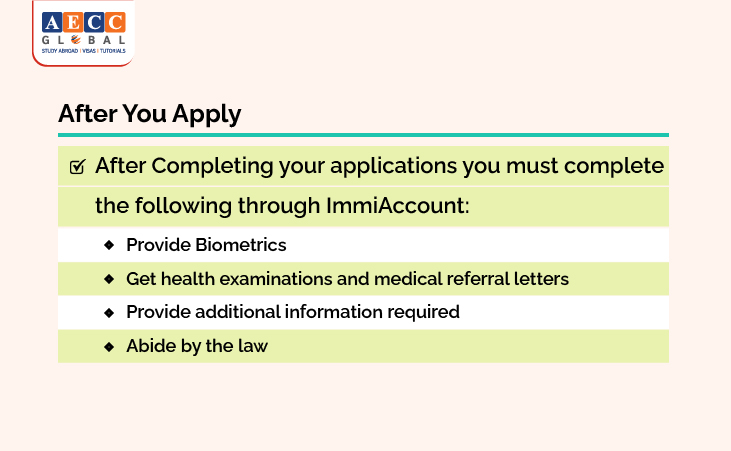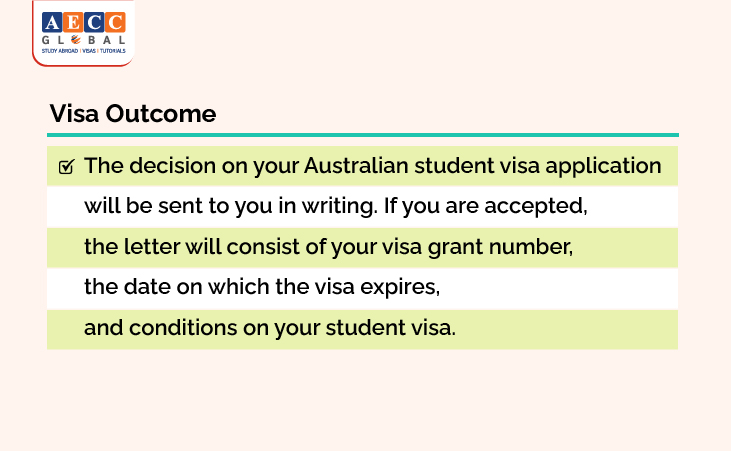 Australia Student Visa Processing Time

Usually, the student visa for Australia is processed within a month, however, the maximum time it could take is 10 months. However, Simplified Student Visa Framework (SSVF) streamlines the visa processing time. Processing Time for Student Visa is:


| | | |
| --- | --- | --- |
| Stream | 75% processing | 90% processing |
| Foreign Affairs or Defence Sector | 45 days | 76 days |
| Postgraduate Research Sector | 3 months | 6 months |
| Independent ELICOS Sector | 4 months | 9 months |
| Vocational Education and Training Sector | 6 months | 10 months |
| Higher Education Sector | 44 days | 6 months |

NOTE - To apply for Student Visa Extension in Australia use ImmiAccount and choose the visa extension option from any of the available options.
How to Apply for Australia Student Visa

You can apply for an Australian Student Visa up to 124 days before the start of your term. You can also visit Australia up to 90 days before the commencement of your study.


The Australian Student Visa application procedure is now entirely online, according to the revised SSVF Guidelines. Here are the steps you must take:


To begin an online application, you must first establish and log into an ImmiAccount.

Applicants must complete the visa application form for the visa subclass to which they are entitled. (On behalf of the student, education agents and Registered Migration Agents (RMAs) situated in India who are registered to utilise the student online lodgement option can lodge student eVisa applications.)

To track your application, you will need to sign in to your ImmiAccount one more. You may use your account to upload documents, amend passport information, change your email and address, and track the status of your application.

A Transaction Reference Number (TRN) is a one-of-a-kind number that is issued to each online application. This will allow you to track and manage your application, determine when you need to contact the visa centre and check your visa entitlements.
Student Dependent Visa Australia

If you are travelling to Australia to study, you may bring family members with you. You can either add them to your initial student visa application or apply for their visas once you begin your education in Australia so they can join you. Dependent visas are available for spouses, partners, and unmarried children under the age of 18.


If you include dependent family members in your original student visa application, you must provide their information on Form 157A. The primary student visa holder must have a visa that is valid for at least 12 months and the requisite cash and insurance to cover all expenditures during that time.


If you are applying for a visa after beginning your study, you must provide the following documents:
Post-study Work Options for Students

Students with Subclass 500 visas can work up to 48 hours per week. They can also work without limits on the number of hours they can work during breaks or vacations. They cannot, however, begin working until the course begins. Casework is occasionally required as part of the course, and the restriction does not apply in such situations. Students in the Postgraduate Research Sector may work an unrestricted number of hours at the start of their Ph.D. thesis or research project. Those who have completed their studies in Australia may apply for post-study work visas under the Temporary stream-Graduate.


We can assist you on how to proceed with the application process if you are an AECC student with an offer letter from one of our Australian partner universities. We'll keep you up to date on the most recent visa criteria and conditions, and we'll help you prepare the appropriate paperwork for submission.


Our team of professionals will lead you to official websites and authorised immigration representatives to guarantee you get the most up-to-date application paperwork and information. To save you time, we can additionally certify, translate, and courier your documents.


Please check our website on a frequent basis if you are a student wishing to pursue your studies in Australia. AECC is associated with Australia's leading institutions and will help you through every stage of the overseas education process.
1. Can i do business on student visa in Australia?
Australia is looking for business owners! And, yes, you can start a business while on a student visa!
2. Can tourist visa be converted to student visa in Australia?
3. Can i apply student visa while in Australia?
4. Can i extend my student visa in Australia?
5. Can student visa dependent work in Australia?
6. Can a pregnant woman apply for student visa in Australia?
7. Can i bring my family to Australia on student visa?
8. Can i bring my parents to Australia on student visa?
9. Can spouse work on student visa in Australia?
10. Who can show funds for student visa in Australia?