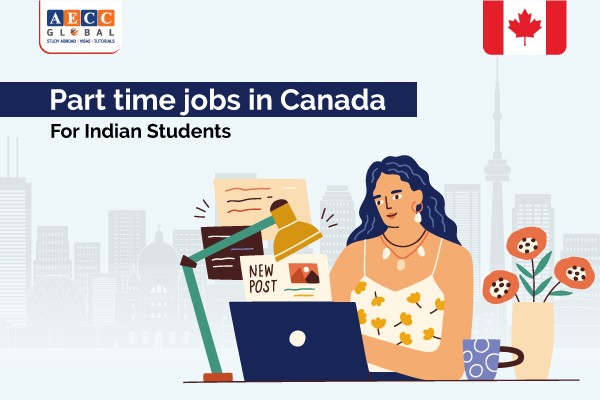 Part Time Jobs in Canada for International Students
So, you'd want to go to school in Canada? Do the costs make you second-guess your choice? Are you overwhelmed by expensive tuition, the cost of living, or other day-to-to-day expenses?
If you want to study in Canada, you'll have to be a little more lenient with your spending. It's not a smart idea, though, to give up on your ambition and future merely because of this. What's to stop you from taking a second job to supplement your income? It all seems wonderful, don't you think?
Being a student in a foreign country might be frightening at times. Keeping up with the essentials may necessitate having to spend more money than normal. You might be hesitant to ask for extra money from your parents or sponsor. You may want to be more self-sufficient and provide for your family on your own. Therefore, you must study this post about Popular Part-time Job opportunities in Canada that pay students well.
Did you know?

Canada is a popular study abroad destination for students from all over the world. More than 500,000 overseas students will be enrolled in a Canadian institution by 2020, according to IRCC.

The following are the top jobs for students studying in Canada. Each offers a good wage and flexible hours, and one of them could be the perfect fit for you!
1. Teacher's Assistant ($15.65/hour)
Many colleges and professors recruit teaching assistants (TAs) to help them with a variety of responsibilities during the semester. Tutoring and assisting students, preparing lesson plans, and updating documentation and student grades are all possible tasks. Applicants are sometimes needed to have finished a year of university or college, to be well organised, and to have prior expertise in a certain subject.

What is the most enjoyable aspect of becoming a TA? You are not required to leave campus. Keep in mind that you must not just keep up with the course you're assisting to teach, but also with your own studies. While assisting students with their midterms, you must also prepare for your own.
2. Server or Bartender ($11.00/hour + tips)
The most frequent of the top occupations for students is waiter or bartender, owing to the flexible schedule it provides. However, it is more frequently than not necessary to work nights and weekends.

While the hourly salary isn't the highest, servers and bartenders are compensated with tips. Depending on your sales, you may earn between $75.00 and $200.00 in tips every night, or perhaps more.
In Canada, the usual tipping rate is between 15% and 20%, however, tips vary according to the institution, time of day, any day of the week. However, if you opt to serve or bartend in a city with a big student population, the business is likely to be busy on weekends. Yes, this means more work and potentially a longer night, but it also means good tips!
3. Uber or Lyft Driver ($14.00–$25.58/hour)
Being an Uber or Lyft driver is one of the most popular occupations available today for students (and many others). For those who are unfamiliar with Uber, it is a ridesharing firm that connects drivers and customers via a smartphone app.

To be an Uber driver, you must be 21 years old, have a reliable automobile, and have a smartphone. If you have all of these, you've found a fun career that you can work on whenever you choose! It's worth noting that the most popular times are early mornings, nights, and weekends.
If you live in a city with a high student population, you may earn a good living driving on weekends, much like a waiter or bartender. Of course, your salary is also determined by how frequently you drive.
4. Tutor ($15.00–$20.00/hour)
Do you have a particular area of interest? Do you love imparting knowledge to others? If you responded yes to both of these questions, tutoring might be right for you. You can tutor kids in elementary school, high school, university/college, and wherever in between. You can do this on your own or through a school-based tutoring programme. You will not only practice the abilities you currently have, but you will also learn new ones. You could perhaps discover something new! Maybe you'll discover a passion for teaching.

The remuneration is totally determined by the subject's character. Some tutors make up to $50 per hour, more if the topic is challenging. If tutoring is of interest to you, it's best to do a little research to better understand the rate you should charge.
5. Freelancer ($25.60/hour)
There are several sorts of freelancers. A freelancer can work as a writer, web designer, graphic designer, and so on. You may work as a freelancer in almost any sector. Freelance Jobs in the creative sector may be quite lucrative. For the sake of time (and space), we will concentrate solely on freelance writing.

If you like writing or editing, this is an excellent career path for you. Not only do you get to choose the topic, but you also get to choose where you write, whether at home or somewhere, and when you write. If you have some free time in between school tasks, why not put your abilities to use while also getting paid for them? This is a great way to get experience and build your resume if you plan to have a career in writing.
6. Nanny ($14.67/hour)
Do you love working with children and have previous experience caring for them? If so, you might work as a part-time nanny. Many parents look for help with their children, whether it's getting them up from school, making meals, putting them to bed, or simply amusing them.

Hours are usually flexible, and there are times when you may focus on your assignments while the kids are napping. If you have CPR training, you have an even better chance of getting the job. The hourly wage may be substantially greater depending on your duties.
7. Barista ($11.41/hour)
Working at a coffee shop is a favourite pastime of many students! The atmosphere is pleasant, and who can say no to caffeine? Because of their flexible schedules, students are in high demand at coffee shops.
Many people believe that working as a barista does not pay well, and they are technically correct. However, if you choose to work at a firm like Starbucks, students receive outstanding benefits that may make working there worthwhile.
8. Dog Walker ($14.16/hour)
Is there anything better than getting paid to hang out and walk dogs? As some work on-call, being a dog walker may necessitate a bit more flexibility than other occupations. However, there isn't much of a time investment in general.
Regardless of the weather, you may be expected to walk a dog for 30 to 60 minutes. However, depending on your duties and the number of dogs you walk, you may be allowed to charge more. To supplement your income, try giving pet-sitting services while the owner is gone.
9. Translator ($21.16/hour)
If you know a second, third, or fourth language, you can definitely utilize it as a translator! To work as a translator, you must be able to speak, read, and write in a foreign language.
These extra abilities are necessary since you may be involved in supporting textual communication between persons, working on papers, and more. Jobs may be available in an organisation, or you may opt to work independently.
10. Salesperson ($12.42–$50.00 and higher)
If you enjoy talking to people, a career in sales may offer you the money and flexibility you need. Working as a salesperson also teaches you a wide range of transferrable skills.
However, your earnings are totally contingent on where you work. Some companies provide commission-based sales, which give you greater control over your earnings. To put it simply, if you sell more, you make more—then it's easy!
Part-Time Jobs in Canada - OFF Campus
Citizenship and Immigration Canada states that study permit holders in Canada may work off-campus throughout their studies.
International students are allowed to work off-campus without a work permit if they are:
1. Full-time students with a valid study permit;
2. Enrolled at a designated learning institution* for post-secondary studies or studying a secondary-level vocational programme in Quebec, or
3. Enrolled in an academic, vocational, or professional training programme of at least six months.
*Designated Learning Institution is a school in Canada that a student must be accepted before they can qualify for a study permit.
Here are some examples of off-campus jobs for overseas students:
Companies that employ students as interns, research assistants, or coordinators in their field of study
Banks as tellers, customer service representatives
Restaurants as servers, hosts, cooks
Stores as customer service representatives, cashiers, designers of store displays, etc.
Part-Time Jobs in Canada - On Campus
Working on campus is a very handy method to earn money while studying and is an excellent alternative for a student resident who has free time after lectures.
Here are just a few of the fantastic venues on campus where students may work:
Administrative offices of universities – Students can be hired as interns, assistants, or receptionists
Stores and restaurants
Bookstores in Campus
University libraries
Coffee shops
Top Cities in Canada to Study and Work
Given below are the top five cities in Canada that welcome international students and offer them a pool of innovative job opportunities, according to the 2019 global ranking by QS:
| | | |
| --- | --- | --- |
| City | Global Ranking | Employer Activity |
| Montreal | 6 | 78 |
| Toronto | 11 | 78 |
| Vancouver | 16 | 72 |
| Ottawa | 45 | 35 |
| Quebec | 115 | 1 |
The alternative to working low maintenance is a gift for some global understudies as it assists them with meeting the expense of concentrating abroad. You can't work full-time, so it would be great if you could choose a part-time job that offers better wages and flexible working hours.
Part-Time Job Hours in Canada
On a Canadian student visa, you are permitted to work 20 hours a week in a paid employment. However, this is the maximum amount of hours you may work, and you are free to work fewer hours. Students enrolling in challenging or intense courses are usually advised by universities to work a maximum of 12 hours per week. This is due to the fact that working for more than this amount might have an impact on a student's academic achievement. As a result, if you believe you are unable to maintain a work-study-life balance, you might lower the number of working hours.
How to Find a Part Time Job in Canada
On-campus job postings are posted on bulletin boards at all schools and institutions. There will also be websites that provide information on comparable career opportunities.
You can work in cafés, restaurants, and coffee shops; retail businesses such as apparel or sporting goods stores; as a lifeguard or swimming teacher at a campus pool or beach; bookshops, libraries, and so on. You can work as a translation if you are multilingual. Because Canada is a cosmopolitan country, the services of a translator are in high demand.
Highest Paying Part Time Jobs in Canada for Students
Everyone requires money. Getting a High-Paying Part-Time Job appears to be the only option for most foreign college students to pay their tuition, rent, and other expenses. The intriguing aspect is that Canada allows students to work part-time while studying. Working part-time might also provide extra perks. Some firms and employers, for example, provide employment perks to part-time employees. Tuition reimbursement, flexible schedules, health, and dental care, discounted stocks, and employee discounts are examples of such advantages.
Although this may appear to be a large investment in a student employee, it is extremely beneficial and necessary for certain businesses to establish a young environment in order to attract more students as consumers. The intriguing aspect is retaining exceptional students and providing them with the opportunity to grow along with the firm.
RIDESHARE DRIVER
TRANSLATOR
WAITER
CONTENT EDITOR
NIGHT AUDITOR
WRITER
FITNESS INSTRUCTOR
SOCIAL MEDIA ASSISTANT
DOG WALKER
BARTENDER
CAFETERIA WORKER
Part Time Job Salary in Canada
Students are often paid by the hour for part-time work. On average, the hourly wage is about $10. If your primary goal is to obtain job experience, such as assisting your professor with research, you do not need a work visa. This type of labour must be done on campus and will pay less; you may work more than the required number of hours. So, even if you just have a student visa, you may still do academic work on campus.
After completing six months of study, a foreign student may apply for an off-campus employment permit. This permission will allow the student to work off-campus for a maximum of 20 hours per week.
When studying abroad, it is natural to be concerned about finances. Part-time work might help you manage your time more effectively. They also train students in a variety of activities.
We hope this blog has helped you comprehend all of the professions available to you while studying in Canada. Do you still have any questions? You can Contact AECC Global, and our specialists will assist you in gaining a better knowledge of the procedure.
---
By accepting you will be accessing a service provided by a third-party external to https://www.aeccglobal.in/