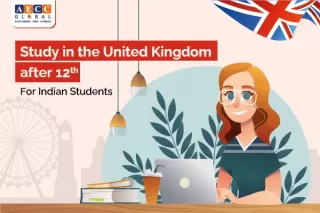 Study in UK for Indian Students after 12th
"Nobody can discover the world for somebody else. Only when we discover it for ourselves does it become common ground and a common bond and we cease to be alone"

– Wendell Berry.
Studying in the UK has always been popular among Indian students. The United Kingdom, home to some of the world's oldest institutions, is one of the top study destinations and has established its mark in providing great education and conducting world-class research.
For Indian students who wish to
Study in the UK
after their 12th, there are several undergraduate programmes available in nearly every subject of study that provide worldwide exposure and globally recognised degrees that can help them fly towards their ideal job. This article provides comprehensive information on what it's like for Indian students after the 12th grade to study in the UK, including courses available, entrance intakes,
Eligibility Requirements
, and
Scholarships
, among other things.
Admission Intakes
Although each university has its own application dates and admissions process for different programmes, it is vital for students wanting to study in the UK to be aware of the major entrance intakes. The following are the key entrance intakes for Indian students after their 12th grade to Study in the UK:
Fall Intake : September to December
Spring Intake : March to April
There is also a winter intake for January applications, which is reserved for certain institutions and programmes, while the fall and spring intakes are typically chosen by majority of students enrolling for undergraduate courses after their 12th grade or postgraduate studies after their UG.

Courses in the UK after 12th
Continuing your education in the United Kingdom after the 12th grade may be extremely helpful to your career. First and foremost, studying in one of its world-class schools will provide you with a worldwide experience that will help you stand out from the crowd. Whatever job path you select, it can help you enhance your intellectual, social, and leadership abilities. You will get firsthand knowledge about their culture and traditions, as well as meet new friends and create lifelong experiences.
Furthermore, businesses all around the world value students with UK degrees. Your UK degree or certificate might lead to a profitable career opportunity. Here is a list of the subjects in which the majority of students enrol.
| | |
| --- | --- |
| S.NO | Courses in UK after 12th |
| 1. | Business & administrative studies |
| 2. | Subjects allied to medicine |
| 3. | Biological sciences |
| 4. | Social studies |
| 5. | Creative arts & design |
| 6. | Engineering & technology |
| 7. | Computer science |
| 8. | Languages |
| 9. | Physical sciences |
| 10. | Law |
| 11. | Historical & philosophical studies |
| 12. | Education |
| 13. | Medicine & dentistry |
| 14. | Mass communications & documentation |
| 15. | Mathematical sciences |
| 16. | Architecture, building & planning |
| 17. | Agriculture & related subjects |
| 18. | Veterinary science |
Diploma Courses in UK After 12th
Every year, hundreds of Indian students travel to other nations to study. Diplomas and certificate courses are short-term programmes which students can complete in a brief amount of time. This assists them in obtaining employment by utilising the abilities learned during the training. The following are the top Diploma courses in the United Kingdom:
S.NO

Diploma Courses in UK after 12th

University

Screenwriting Diploma

London Film Academy

2.

Diploma in Maritime Shipping

Shipping College

3.

HND in Accounting and Finance

Regent College London

4.

Foundation Diploma in Arts & Design

Cambridge School of Visual Arts & Performing Arts

5.

HND in Business

HND in Entrepreneurship and Business Management

Regent College London

6.

Diploma in Business and Management

London School of Planning and Management

7.

Cognitive Behavioural Therapy Diploma

Harley Oxford

8.

Diploma in Health and Social Care

London School of International Business

9.

Diploma in Accounting and Finance

University of Bolton

10.

Executive Diploma in Mediation

International Career Institute
Arts Courses to Study in UK after 12th
If you are not interested in commerce or science, you can pursue a career in the arts. There is no question that after completing your 12th grade, you will be able to discover courses in the arts all around the world. Most popular courses are:
Anthropology and Archaeology
Music
Hospitality and Tourism
Mass Communication
Sociology
Psychology
English Literature
Photography
Graphic Design and Visual Communication
Architecture
Commerce Courses to Study in UK after 12th
It has already been established that excellent commerce plays a significant influence in a country's economic growth. For Commerce, a 12th-grade grade point average of 70 to 80 percent or more is required. Among the courses available in the commerce stream are:
Business
International relations
Management
Marketing
Economics
Finance
Entrepreneurship
Accountancy
Law
Study Law in UK for Indian Students after 12th
In the United Kingdom, a law degree is a good starting point for a wide range of jobs. Law programmes in UK universities offer students a critical and comprehensive understanding of fundamental legal ideas as well as practical skills. Students will acquire experience in mooting, debating, and negotiating while learning the subject of law and legal analysis.
Every year, hundreds of Indians study law in the United Kingdom. Indian students having a high school or college diploma and a grade point average of at least 70% may apply to attend a three-year LLB programme. Students with an undergraduate degree can apply for the UK's fast track two-year law degree programmes (2 year LLB Senior Status programme). To qualify, students must have a GPA of at least 2.7 out of 4.0.
Study MBBS in UK for Indian Students after 12th
In the United Kingdom, MBBS is the equivalent of Bachelor of Medicine, Bachelor of Surgery, which is known as MB ChB or MB BCh at several UK universities. In the United Kingdom, the MBBS programme lasts 5-6 years. The majority of British medicine schools provide a six to twelve-week optional term during which students can study outside of their native medical university.
Many students take advantage of this opportunity to learn about a new culture and gain firsthand knowledge of how medicine is regarded and practised throughout the world. Whether you work in the UK or another nation after completing the course, you will have the chance to earn a good income due to the top British degree in your name. Graduates with a medical degree in the United Kingdom earn between £21,000 and £47,000.
Science Courses to Study in UK after 12th
To make it easier for you to choose, we have separated studies in the UK for Indian students following 12th science into two pathways. You can select between the medical and non-medical streams, which are listed below:
Study in the UK after Medical Stream in 12th
Medicine
Pharmacy
Biology
Biotechnology
Molecular Sciences
Study in the UK after non-Medical Stream in 12th
Mathematics
Chemistry
Computer Science
Mechanical Engineering
Civil Engineering
Automotive Engineering
Industrial Engineering
Electrical Engineering
Top Universities to Study in UK for Indian Students after 12th
The United Kingdom, which is home to numerous prestigious and top-ranked academic institutions, offers a wide range of study programmes in a variety of specialisations. After the 12th grade, Indian students have access to a diverse selection of internationally renowned universities in the UK. To assist you in your study, the following are the Best Universities in the United Kingdom, according to the QS World University Rankings 2020:
| | | |
| --- | --- | --- |
| S.NO | University | University World Ranking |
| 1. | University of Oxford | 4 |
| 2. | University of Cambridge | 7 |
| 3. | University College of London | 8 |
| 4. | Imperial College London | 9 |
| 5. | University of Edinburgh | 20 |
| 6. | The University of Manchester | 27 |
| 7. | King's College London | 33 |
| 8. | London School of Economics and Political Science | 44 |
| 9. | University of Bristol | 49 |
| 10. | University of Warwick | 69 |
Cost of Studying in UK for Indian Students
When determining the expenses to study in the UK for Indian students after 12th, the key variables to consider are the tuition fee of the degree you are pursuing, the duration of the course, as well as figuring out accommodation and living costs. The typical tuition fees for undergraduate degrees in the UK is between 6000 EUR and 9000 EUR (about 4,92,000-7,38,000 INR) , although this may vary greatly depending on the type of course you choose, such as a certificate or full-fledged business degree, medical degree, and so on. Furthermore, you may always choose on-campus housing, but if you choose to live on your own, a one-bedroom apartment may cost between 550 EUR and 650 EUR [indicative].
Application Fee for Tier-4 Student Visa: £348 [roughly 28,650 INR]
Application Fee for Short-term Student Visa: £97 [roughly 7,990 INR] for a 6-month visa & £186 for an 11-month visa [15,300 INR]
Requirements to Study in UK after 12th
The qualifying requirements are mostly determined by the programme and university to which you are applying. Take a look at the basic qualifying criteria and requirements for Indian students after the 12th grade to study in the UK:
The candidate must have finished their 10+2 education from a recognised board of education in India with the minimum grades required by the university of choice.
You must submit IELTS, TOEFL, PTE, or other language proficiency results, as well as a Statement of Purpose (SOP) and Letters of Recommendation (LOR) [optional for undergraduate courses].
Health insurance.
Other travel requirements laid down by the UK government.
In IELTS, a minimum band score of 5.5-6.5 is necessary.
Scholarships for Indian Students to Study in UK after 12th
Universities in the United Kingdom are well-known not just for their brilliance, reputation, and lengthy history, but also for the scholarships they provide to worthy students. Scholarships for overseas students are offered in all academic fields in the United Kingdom. Universities in the United Kingdom that provide scholarships include:
University of Westminster scholarships
Coventry University scholarships
University of Hertfordshire scholarships
University of Bristol scholarships
University of West England scholarships
Sheffield Hallam University scholarships
The University of Oxford scholarships
Aside from these, scholarships are available from other colleges in the United Kingdom for almost all study areas. They tend to be need-based or merit-based which can be availed by international students with AECC Global's Assistance. Students can also get financial aid to help pay for their studies and other costs.
The United Kingdom is a popular post-secondary education location for Indian students. The breadth and variety of courses are extensive, and you must plan meticulously before embarking on the journey to your chosen university in the United Kingdom.
---
By accepting you will be accessing a service provided by a third-party external to https://www.aeccglobal.in/