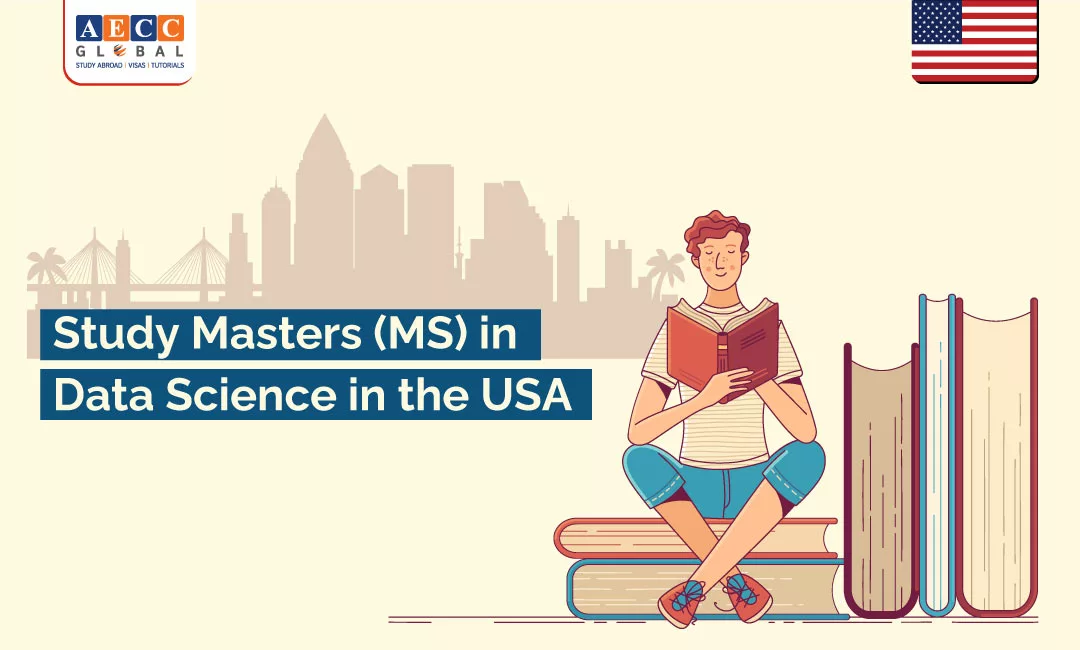 Study Masters (MS) in Data Science in the USA
Today, people's lives are being entangled in bits and bytes. Our entire life can be encoded with numbers in different formats that include browsing history, search history, social media activities, travel habits, games you play, shows you watch, and everything that can be taken into account that helps to make life better. This betterment is possible only through the development of data science. Studying programs related to data science is now trending all over the world. In addition to that, studying Data Science courses in the USA is something more special in all aspects. If you want to pursue MS in Data Science in USA you have made the right decision. Many leading universities in USA are welcoming international students.  


Why Study MS in Data Science in USA?

There should be some reason why Data Science in the USA is renowned all over the world. Educational excellence is one of the sole reasons where international students can carve their careers in a more effective way. International students who want to study MS in Data Science in USA can get admission to the top 20 universities. 


Splendid future scope:

Finding solutions to the existing business problem is where success relies on. This is what every business is seeking. There will be a great need for data scientists and data engineers to study the working process and consumer behavior that helps to manage and develop business in every essential prospect. 

Top-notch education

: Another important factor why the USA is the most preferred destination for international students. Leading universities in the USA offer the best curriculum in Data Science. 

Globally-recognized degree: Studying in the USA, adds extra credibility to your career profile. Top organizations are welcoming data science graduates from universities in the USA. 

Friendly policies:

The USA government and study centers are happy to welcome the students by making the most sophisticated regulations. With the proper eligibility and the prior actions, anyone can 

get admissions as well as visa grants.
Best Universities for MS in Data Science in USA

Unquestionably, the USA is the most loved destination for the majority of students from all around the world. In the past decade, a large number of students are willing to pursue education in the USA for many different reasons. University quality is one of the main reasons for these drastic improvements and likelihood nature. Also, without any compromises, universities are global ranker every year in different areas that include infrastructure, the best curriculum, top-notch courses, research facilities, and vibrant friendly environment, etc.
| | |
| --- | --- |
| S. No | Popular universities in the USA that offers MS in Data Science |
| | |
| | |
| | University of Massachusetts Amherst |
| | Florida International University |
| | |
| | |
| | University of the Pacific |
| | |
| | University of Maryland, Baltimore County |
| | South Dakota State University |
MS in Data Science in USA Fees

Wondering how much does it cost to study Data Science courses in the USA? This is the common question that arises in the minds of international students who are planning their overseas education. The answer is it depends! Generally, the cost to study MS in Data Science in USA varies based on the different factors that include the length of study, discipline, city, and so on. However, we can sum up the average costs of the common universities that offer Data Science courses in the USA. The average annual cost to study MS in Data Science in USA will range from 21,000 to 75,000 USD.  Also, our team has been researching the tuition cost of various popular colleges to help you in extensive ways. 
| | |
| --- | --- |
| S. No | Fees details |
| Duke University | $27,840. |
| Northeastern University | $26,040 |
| Florida International University | $ 16889 |
| University of Vermont | $25,800 |
| DePaul University | $18,877 |
| University of the Pacific | $25,814 |
| George Mason University | $13671 |
| University of Maryland, Baltimore County | $22,313 |
| South Dakota State University | $25,785 |
Pre-arrival Costs

With the excitement to join universities in the USA, you'd need to work on some pre-arrival arrangements for better transitions. Yes, this is the actual time to get your visa, transportation arrangement, and planning for the accommodation, and much more. But, you don't need to figure it out on your own. You can either get advice from universities or many educational experts who are ready to offer such insights. Usually, preparing checklists will definitely help you understand every prospect of pre-arrival costs. Our research has done lots of research in knowing various potential costs that are associated with the initial stages of departures. 
Cost of Living in the USA

One of the major concerns for the applicant who decided to study in the USA is the cost of living. Again, the cost of living in the USA may vary with different factors. This is based on the individuals who have diversity in lifestyle, location, type of accommodation, other expenses, etc., When it comes to the location, if you are positioned in the middle of well-established cities like Newyork or Columbia, the living cost would seem higher. On the other hand, if a student wants to study in suburban areas like Indiana or Ohio, the living cost is considerably low. However, it depends on the interest of students and the universities in which they get admissions.  No worries! Here is the list of potential living costs that helps you greatly. 
MS in Data Science in USA Requirements

Generally, applying for an MS in Data Science in USA university is a little competitive. With the seats available, students from all over the world compete with each other to get through. In common, preference is given to students who have the eligible documents which are submitted at the very right time.

The universities of the USA expects international students to provide some important documents which are given below: 


Transcripts of all the undergraduate certificates 
Eligibility for MS in Data Science in USA
Bachelor Degree:

International students who are applying for data science courses in the USA must hold a bachelor degree from a recognized study institution. Generally, applicants with an academic or professional background that are relevant to the backgrounds like engineering, finance, economics, and equivalent degree are welcomed to apply. 

Prerequisite requirements:

Generally, courses must be finished for a grade on a transcript at accredited study centers. Some core subjects are taken into considerations that include Mathematics, statistics and computer programming, science. This may vary from one destination to another based on the expectation. If you have experience in mathematical software environments are highly prioritized. 

Standard tests: GRE score is one of the important considerations where it should be a minimum of 150. TOEFL & IELTS are also important considerations where a minimum band of IELTS is 6.5 and TOEFL is 100.
Masters in Data Science in USA with Scholarships
Scholarships, bursaries, grants, and fellowships are some of the most exciting terms for the students. America is one of the most favored countries that offers a wide range of scholarships for students. Commonly, scholarships grants are mainly based on the previous academic performance of the students and the standard criteria. But, it is not such a big deal, where every thousand students are getting benefited through various scholarships schemes. If you want to pursue any program in Canada, it is advisable to check the eligibility factors and list of standardized proceedings. When it comes to Masters in Data Science in USA, many universities are actively offering suitable scholarship schemes. Below are some of the popular scholarships offered by the leading study institutions for Data Science applicants.
Data science jobs after MS in Data Science in USA

It is an undeniable fact that every type of business and organization runs with data. Professionals are essential to handle these data and need to make them valuable insights for the betterment. This is a reason why there is a huge demand for various job designations that include Data analyst, data science engineering, data scientists, BD data manager, etc., Below are some popular jobs for the aspirants who completed Master programs in Data Science:


Statistician - The main job role of a Statistician is to collect, prepare, and interpret the data in a valuable solution. Apart from creation, there have to be complete check tasks on the accuracy of the existing data costs. Graduates can get the pride of getting placed in governmental, non-governmental, consulting, and local authorities. With the rich curriculum of the leading universities in the USA, it is obvious to acquire a job in the top sectors. 

BI Analyst

- Another popular job that created great hype in recent years is Business Intelligence Analyst. They are solely responsible for enhancing the collaboration between different sectors by delivering the solutions through organizational data. 

Data Analysts: Wherever you go, data analysts are the heroes of big organizations. They help in collecting, analyzing, and evaluating the data to gain a better insight into the various aspects of the business. This is one of the most preferred jobs with skyrocketing salaries. 

Data Scientists:

Do you know Data Scientists are in the top 50 jobs in the USA? This is mainly based on the survey taken with the various factors that include job opening, median base salary, and metrics, etc., They are trained to deal with a large set of qualitative and quantitative data and need to develop statistical learning models. 
Salary of Data Science in the USA

There is no such secret as a Salary for Data Science graduates at both postgraduate and undergraduate levels. However, people may wonder how companies can hire and pay such skyrocketing salaries for Data Science graduates. Usage of technologies literally helps businesses to break down the common challenges faced by industries. Wide ranges of open-source tools, cloud computing, data visualization methodologies are handled by the techies to improve the work aesthetics. However, international students are expected to develop skills in various areas like strong leadership, communication skills, business acumen, etc., 


| | |
| --- | --- |
| Designation | Annual Average Salary (USD) |
| Data Scientist | 96,566 |
| Data Engineer | 82,878 |
| Product Data Analyst | 76,149 |
| Machine Learning Engineer | 140,985 |
| Data Analytics Manager | 118,000 |
| AI Research Engineer | 117,109 |
| Artificial Intelligence Specialist | 131,432 |
| ML Research Scientist | 99,684 |

So, now you have some critical as well as essential ideas about the scope of the Data Science programme in the USA. The curriculum is designed in such a way to receive in-depth instruction, insights about modern practices, and finding solutions to the existing problems that are faced. In addition to this, studying in the United States is something more special which adds pride and credibility to your profile. If you are looking to pursue a Masters in Data Science in USA, this is the right time. USA universities are welcoming international students to pursue all types of Data Science programs. AECC has been partnered with popular universities in the USA which assist you throughout your application process. Be ready and get an amazing career with MS in Data Science in the USA.