Study in Canada from India - Applications open for 2023
Canada is one of the favoured countries by Indian students as their study abroad destination. It is home to a bunch of top-rated universities and colleges with affordable tuition fees as well. This makes it all the more appealing. The fact that Canada offers some stellar job opportunities is the cherry on top. Canada had a whopping 4,50,000 new international students in 2021, which is a record intake. Their easing of travel restrictions and Post-Graduation Work Permit (PWP) rules have led to this surge in student intake. Apart from all these, the scenic beauty, multicultural diversity, and all-welcoming people are worth it.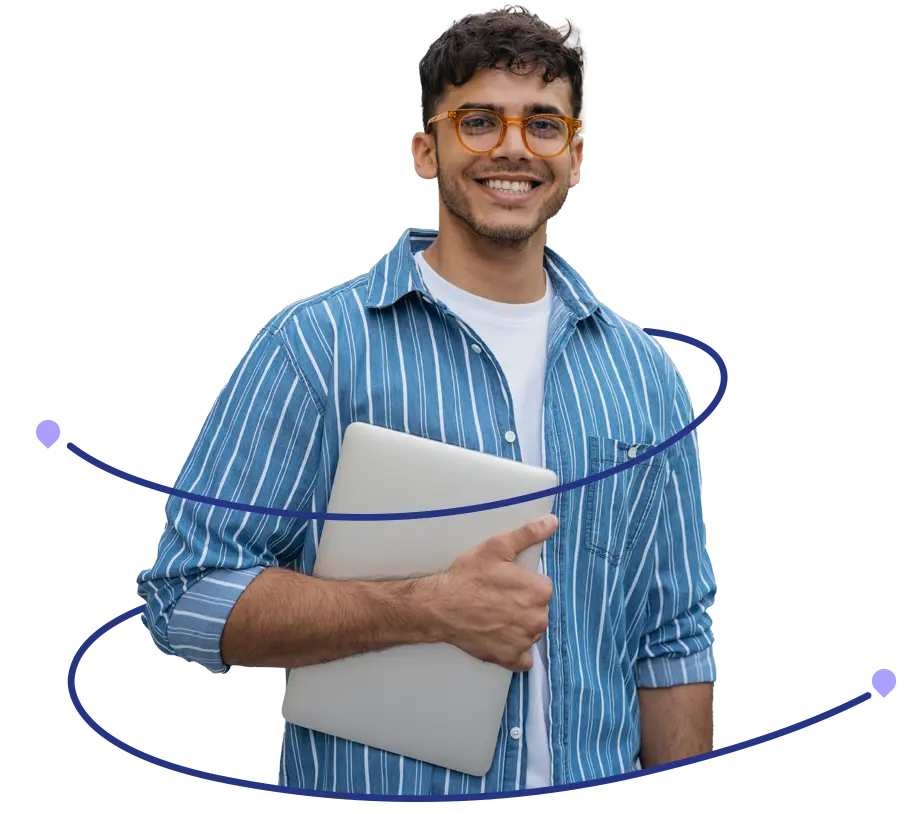 Why Study in Canada as an Indian Student?
Spend less, live good: Canada provides a budget-friendly living to international students, which makes it a better choice than other countries. The living cost would depend on the area, but it is far better even then. The average cost of living may range from 700 to 2000 Canadian Dollars, which may be equal to around Rs.41,500 - Rs.1,15,000. 
Finest universities and colleges:

Canada has a set of world-class universities revered worldwide. A degree earned in Canada has a huge reverence. It is also worth noting that 4 Canadian cities have been included in the

Top 100 Best Student Cities In The World by the World University Rankings

.

 

Get those extra notes: An international student studying in Canada can work up to 20 hours a week part-time. They can also work full time during their summer and winter breaks. This helps you earn some extra bucks and spend for your needs. So, enjoy the freedom it gives you.
Charming cities and refined cultures await you:

Canada is a place where you see a mix of bustling city life and a serene landscape. From Niagara Falls to the Royal Ontario Museum, the country waits for you to explore. All these assure you better living standards and job opportunities.

Infinite scope for research:

Now, this is good news for all the research scholars in Canada. Canada provides great importance to research and development, and the Canadian government has also put more stress on it. This is what makes Canada a better option for those who are interested in science and research.

Immigration benefits: The Canadian government has recently come up with some immigration benefits for international students. They will qualify for an additional work permit called Post-Graduation Work Permit Program (PWP), valid for up to 18 months, starting in Summer 2022. This gives you a double benefit. You can either return to your country with an international experience certificate or settle down in Canada permanently.
Be peaceful, always:

Do you know that Canada has been continually ranked as one of the safest countries in the world? Canada has been ranked in the Global Peace Index as the tenth most peaceful country globally as of 2021. Also, don't worry; you will be entitled to the same benefits as a Canadian. 

Vibrant campus life guaranteed:

Almost all the campuses in Canada conduct several kinds of programs, fests, events, and other activities so that it will always be entertaining for you. This will also help you get associated with new people and cultures, thus making you less homesick.

The all-welcoming people:

The "warm and friendly" stereotype works right in the case of Canada. You will find yourself in a welcoming country with unique cultures to explore, from the soothing small towns to the happening cities.

An experience like never before:

Canada is one place where you will have an experience like never before. From the white winter to the red autumn, Canada offers something new every season. So go and see for yourself how good it is.



Best Course to Study in Canada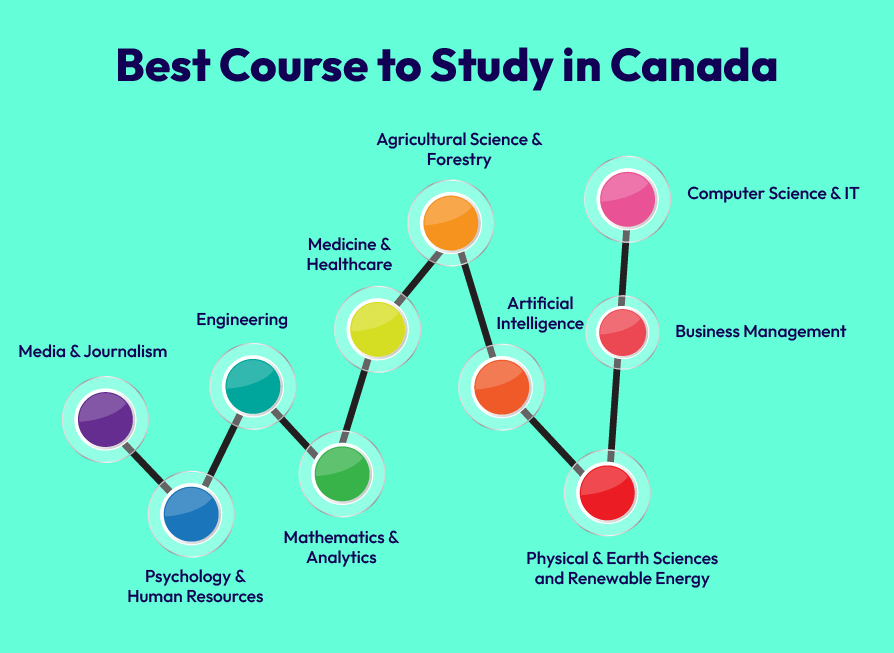 Business Management: MBA in Canada is one of the most sought-after degrees worldwide. MBA graduates with specialisation in Big Data or Analytics are in high demand in Canada and Australia.
Computer Science & IT: 

It is a well-known fact that Computer Science and IT professionals are in high demand worldwide. IT project managers and software engineers have turned out to be listed in the Top 10 In-Demand occupations in Canada. 

Engineering: 

Engineering is yet another course on-demand in Canada. Quite a lot of engineering streams like Civil, Electrical-Electronics, Mechanical, Chemical etc., are the most sought-after ones. 

Medicine & Healthcare: 

The importance of medicine, biotechnology, pharmacy etc., will never cease, and you need to be truly skilled and qualified. More often than not, a PhD in the field has become mandatory to land in a good position.

Media & Journalism: There has been a rise in the importance of media and journalism. This partially owes to the increase in new career opportunities like digital and interactive design, digital marketing etc. A few job functions in demand include marketing, public relations, visual effects and animation, creative and graphic design, UX/UI design etc.
Psychology & Human Resources: 

Nowadays, companies can be seen stressing more skill up-gradation and training existing employees. This is where counselling psychologists, industrial psychologists, HR professionals, and career advisers come to the limelight. 

Mathematics & Analytics: 

The significance of quantitative and analytical professionals is currently on a surge, which points to the increase in their demand. They are in high demand in financial services, retail, media, travel, healthcare, FMCG etc.

Physical & Earth Sciences and Renewable Energy: 

The energy industry is currently a key player in job generation in Canada. The fields in demand include Physics & Astronomy, Geo-Informatics, Geology, Mining, Renewable Energy etc. 

Agricultural Science & Forestry: 

Taking problems like global warming, food security, and climate change into consideration, the job prospects of agricultural scientists, forestry consultants, agronomists, and agricultural consultants are on a hike in Canada.

Artificial Intelligence: 

Canada is considered the world-leading AI research hub with unending job opportunities. It is estimated that more than 34,000 innovative jobs will be created within the next ten years.
What are the Universities in Canada?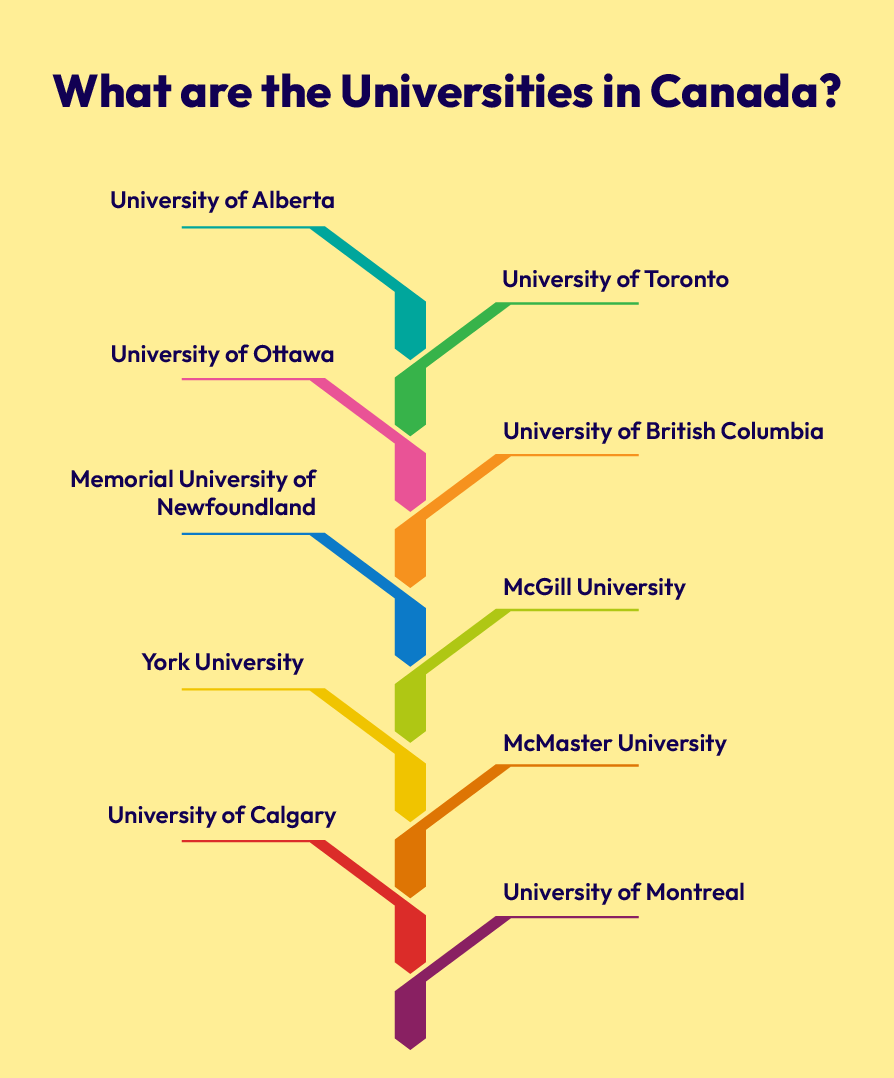 University of Toronto:

The University of Toronto is one of the world's leading institutions of higher learning. It has been ranked in the top 10 globally in Nursing, Sports, Anatomy and Physiology, Geography, Computer Science, and Education. 

University of British Columbia:

UBC is considered one of the best and oldest universities. It also has one of Canada's largest libraries. The UOB has been ranked 37th in World University Rankings 2022, 13th in Impact Rankings 2022, and 35th in World Reputation Rankings 2021. 

McGill University:

It is interesting to note that almost 30% of the total students at McGill University are international students. McGill University has been ranked 31 in the QS World University Rankings 2021 explains its popularity.

McMaster University:

McMaster University is best known for disciplines like business, social sciences, health sciences, natural sciences, engineering, and humanities. It has also been named Canada's most research-intensive university by Research Infosource in 2017, 2018, and 2019.

University of Montreal:

The University of Montreal has a few high-ranking subjects like computer science courses and medical-doctoral programs. Furthermore, they have around 10,000 international students enrolled with them, which is the highest among Canadian Universities.

University of Alberta:

The University of Alberta has a reputation for excellence in humanities, sciences, health sciences, business, humanities, and creative arts. It is also one of the world's leading public research-intensive universities. 

University of Ottawa:

Located in the heart of the country's capital, the University of Ottawa is the largest bilingual university globally. It also boasts of a 97% employment rate for its graduates. 

Memorial University of Newfoundland:

The Memorial is ranked as one of Canada's top 20 research universities. It also belongs to the top 3 Canadian universities in corporate-sponsored research income proportion. Another fact worth noting is that they have some of the lowest tuition rates in the country.

York University:

The York University in Canada is home to the largest liberal arts program in the country. It has also been placed 33rd out of 767 universities for the second year in a row by the Times Higher Education (THE). 

University of Calgary:

The University of Calgary is situated in the safest of cities in Canada. It has been ranked 7th in Canada by the Academic Ranking of World Universities (ARWU) and 10th in the QS world rankings.



Cost of Study in Canada for Indian Students
Canada is regarded as one of the most preferred study destinations globally, especially by students from India. Compared to countries like the USA and UK, Canada offers education at a more reasonable rate. Indian students increased from 48,765 in 2015 to 2,19,855 in 2019. Compared to Undergraduate courses, Diploma courses and one-year Postgraduate courses are considered cheaper in Canada.
Study Programs
| | | | |
| --- | --- | --- | --- |
| S. No | Degree | Average Fees (CAD) | Average Fees (INR) |
| 1 | UG | CAD 30,000 | INR 16,15,000 |
| 2 | PG | CAD 20,000 | INR 9,54,000 |
| 3 | PG Diploma | CAD 17,744 | INR 9,08,772 |
| 4 | Diploma | CAD 10,000 | INR 7,76,086 |
| 5 | PhD | CAD 25,000 | INR 19,40,213 |
Cost of Living in Canada

Canada is considered to be one of the budget-friendly countries in the world, especially by international students. An average living cost in Canada would come somewhere around CAD15,000 - CAD20,000. This is again dependent on the area you reside in and your lifestyle. It is to be noted that these expenses are bound to come apart from your tuition fees. Nonetheless, you need not worry too much about it either.
| | | |
| --- | --- | --- |
| S. No | Type of Expense | Amounts in CAD |
| 1 | Food  | CAD 300 |
| 2 | Accommodation | CAD 400 - CAD 600 |
| 3 | Transportation | CAD 100 - CAD 250 |
| 4 | Internet | CAD 30 - CAD 60 |
| 5 | Miscellaneous | CAD 600 - CAD 700 |
What are the Requirements to Study in Canada?
Bachelor's Programs: A Bachelor's Degree in Canada will take three years, whereas a Bachelor's Diploma will take six months to 1 year, depending on the university. You will roughly need 70% in 12th grade. If you take a Paper-Based TOEFL Test (TOEFL PBT), the duration should be between 580 and 600 minutes. Similarly, for a Computer-Based TOEFL Test (TOEFL CBT), the duration should be between 237-250 minutes. This is again dependent on the university.

Diploma Programs: The admission formalities for diploma programs are pretty flexible in Canada. You might need at least 60% in your 12th grade. The TOEFL PBT should be 550 minutes, and CBT should be 213 minutes. Additionally, you might need an IELTS score of around 6 or 6.5, depending on the university.

Master's Programs:

Canada offers two types of Master's degrees. One is Master's by thesis, where you will be asked to submit a thesis during your course, and the other is Master's by non-thesis, where you are not asked to submit any thesis. You might require a work experience of 2-3 years and a four year Bachelor's degree. The TOEFL CBT can be between 237 and 250 minutes, and PBT can be between 580-600 minutes. The IELTS score cannot be less than 6.
It should also be noted that these measures are all relative and will differ according to the course and university that you are applying to. Apart from these, you will need all the basic requirements like a student visa, DLI, documents etc.
What Exams are Required to Study in Canada?
If you wish to study in Canada, you need to know about the different tests and exams that you may need to take. It depends on the course and programs you choose, and the following constitutes the exams:


IELTS: A non-native English language speaker may be asked to appear for an IELTS test to study in Canada. The International English Language Training System (IELTS) score can vary from 5.0 to 7.5, depending on the university and course. However, a minimum score of 6.0 is required to get a Canadian visa. It tests a candidate's listening, speaking, writing, and reading skills. The listening and speaking sessions are the same for all students, but the other two depend on your course. The cost of this test comes somewhere around Rs.15,000.
TOEFL: The Test of English as a Foreign Language (TOEFL) is customarily conducted as either a Paper-Based Test (PBT) or an Internet-Based Test (IBT). A TOEFL IBT score between 90-100 may be required to get into a Canadian university. TOEFL costs somewhere around Rs.14,000.
PTE: The Pearson Test for English (PTE) is currently gaining popularity amongst Canadian universities. A PTE score is usually valid for two years, and it costs almost Rs.13,000 to take this test.
GMAT:

A Graduate Management Admission Test (GMAT) applies only to those who want to study management and business. It has a validity of five years as well. 



Scholarship to Study in Canada
There are three types of scholarships available for Indian students in Canada. They are 
Canadian government-funded scholarships:

These are more or less in the form of awards to encourage students to study there.

Non-government scholarships

: These are awarded by various trusts and communities to students who pursue particular courses.

Institutional scholarships:

These are provided by colleges and universities to the students who study with them.
| | | | |
| --- | --- | --- | --- |
| S. No | Scholarship | Details | Amount awarded (CAD) |
| 1 | Banting Postdoctoral Fellowship | It is awarded to students for 2 years who pursue a postgraduate degree in environmental & social science or health studies | CAD 71,263 |
| 2 | Vanier Graduate Scholarships | It is given to doctoral students enrolled in natural sciences, engineering research, health research, social science, & humanities research; for 3 years | CAD 50,915 |
| 3 | IDRC Research Awards | This scholarship supports the student for 1 year and is applicable for those pursuing their master's or postdoctoral degrees | CAD 15,268 |
| 4 | Anne Vallee Ecological Fund | Students who are doing their doctoral degrees in animal sciences at universities in British Columbia or Quebec can apply for this | CAD 1527 |
| 5 | Trudeau Scholarships & Fellowships | These are awarded to doctoral students pursuing their research in human rights & dignity, people & their natural environment, responsible citizenship, or Canada and the world | CAD 61,080 |
| 6 | York University International Student Scholarship | A minimum CGPA of 7.80 is required to avail of this scholarship | CAD 1,38,505 |
| 7 | University of Calgary International Entrance Scholarship | Students pursuing a full-time UG program, with a minimum GPA of 3.20 can apply for this | CAD 14,840 |
| 8 | University of Manitoba Graduate Fellowships | Those students with a minimum GPA of 3.0 will only be considered for this fellowship | CAD 13,854 |
| 9 | The University of British Columbia Scholarship | Those who are on a study permit and not nominated for need-and-merit-based International Scholars Award are eligible for this | CAD 39,593 |
Canada continues to attract a great lot of international students, especially Indians, to their country. For any international student to study in Canada, they have to obtain a valid study permit issued by the Canadian Immigration authorities. You need to have an excellent medical record, a clean criminal record, adequate funds in the bank, and an acceptance from a Designated Learning Institute (DLI).

To get a Canadian student visa, the documents required are


Proof of approval by a designated institute.

Passport size photographs.

Immigration Medical Examination (IME).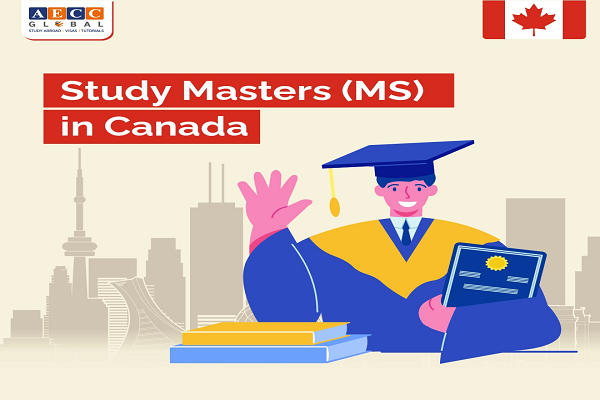 "MS in Canada!" I can bet, you might have heard this term very often in your circle of friends, collegemates, colleagues, family, and other places. The reason is, this degree has created a positive impact on people's passion and careers in the past decade. On deep research, the world's attention turned towards pursuing a Masters in Canada.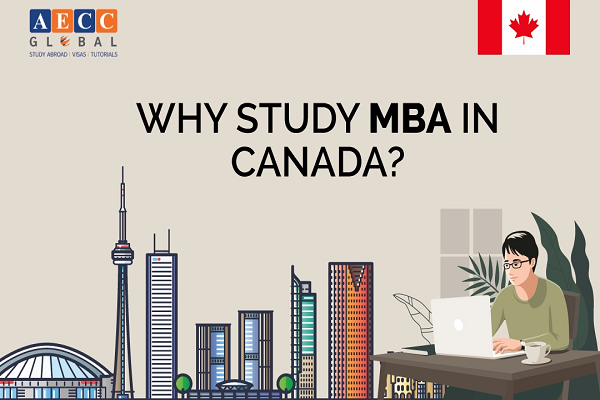 Beautiful destination, world's top-ranking universities, and brilliant quality of life, it's not too complex to understand why overseas students prefer Canada for their higher education. This is too certain for students who want to pursue MBA. The average annual fee to pursue MBA in Canada ranges from 20,500 CAD to 112,000 CAD which is mainly based on the specialization and the university you select.