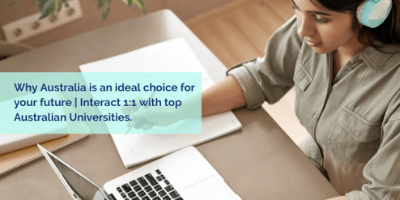 Why Australia is an ideal choice for your future | Interact 1:1 with top Australian Universities.
Make your dream of studying in Australia come true! Australia is a country unlike any other. It has beautiful oceans, striking mountains, distinctive wildlife, vibrant cities, and world-class universities!
The country has got the kind of charm that every student would love!
As an international student in Australia, you can explore a multicultural society, discover yourself in a welcoming country, spend your days living in a state of sunshine, visit the most beautiful beaches, and most importantly, experience Australian higher education! 
So, thinking about how to start? No worries! To make it simpler for you, we have an exclusive virtual 'UniSessions' platform with renowned Australian Universities on board! 
AECC Global's UniSessions are student-friendly platforms that will provide a unique opportunity for students to interact with International University Representatives from their favorite study destinations.
Our established University partners will take you on a virtual experience of their respective institutions and engage in a conversation that will clear all your queries on priority.
You will have the opportunity to,
Connect 1:1 LIVE with top Australian Universities.
Get a chance to enroll for the upcoming 2020 and 2021 intakes.
Learn more about Post Study Work rights.
Understand the measures taken by the Universities to help you get started during the COVID times.
Sounds promising, right? Well, then tune in to our Unisessions events and turn your AUSTRALIAN education dreams into a reality!
Begin your study abroad journey in this beautiful country. Get in touch with our education experts and discover the best study abroad life in the land down under.
---
By accepting you will be accessing a service provided by a third-party external to https://www.aeccglobal.in/