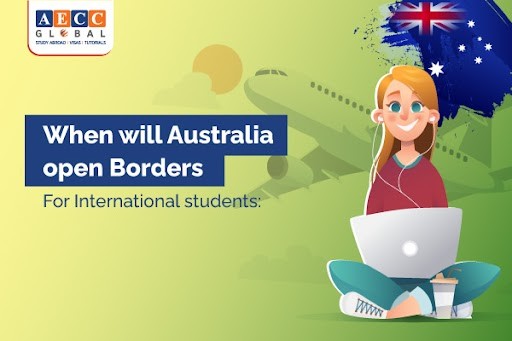 When Will Australia Open Borders for International Students
IT IS OPEN!! The long-awaited answer to every International student who has yearned to enter Australia to fulfill their dreams – Yes, the borders are OPEN from December 2021!
After 18 long months, the Australian borders that have been closed due to the widespread COVID pandemic have been opened and Australia will welcome international students who are fully vaccinated and are eligible visa holders, from December 2021 onwards.
Vaccination Requirements for International Students
International students who want to enter Australia to pursue/continue their studies will have to be fully vaccinated (double doses) with the vaccines that are recognised or approved by the Therapeutic Goods Administration (TGA). It also includes those who have had mixed doses. The current vaccines and dosages that are accepted for travel to and from Australia are:
Two doses at the least 14 days apart of:

AstraZeneca Vaxzevria
AstraZeneca Covishield
Pfizer/Biontech Comirnaty
Moderna Spikevax
Sinovac Coronavac
Bharat Biotech Covaxin
Sinopharm BBIBP-CorV (for 16-60-year-olds).

Or One dose of:

Johnson & Johnson/Janssen-Cilag COVID Vaccine.
Australia Border News for International Students
A point to note is that at least 7 days must have passed since the final dose of the vaccine in the course of the vaccination to ensure that you are considered as 'fully vaccinated'. In the case of mixed dosages, the course is considered fully vaccinated as long as all vaccines are recognized by the TGA.
International students are requested to have proof of vaccination on them to ensure a smooth arrival to Australia and their travels across Australian borders to different states.
Australia Travel Exemptions in their States and Territories
NSW (New South Wales)
Fully vaccinated international students are eligible to travel to and from Australia to the NSW without needing to apply for a travel exemption.
The NSW government has announced that there will not be any quarantine on arrival.
International students who are returning under the New International Student Arrivals Pilot Plan will still have to travel to Sydney on their scheduled flights.
All international students who return to Australia must be fully vaccinated with a Therapeutic Goods Administration (TGA) approved or recognised COVID-19 vaccination before landing in Sydney.
Queensland
As per Queensland's COVID-19 Vaccine Plan, there will still be requirements to quarantine before 90% of Queensland's eligible population are vaccinated. While the students are allowed to come to Australia without the need for exemptions, their return to Queensland may still be subject to quarantine availability.
Victoria
The Victorian government provides a safe pathway plan for a limited number of international students to arrive in Victoria each week.
Under the first stage of the plan, a limited number of places will be available each week which Universities will provide for their students who are required to do practical work, such as health and medical students, and postgraduate research students.
The second stage of the plan will expand across Australian borders to include more students of other disciplines.
Fully vaccinated students entering Victoria will not need to quarantine as long as their vaccines are registered with the TGA.
They will be required to test COVID negative within 72 hours before their departure and undertake testing within 24 hours of their journey to Victoria.
Adelaide
The South Australian government will welcome fully vaccinated students from across Australian borders with no quarantine period once 90% of South Australians (12+) are fully vaccinated.
Additional support for the International students and the International Education Sector
The Australian Government has announced that further targeted measures have been made to support the International education sector as the International borders will re-open.
Additional Grants and Extended Regulatory Fee waivers will be made available to support these International Education providers who are most affected by the pandemic.
Also, there will be changes to visa settings that are set to provide the much-needed flexibility for international students as they return to the country.
Measures are also taken to protect the post-study work rights of International students. The temporary graduate visa for Masters by coursework graduates has also been increased from 2 years to 3 years.
The government has informed that the changes are not only targeted to support international students but also is a crucial component in helping the country to attract and retain skilled workers and boost the economic recovery.
Some of the features included in the new visa settings are
Temporary Graduate (subclass 485) visa holders who have been unable to travel to Australia due to the COVID-19 international border restrictions will be able to apply for a replacement visa.
Both current and past visa holders of the Temporary Graduate (subclass 485) whose visas have expired on or after the 1st of February 2020 can re-apply for a new subclass 485 visas for the same duration as their original visa.
The Australian government has also announced that the length of stay on the Temporary Graduate visa will be increased from two to three years of Masters by coursework graduates which will be matching with that of Masters by research graduates.
Vocational Education and Training (VET) sector graduates will receive a 2-year temporary graduate visa.
As per the new visa settings, additional measures are taken for students and temporary graduates towards recognising the time spent with off-shore studying online to count towards qualifying for a temporary graduate visa.
AECC Global provides the latest information in regards to the entry/re-entry into Australia for International students and we ask our valuable students to stay connected with us to get the latest updates.
---
By accepting you will be accessing a service provided by a third-party external to https://www.aeccglobal.in/