Choose AECC Global & Get Rewarded
AECC Global has proudly partnered up with Mastercard Overseas Student Education Program to help you with your study adventure.
Get rewarded with a $100* Amazon Gift Card when you enquire, apply, and enrol into a course of your choice through AECC Global in any of the hundreds of universities and institutions we represent.
Simply use the promo code "Mastercard" when you enquire and go through the student counselling and enrolment journey with an AECC Global counsellor in any of the participating AECC Global locations.
Sounds easy? It is. What are you waiting for? Fill in the enquiry form below and get started on your overseas study adventure!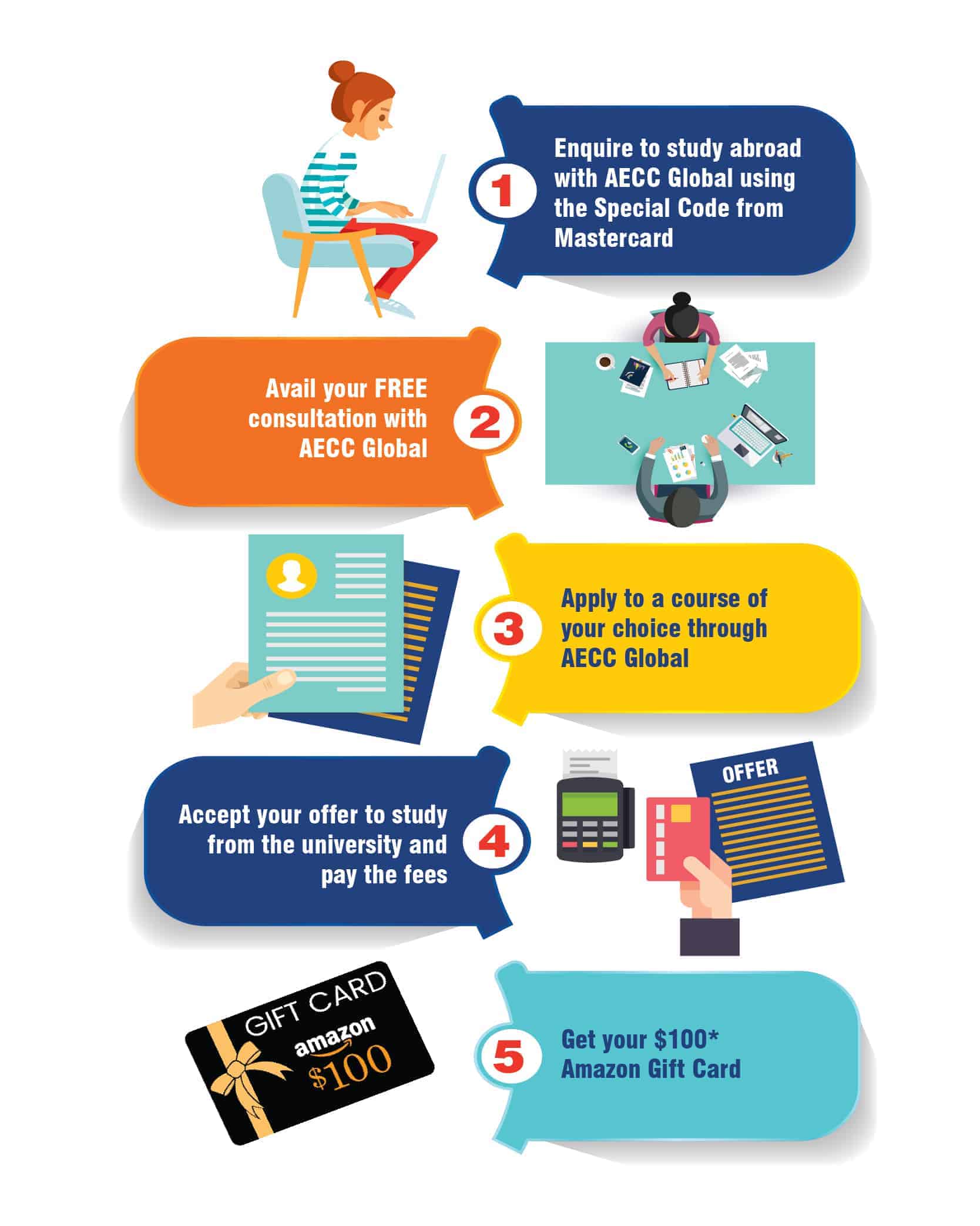 *Terms and conditions apply
Offer is valid from 1 April 2019 to 15 June 2022, both dates inclusive.
Offer is valid for Mastercard branded cards issued by Mastercard customer banks in the following Asia Pacific countries ("Applicable Mastercard Cards"): –

North Asia: China, Hong Kong, Japan, Korea, Macau, Taiwan
Southeast Asia and South Asia: India, Indonesia, Malaysia, Myanmar, Philippines, Singapore, Sri Lanka, Thailand, Vietnam
Pacific: Australia, New Zealand

Offer is valid when promo code "MASTERCARD" is used on AECC Global-Mastercard dedicated landing page when enquiring. Student must also avail AECC Global's advisory services as well as accept the offer of a course of study with any AECC Global represented institutions through AECC Global Offices in Asia Pacific such as Singapore, Australia, India, Thailand, Indonesia, Philippines and Malaysia.
Offer is also valid if a walk-in student mentions the campaign and promo code "Mastercard" when making an enquiry.
Offer will be provided in a form of e-voucher Amazon gift card worth $100 (in local currency equivalent)
To get in touch with our expert team, simply leave your details below and we'll call you for a FREE consultation.