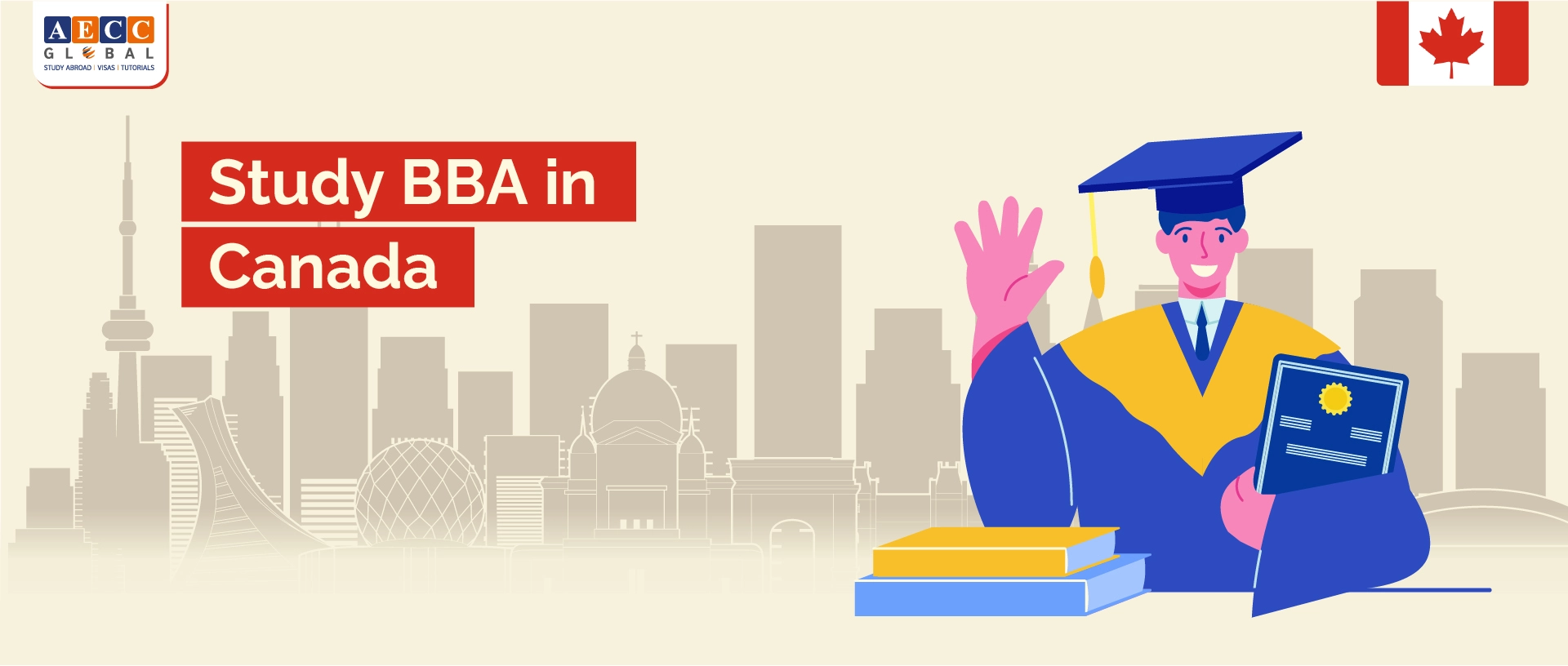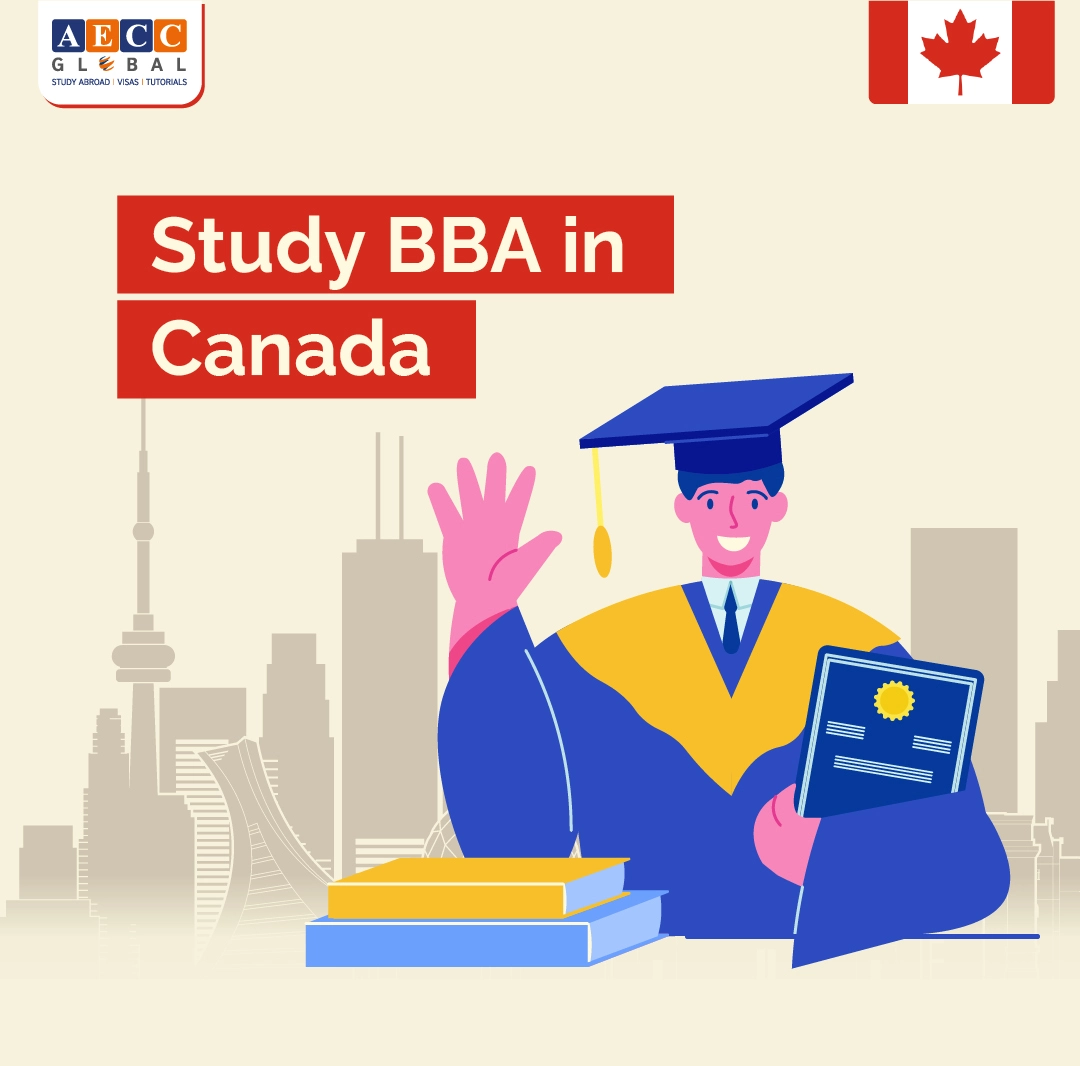 Study BBA in Canada for Indian Students
If you are seeking a fast-paced job that may lead to top management positions, a BBA in Canada is one of the best possibilities. The BBA programme is multifaceted, preparing you to use business and management concepts in real-world scenarios. Moreover, studying in Canada allows you to attend one of the Canadian colleges that are internationally regarded for providing inexpensive education with minimum entrance standards.


Canada is the world's most developed economy, with the ability to provide outstanding work prospects, attracting a large number of ambitious international students. It is the most popular study-abroad location, drawing more Indian students than the US or the UK. Let's take a closer look at BBA in Canada for Indian students, including information on top colleges, BBA requirements in Canada, the application procedure, prices, and more.
BBA (Bachelor of Business Administration) is a popular degree program among international students looking to study in Canada. Here are some reasons why studying a BBA in Canada may be a good choice for international students:
High-Quality Education:

Canada is known for its high-quality education system, and BBA programs in Canada are designed to provide students with a solid foundation in business principles, as well as practical skills and hands-on experience.

Diverse Business Landscape:

Canada has a strong and diverse economy, which makes it an ideal place to study business. BBA students in Canada have the opportunity to learn about different industries, including finance, technology, and natural resources, and understand the unique challenges and opportunities they face.

Multicultural Environment:

Canada is a multicultural country, and this diversity is reflected in its educational institutions. International students studying a BBA in Canada have the opportunity to learn from and network with individuals from different cultures and backgrounds, providing valuable exposure to different perspectives and ideas.

Career Opportunities:

A BBA degree from a Canadian university can open up a wide range of career opportunities for international students in Canada and abroad. Graduates with a BBA are in demand in a variety of industries and can expect to command competitive salaries and advancement opportunities.

Attractive Lifestyle:

Besides its high-quality education and diverse business landscape, Canada is known for its safe and welcoming communities, natural beauty, and high standard of living. This makes it an attractive destination for international students, both during their studies and after they complete their program.
Studying for a BBA in Canada can be a valuable and rewarding experience for international students, providing them with the knowledge and skills needed to succeed in today's business world and a high quality of life.
Best BBA Colleges in Canada
Canada is home to several high-quality universities that offer excellent BBA (Bachelor of Business Administration) programs for international students. Bachelor of Business Administration programs is offered at over 50 colleges and universities in Canada. BBA tuition in Canada for international students ranges from 14 lakhs to 30 lakhs, depending on the school. 


Here are some of the best BBA colleges in Canada for international students
| | |
| --- | --- |
| University Name | Average Tuition Fee in INR |
| University of Toronto | 38,71,273 |
| University of Montreal | 12,55,400 |
| Western University | 34,40,467 |
| University of Calgary | 23,84,465 |
| Simon Fraser University | 28,94,811 |
| York University | 17,83,889 |
| Dalhousie University | 11,39,939 |
| University of Guelph | 1,792,808 |
| Memorial University of Newfoundland | 5,25,069 |
| University of Regina | 24,66,692 |
| University of New Brunswick | 9,48,850 |
These are just a few examples of the high-quality BBA colleges in Canada for international students. It's important to carefully research and consider all the factors involved, including eligibility requirements, the application process, cost, financial aid options, and visa requirements.
When discussing Bachelor of Business Administration (BBA) programmes in Canada, it is important to remember that BBA programmes are offered in a variety of forms. It is possible to pursue it as a BBA Part-time, BBA Full-time, or BBA Co-op.
BBA Full-time:

BBA full-time course study is when a course is completed within the specified time period and courses are held at regular intervals.

BBA Part-time:

BBA Part-time is used when a student wants to take another course or a day/night employment to supplement his education. A part-time course takes longer to complete than a full-time course.

BBA Co-op:

A unique educational option that allows individuals to combine academic study with paid, career-related job experience is BBA Co-op. They have the option of doing this degree in addition to their well-paying work.
Here are some of the core courses that are commonly included in BBA programs in Canada for international students:
BBA in Sustainable Business Practices

BBA in Enterprise Systems

BBA in Project Management

BBA in Supply Chain Management

BBA in Innovation and Sustainability

BA (Hons) in Business Management.
Admission Requirements for BBA in Canada
Here, we've briefly covered the qualifying requirements and admission standards for the top BBA universities in Canada:
Eligibility for BBA in Canada
The following criteria must be met to be admitted to Canadian BBA universities:
75-85%

of high school requirements were met.

The university's admissions committee will look at each applicant's unique test results from the 12th state board examinations.

Completing calculus requirements for business and management courses using class XII standard mathematics.

Provide evidence of your English language ability. The minimal IELTS score of

6.5

is generally considered the standard; no band lower than

6.0

or an equivalent is acceptable.
Document requirements for BBA in Canada
Make sure you have the following documents on hand before applying to BBA programmes in Canadian colleges:
official verified transcripts from high school

Indian School Certificate or the All India Senior School Certificate

Translations of official documents not in English that have been notarised as evidence of English language competency

professional or academic recommendations

Personal assertion (SOP)

papers or certificates attesting to any academic or extracurricular accomplishments

Financial verification

recently taken passport-size photos

passport photocopy
These are the general documents required for admission to any BBA colleges in Canada. Make sure you visit the official website of your university to check any additional requirements for international students.
Admission Process For BBA in Canada
The admission process for a Bachelor of Business Administration (BBA) program in Canada for international students typically involves the following steps:
Research:

Research and identify the universities and BBA programs in Canada that best fit your goals, interests, and academic qualifications.

Review admission requirements:

Carefully review the admission requirements for each program, including English proficiency requirements, academic qualifications, and any additional materials required for the application.

Submit application materials:

Submit the completed application form, transcripts, English proficiency test scores, and any other required materials to the university.

Wait for a decision:

Once the university has received your application materials, they will review your file and make a decision on your admission. This process can take several weeks or months, so apply well before the program start date.

Acceptance and enrollment:

If you are accepted, the university will send you an acceptance letter and any additional information about enrollment procedures and deadlines.

Obtain visa and immigration documentation:

International students must obtain the necessary visa and immigration documentation to study in Canada. This can involve a range of procedures, including obtaining a study permit, submitting biometric information, and obtaining a temporary resident visa.

Prepare for arrival:

Once you have obtained your visa and immigration documentation, you can start preparing for your arrival in Canada. This may include arranging for housing, transportation, and health insurance and familiarising yourself with the local area.
It is important to follow the admission process carefully and meet all deadlines to ensure that you have a smooth and successful transition to studying in Canada.
Depending on whether you are an international or local student, different schools' BBA costs apply in Canada. International students pay
29,750 CAD/INR 17,80,442
per year tuition on average. Notably, earning a degree in business and management in Canada is less expensive than earning a degree in engineering, the humanities, dentistry, or medicine. You will need
10,000 – 11,000 CAD/INR 5,98,468 – 6,58,315
in your bank account to meet the requirements for a Canadian student visa.
| | |
| --- | --- |
| Living Cost in Canada | Cost |
| Flight Expense | INR 1,00,000- 2,00, 000/- per flight |
| Study Permit Fees | CAD 150 (INR 8,740) |
| Work Permit Fees | CAD 155 (INR9,037)  |
| IELTS test Fees | INR 14,700 |
| Accommodation | CAD 5,000 – CAD 10,000(INR 2,67,000-INR 5,39,000) per annum. |
| Travel Costs | CAD 80 – CAD 110 (INR 4,300-INR 6,000) per month |
| Health Insurance | CAD 300-CAD 800 (INR 17,000-INR 44,000) |
| Food | CAD 300- CAD 400 [17,508 INR-23,344] (monthly) |
| Entertainment | CAD 750 [43,770 INR] (monthly) |
Cost of living in Canada
Indian students can make themselves comfortable in Canada, with a wide range of availability of all commodities. The Canadian government with a friendly atmosphere keeps you sophisticated at an economical rate.
| | |
| --- | --- |
| Categories | Monthly Cost (CAD) |
| | |
| | |
| | |
| | |
| | |
| | |
BBA in Canada with Scholarships
The annual cost of a BBA in Canada for international students is around INR 17,80,442. However, international students can apply for the following scholarships to lower their out-of-pocket costs.
| | | |
| --- | --- | --- |
| Scholarship | University | Benefits CAD/INR |
| Lester B. Pearson International Scholarship Program | University of Toronto | 45,457/ INR 27.21 Lakhs |
| Seymour Schulich BBA/iBBA Entrance Scholarship | York University | 6,776/ INR 4.05 Lakhs |
| Tanna H. Schulich BBA/iBBA Entrance Scholarship | York University | 6,776/ INR 4.05 Lakhs |
| Lloyd-Carr Harris Foundation Entrance Scholarship in Business Administration | Simon Fraser University | 20,000/ INR 11.96 Lakhs |
| Bachelor Degree Entrance Scholarship | Sheridan College | 2,000/ INR 1.19 lakhs |
| Hani Zeini Scholarship | All Universities | 1000/ INR 59,846 |
| QS Undergraduate Scholarship | All Universities | 1000/ INR 59,846 |
| Go Clean Scholarship | All Universities | 3,500/ INR 2.09 Lakhs |
| Innovation in Education Scholarship | All Universities | 500/ INR 29,923 |
You now know the best BBA institutions in Canada and the BBA costs for international students. The BBA degree in Canada enables you to enrol in MBA programmes and prepares you for business, management, accounting, and finance work. Let's look at the BBA post-study possibilities available to international students in Canada.
Before starting their studies, Indian students who want to study in Canada must get a study permit and temporary residence visa (TRV). The applicant must spend
150 CAD
for the application for a student visa in Canada. Canadian visas for Indian students do not require them to purchase health insurance. The following records are needed for the visa:
Acceptance letter from Canadian University

Two recent passport-size photographs

Proof of financial support
Documents Requirements for Canada Student Visa
Password 

Proof of acceptance from the university 

Proof of funds 

Passport size photo

IME, Immigration medical examination 

English language proficiency Exam score
You can aim for a variety of positions after finishing a BBA programme in Canada. When you apply for a job, your education is not necessarily over. Before submitting an application for an MBA degree, you might decide to work for a few years and accumulate professional experience. Following a BBA, these are some of Canada's most popular job titles, along with their average yearly salaries.
| | |
| --- | --- |
| Job Title | Average Annual Salary |
| Accountant | 80,600 CAD/ INR 51,82,734 |
| Administrative Assistant | 65,800 CAD/ INR 39,37,920 |
| Marketing Coordinator | 75,000 CAD/ INR 44,88,511 |
| Business Analyst | 154,000 CAD/ INR 92,16,410 |
| Sales Representative | 78,000 CAD/ INR 46,68,051 |
| Accounting Assistant | 65,600 CAD/ INR 39,25,951 |
On the whole, the average annual salary of BBA graduates in Canada ranges from 40,329 CAD to 65,141 CAD. This fluctuation is mainly based on the different factors that include recognition from renowned universities, the specialization you choose, and the organization that hires the graduate. 
| | |
| --- | --- |
| Leading recruiters | Average Salary (CAD) |
| Canadian Imperial Bank of Commerce | |
| | |
| | |
| | |
| | |
One of the greatest country to study abroad for highly motivated international students is Canada. Canada's educational system offers high-quality instruction and secure future academic and professional prospects. Once you begin working, you can also obtain permanent residency. As an international student adjusting to a strange environment, ensure everything is planned out in advance. 


Connect with our knowledgeable counsellors by selecting AECC if you want assistance at any time during the application process for studying abroad. To help you along the way to your ideal education, AECC has partnered with Canada's Best Business Institutions.