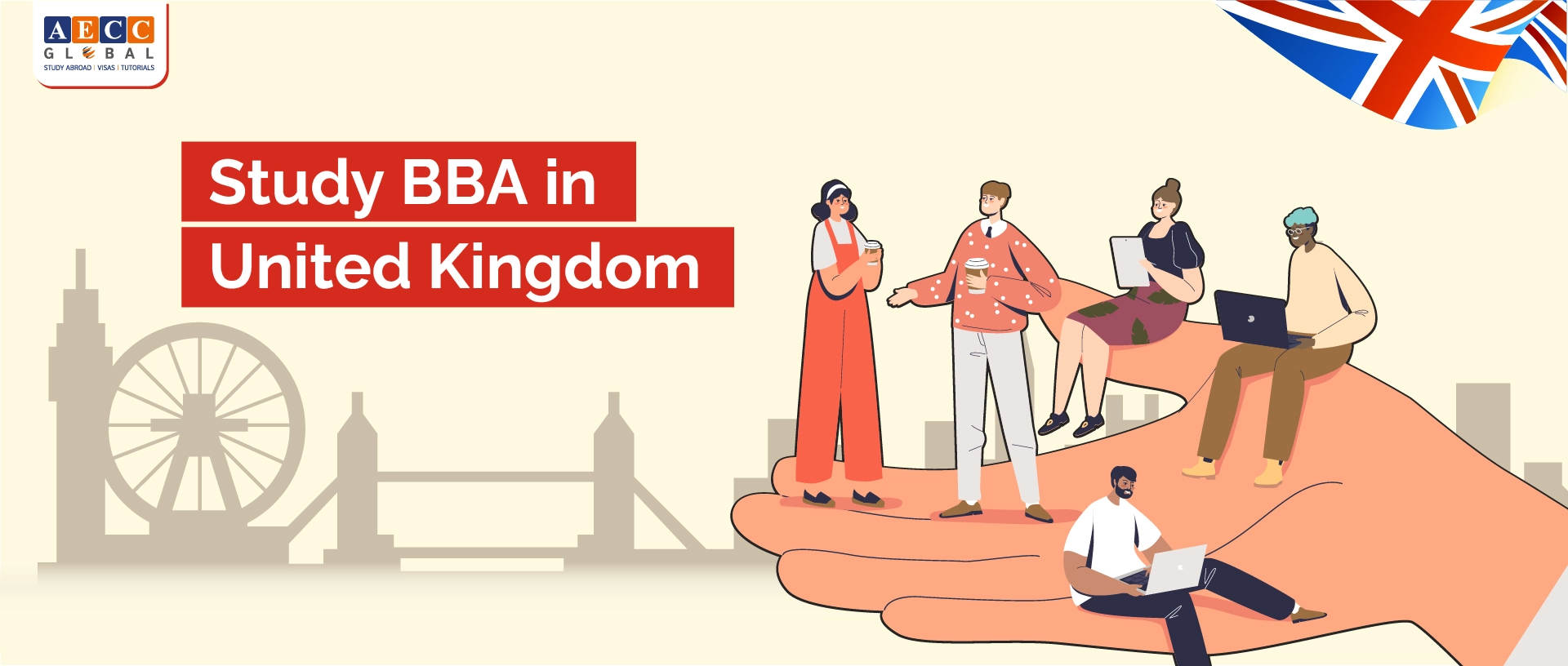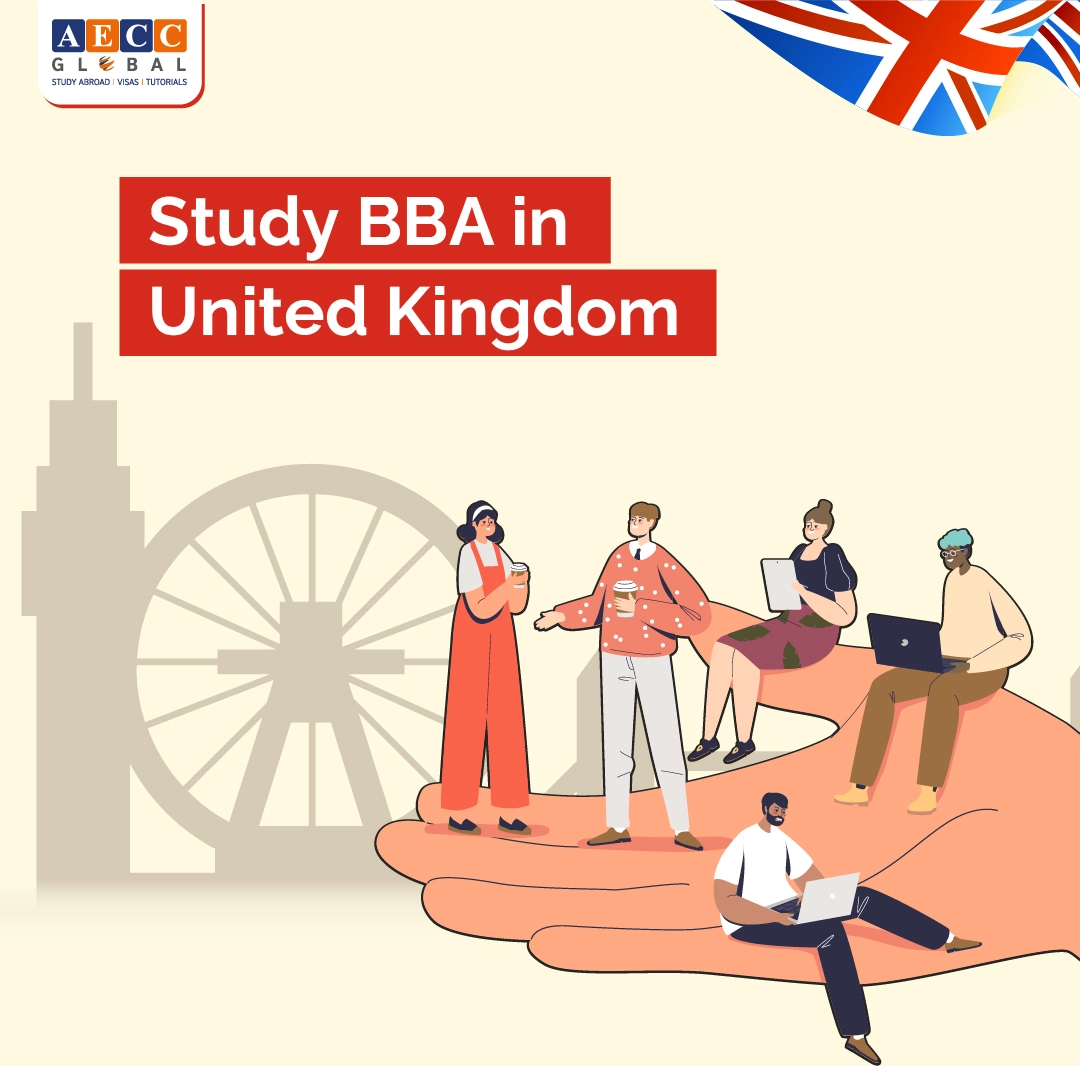 Study BBA in UK for International Students
The United Kingdom is the world's second most popular study-abroad location. It presently has almost 500,000 international students, with India ranking second in terms of student representation. The UK also offers over 100 business schools that are globally renowned and provide world-class education, which is why many students seek admission to BBA courses in the UK.


As an international student, applying for admission to universities offering BBA degrees in the UK is an easy procedure. By keeping these prerequisites in mind, you may avoid any complications and pursue your ambition of studying BBA in the UK. Let's start with the fundamentals of studying BBA in the UK.
The cost of studying in the country is not very high,  and you will also find financial help in the form of scholarships, fellowships, and other financial aid. These may cover your tuition and living expenses wholly or partially. The average cost of studying BBA in the UK ranges from INR 15,00,000 to INR 25,00,000.
| | |
| --- | --- |
| Courses Available | Bachelor of Business Administrations |
| Course Type | Full-time |
| Program Duration | 3-4 years |
| Eligibility Criteria | Completion of higher secondary with a minimum aggregate of 60% with English and Mathematics as compulsory subjects |
| English Proficiency Requirements | IELTS: 6.0 (5.5 in each band) | TOEFL iBT: 75 to 80 overall |
| Entrance Exam | SAT/ACT |
| Average Annual Tuition Fees | 9,250 to 35,600 GBP (9.29 to 35.77 lakhs INR) |
| Average Annual Salary Range | 29,400 to 81,250 GBP (29.54 to 81.63 lakhs INR) |
The United Kingdom has long been regarded as one of the top study-abroad locations for international students, particularly those interested in business degrees. If you're wondering whether studying BBA in the UK is a smart idea, here are some reasons why you should:
Top-ranked institutions may be found in the United Kingdom, which has a unique education system.

Despite the fact that the United Kingdom is an expensive country, you can anticipate financial assistance from your school in the form of scholarships, bursaries, or loans to cover tuition expenses, depending on your merit or need.

There is plenty of opportunity after BBA in the UK, whether you want an MBA in the UK or a job after another course.

A degree from the United Kingdom is highly respected across the world. Employers throughout the world want graduates from the United Kingdom.
BBA in the UK: Specializations and Subjects
BBA is an abbreviation for Bachelor of Business Administration, and the courses included in the degree are Business, Finance, and Economics. The following are the most prevalent BBA subjects or modules in the UK:
Year 1:
Business creation and growth

Business Economics

Introduction to Accounting and Finance

Principles of Markets, Marketing, and Selling

Introduction to International Business

Professional and Academic Development
Year 2:
Managing Innovations

Organizational Behaviour and Management

Business Research Methods

International Business Management
Year 3:
Business Strategy

Marketing Communications

Research Project: Business Administration
BBA in UK: Course Structure
Here is an overview of the BBA course structure in the United Kingdom:
The BBA course in the UK is typically finished in 3-4 years. The degree is completed in three years, with universities providing an extra year for study abroad or placement to enrich your educational experience.

The BBA curriculum is heavily focused on business and management. Accounting, finance, marketing, human resources, entrepreneurship, and innovation are also covered. It is a prerequisite for the MBA programme.

Other common BBA degree options in the UK include a BSc in International Business Management, a BA in Enterprise and Entrepreneurship, a Bachelor of Commerce, a Bachelor of Finance, a Bachelor of Accounting, and so on.
Top Universities to Study BBA in the UK
According to the QS World University Rankings, 2023, the United Kingdom is home to several top-ranked BBA universities. Every person has their method of evaluating university standards. Rankings, recognition, popularity, and specialisation are all examples of this. Furthermore, business schools are acknowledged depending on the student's preference. 
Many leading colleges are home to international students and provide world-class business programmes because of the friendly environment. As a result, pupils may become perplexed when attempting to choose the finest among the best. We make this procedure as simple as possible. Some of the best BBA universities in the UK, as well as their application dates and yearly costs, are included below:
| | | | |
| --- | --- | --- | --- |
| University | Program | Application Deadlines | Annual Tuition Fees (in GBP) |
| University of Strathclyde, Glasgow | BBA | January 24, 2023 | 19,900 |
| Coventry University | BBA | January 2023 | 15,300 |
| Hult International Business School | BBA | March 15, 2023 | 35,600 |
| Heriot-Watt University | BBA | January 25, 2023 | 16,000 |
| University of Essex | BBA | January 25, 2023 | 19,550 |
Admission Requirements for BBA in the UK
The following information will help you understand the qualifying criteria and admission requirements for BBA programmes in the United Kingdom:
High School Qualification
The standard entry requirement for admission to BBA in UK for international students is to complete high school education. You are expected to pass the standard XII examination with 70-75% for admission to the top BBA colleges in the UK.
SAT/ ACT Scores
SAT or ACT scores are not required for admission to a BBA programme in the United Kingdom. If the institution allows it, these results can be used as proof of English language competency.
Proof of English Language Proficiency
International students whose first language is not English must present IELTS, TOEFL, or similar test scores as confirmation of English language competency. This is an important condition that must be met for both admission and visa reasons. You may be required to enrol in a language course if you do not fulfil the minimum language requirements.
Documents Requirements
You must have the following documents available when applying for a BBA course in the UK:
Official high school transcripts and other documentation proving your academic achievements.

Proof of English language proficiency

SAT/ ACT scores (optional)

Letters of Recommendation (LOR) for BBA

SOP

Finance proof to cover the expenses

Passport copy
In addition to the documents listed above, depending on your place of origin, you may be required to fulfil additional requirements as defined by the university.
Visa Requirements
As an international student seeking admission to BBA institutions in the United Kingdom, you must apply for a Tier 4 student visa. Applying for a visa to study BBA in the UK will cost you £348. You can begin the application procedure for a student visa three months before the start date of your BBA programme in the UK.
Admission Process for BBA in the UK
Let us now look at the application process for admission to BBA universities in the United Kingdom:
Examine your programme's eligibility and admission requirements.

As an international student, you can apply to more than one UK university via UCAS.

Each university has its own direct online application process.

Fill up the online application and pay the application cost. The application price for UCAS is

£20/₹1,606

for a single choice and

£26/₹2,091

for multiple selections. Different universities may have different application fees.

Prepare the required documentation as directed by the university. Obtain official English translations of any documents that are not released in English.

Universities in the United Kingdom receive applications twice a year, in January/February and September/October. Some institutions also offer April/May admission.

Following the preliminary examination of the applications, you may be invited to an evaluation interview.

Wait for the application decision, accept the admission offer and submit the visa application.
BBA Colleges in the UK with Fees
In the United Kingdom, you will have a broad selection of possibilities to pick from in terms of tuition fees, cost of living, and other expenditures. Generally, the cost of studying in the UK varies at every university, depending on its popularity and the courses it offers. The yearly tuition rates for a BBA in the United Kingdom range from 9,250 to 35,600 GBP (9.29 to 35.77 lakhs INR). The tuition expenses for each university are shown below:
| | | |
| --- | --- | --- |
| University | Annual Fees (GBP) | Equivalent Fees (INR) |
| University of Strathclyde, Glasgow | 19,900 | 19.99 lakhs |
| Coventry University | 15,300 | 15.37 lakhs |
| Hult International Business School | 35,600 | 35.77 lakhs |
| Heriot-Watt University | 16,000 | 16.07 lakhs |
| University of Essex | 19,550 | 19.64 lakhs |
Scholarship for BBA in the UK
The United Kingdom is an expensive place to live, especially for students who are not receiving financial aid. To fund their studies, students can apply for undergraduate scholarships in the United Kingdom. The following are some of the most popular scholarships in the UK for BBA students:
| | | |
| --- | --- | --- |
| Scholarships | Eligibility | Award Value |
| BBA International Scholarship | Strathclyde University's international BBA students | 15% fee reduction |
| Heriot-Watt University Bursary | Academically outstanding candidates enrolled in a UG degree at Heriot-Watt University | 1,000 to 3,100 GBP |
| BrokerFish SPring Scholarship Competition | Eligible for International students | 820 GBP |
Cost of Living in the UK
It is not simple to study BBA in the UK. Students must contend with expensive annual tuition expenses and a high cost of living. London is regarded as the most expensive city in the United Kingdom. Furthermore, the cost of living in the United Kingdom is around 1.75 times that of India. The chart below shows the typical expenditures incurred by a student while studying in the United Kingdom:


| | | |
| --- | --- | --- |
| Expense Type | Cost Per Month (GBP) | Monthly Cost Equivalent (INR) |
| Private Apartment | 680 to 1,600 | 68,300 to 1.61 lakhs |
| Meal | 14 to 55 | 1,400 to 5,500 |
| Gas and Electricity | 185 | 18,600 |
| Phone and Internet | 30 | 3,000 |
| Public Transport | 65 | 6,500 |
BBA Jobs in the UK
Every year, the United Kingdom produces high-quality BBA graduates via its major business schools and universities. Top recruitment organisations are continually fighting to hire graduates for various professions. When it comes to job activities, candidates can select the preferred one they are enthusiastic about. If you're having trouble deciding, we can help you learn about popular employment positions from prominent organisations in the UK.
One of the most popular careers for BBA graduates is business development executive. Aspirants who work as BD executives will receive experience managing the complete business's activities for immediate and long-term improvements.

Marketing executive who selects candidates for brand marketing and strategy development to promote the company. Graduates can choose between field marketing and digital marketing based on their interests.

One of the most in-demand careers in the UK is project executive. Managing small and long-term tasks is an art! You'll get experience with diverse management tactics and team-leading skills that will aid in the development of certain projects.

Account executive entails a thorough grasp of the client's goals in numerous fields such as finance, marketing, advertising, and sales.
BBA Graduate Salary in the UK
The vast majority of students obtain a BBA in order to advance to an MBA and discover competitive career prospects. Some students opt to work after finishing a BBA study in the UK. In the UK, the starting salary for a BBA is £32,000/ INR 25,71,000. Among the different job titles that a business professional might hold, the following are the most typical for a BBA graduate in the UK:


| | |
| --- | --- |
| Job Title | Average Annual Salary |
| Business Analyst | £91,300 or INR 25,15,000 |
| Business Development Manager | £116,000 or INR 93,20,000 |
| Accounting Manager | £106,000 or INR 85,17,000 |
| Financial Analyst | £93,100 or INR 74,80,000 |
| Human Resources Manager | £106,000 or INR 85,17,000 |
| Sales Manager | £127,000 or INR 1,02,03,940 |
| Project Manager | £89,000 or INR 79,50,792 |
Conclusion
Students strive to pursue BBA in the UK in search of a promising future, which may become a reality if everything is planned out from the start. Studying in the United Kingdom is a significant decision that necessitates both academic and financial planning. 

If you are planning to pursue BBA in the UK, you're on the right track! 


Subscribing to AECC now allows you to contact our counsellors for qualified guidance. Yes, leading universities in the UK are associated with AECC, which has assisted over 1 lakh+ international students to pursue their favourite courses in the most beautiful cities of the UK.