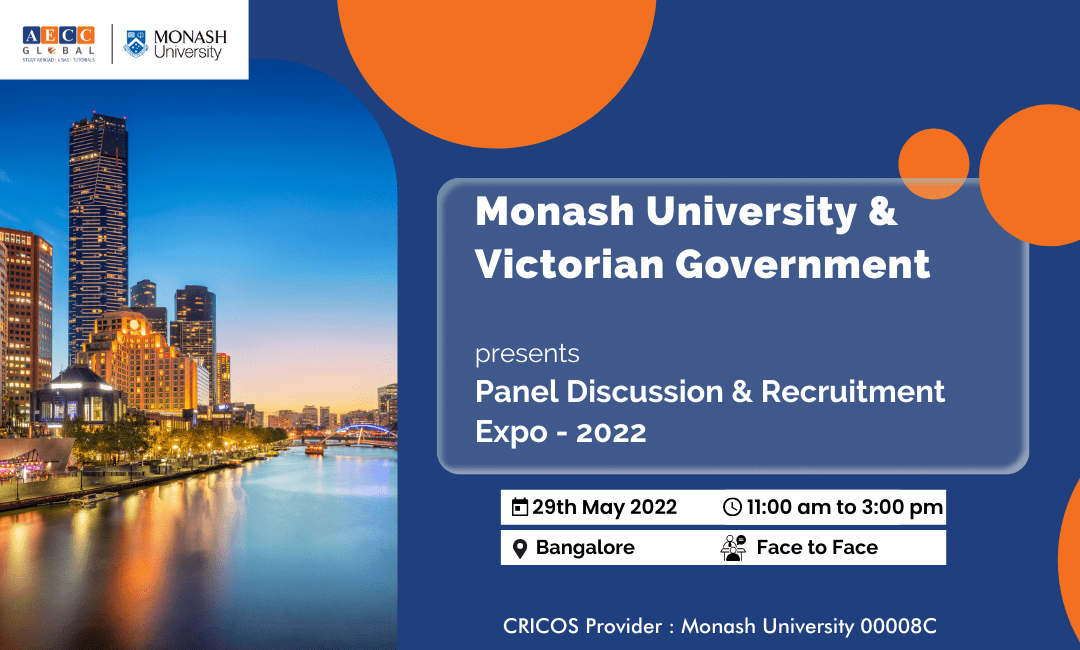 Your Journey starts with Monash!

With 60 years of educational experience, Monash is making history with their outstanding research, diversity, breadth of alumni, partnership, and connections all over the world. Monash is recognized as a modern, global, research-intensive university, delivering education and excellence in Australia and Indo-specific. With the vibrant and diverse community of 86,000 students, 17,000 staff, and more than 440,000 alumni, Monash is creating a global impact all over the world. 


Monash has three international teaching locations, six campuses, and is embedded with more than 100 partner universities. Monash has more than 150 fields of research, 10 faculties, and over 4700 Higher Degrees by Research students solving the challenges of our age. When it comes to study options, Monash offers a wide range of undergraduate and postgraduate courses. Monash has achieved an enviable reputation for research and teaching excellence and consistently ranked in the world's top 100 universities. Monash university is the right choice for passionate students and future global leaders who want to make a positive impact.
About Panel Discussion & Recruitment Expo from Monash University

Welcome to the Next big happening of 2022! AECC Global is proud to collaborate with Monash university and the Victorian government. An amazing opportunity  for study Australia aspirants!
Date: 29th May 2022 / Sunday
Time: 11:00 am to 3:00 pm IST
Venue: Bangalore 
Mode: Face to Face 
29th May 2022 (11:00 AM to 11:03 AM - 3 Mins)
Welcome Note & Introduction by Monash Team
29th May 2022 (11:00 AM to 11:03 AM - 3 Mins)
29th May 2022 (11:03 AM to 11:13 AM - 10 Mins)
Presentation by Victorian Government
Brief about Study in Victoria & Education Services for International Students
29th May 2022 ( 11:13 AM to 11:38 AM - 25 Mins)
Panel Discussion
Complete Guidance by Victorian Government Representative; Monash University Faculty Recruiters and Student Ambassador
29th May 2022 ( 11:13 AM to 11:38 AM - 25 Mins)
29th May 2022 ( 11:38 AM to 11:40 AM - 2 Mins)
Thank You Note by Monash University
29th May 2022 (11:40 AM to 12:40 PM - 1 Hour)
Faculty Recruiter Engagement
29th May 2022 (11:40 AM to 12:40 PM - 1 Hour)
29th May 2022 (12:40 PM to 4:00PM - 03 Hour 20 Mins)