Student Visa for USA from India
"Things aren't always easy, but you just have to keep going and don't let the small stuff bog you down."– Stella Maeve
It is not difficult to obtain a student visa for the United States from India; however, you must adhere to all student visa requirements for the United States from India and allow plenty of time to complete and submit your paperwork. You must be accepted into a degree programme at an accredited US institution of higher education before you can apply for your F-1 student visa for the United States from India. (For more information on the college research and application process, see our guide to studying in the United States.)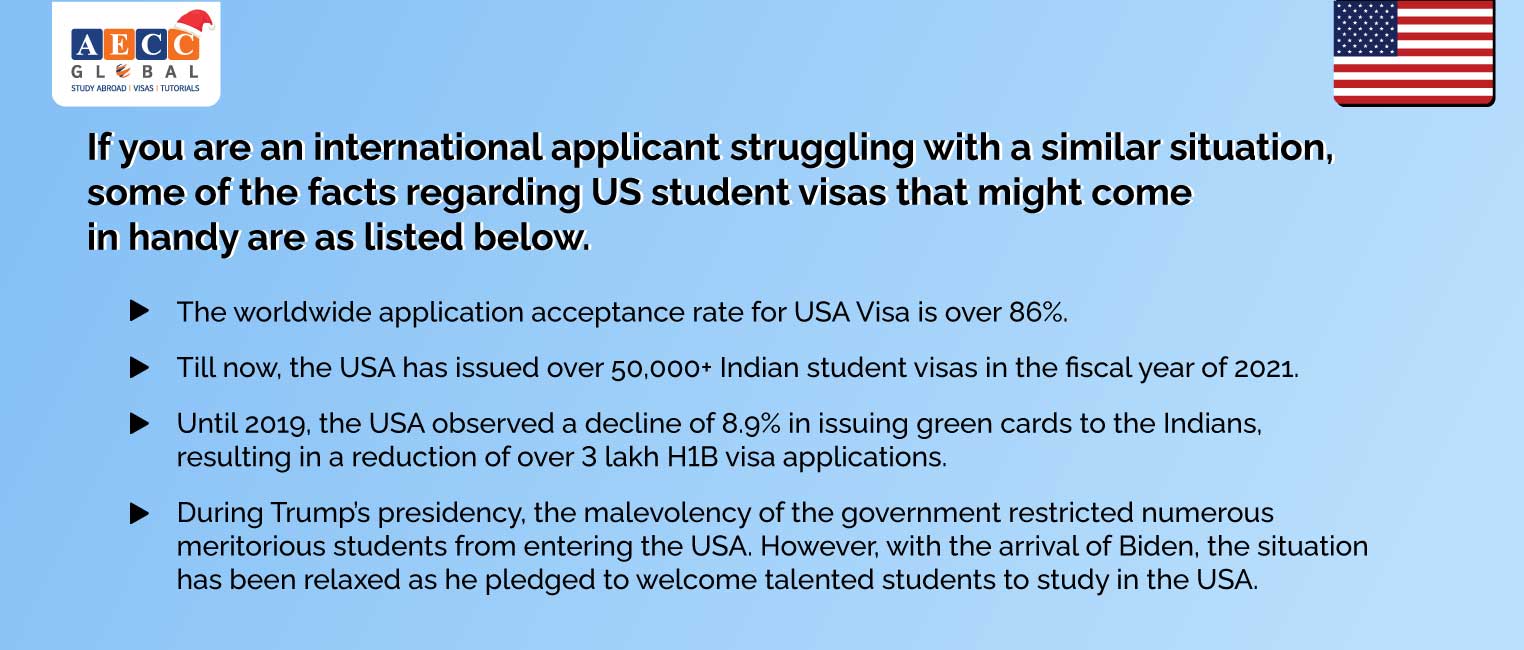 Student Visa USA Cost
An F1 visa permits overseas students to study full-time at an institution in the United States that is part of the Student and Exchange Visitor Program (SEVP). F1 visa applications cost roughly $510, and you should apply at least three months before the start date of your course.


Applicants who are engaging in a US government-sponsored programme (programmes with codes beginning with G-1, G-2, G-3, or G-7) are exempt from paying the SEVIS fee.


| | | | |
| --- | --- | --- | --- |
| Visa type  | Description  | Fee amount  | Fee amount in rupees  |
| F | Students (academic) | $160 | Rs. 11520.00 |
| J | Exchange visitors  | $160 | Rs. 11520.00 |
| M | Students (Vocational) | $160 | Rs. 11520.00 |
US Student Visa Requirements

According to the application procedure of US universities, a student must have the following fundamental papers in order to obtain a US student visa.
A valid passport with a minimum validity of 6 months after your stay in the country

DS-160 Form (Nonimmigrant visa application confirmation page)

Payment of the application fee If you are seeking a student visa, you must have Form I-20 on hand (Certificate of Eligibility for Nonimmigrant Student Status)

If applying for a work visa, provide the receipt number on the petition submitted by the US employer (I-129 form).

Provisional certificates or original marks sheets

Evidence of adequate cash in your bank account to cover the duration of your course in the United States. Bank statements, sponsors, and a scholarship programme are examples of this.

Evidence indicating the candidate intends to depart the country after the programme is completed.

A personal interview at the US embassy or consulate is also required as part of the application procedure.
Documents Required for US Student Visa

Process of Obtaining a Student Visa in the United States: A student visa necessitates the carrying of many more papers than a tourist visa. You'll need the required paperwork, as well as financial and academic records to back them up. Before heading to the consulate for the visa interview, be sure you read this checklist.
A valid passport with a validity date at least six months beyond your period of stay.
A printed copy of DS-160, the online application form

SEVIS Fee Receipt

Interview appointment letter (original and copy)

Form I-20 sent by the college (where you are going to study)

Visa fees payment confirmation receipt

Bank statement for at least one year showing that you have enough assets to pay for the first year (could be of parent or guardian)

Pay/Salary slips

Original mark sheets/Provisional Certificates
Eligibility Criteria for USA Student Visa

Eligibility for a US Visa The type of visa that you fall under determines your eligibility for a USA visa. For non-immigrant categories, you must obtain clearance from either USCIS or SEVIS (Student and Exchange Visitor Information System) or the Department of Labor (Department of Labor). Whether you are an athlete or a performing artist, a traveller or a businessman, you must thoroughly examine whether you meet all of the requirements and eligibility criteria of the particular visa category before applying.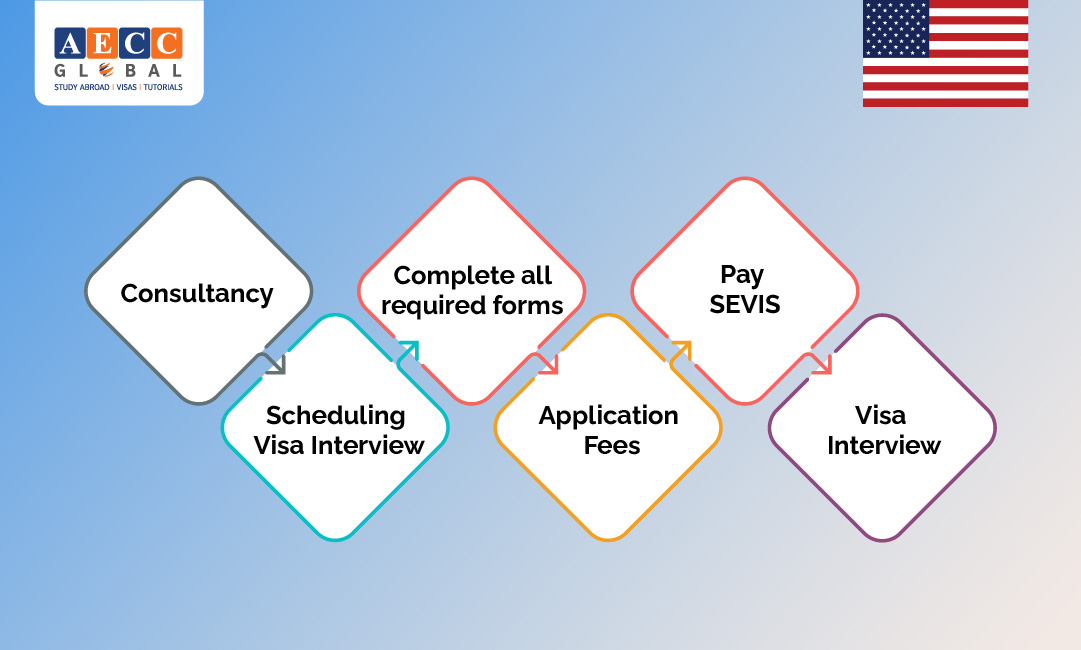 Acceptance into a training programme: The international student office at your selected college will send you an I-20 form. This form should be kept safe because you will need it for your visa interview.
Register for SEVIS and pay the $350 fee: This implies that your fee must be received by the Student and Exchange Visitor Information System before the DS-160 may be processed.
Fill out and submit an online non-immigrant visa application (DS-160 - $160):

You must also upload a photo of yourself that matches particular specifications or a biometric appointment, as well as supply any other documentation necessary.

Make an appointment for a visa interview:

This must be done at the US Embassy or Consulate in your home country. During this interview, you will be asked about your prior exam scores as well as your financial situation.

Obtain a decision:

During your interview, you should be informed of the outcome of your application.



Student Visa USA Processing Time
Depending on the intricacy of your case, the time it takes to obtain an F1 visa might range from days to a week.
In most situations, 

your application will just take a few days to process, and then you'll have to wait another two or three days for your revised passport to arrive.
To ensure that you receive your visa on time, you should apply at least three to four months before your departure date.
How to Get a Student Visa for USA
There are several steps to apply for a USA Study Visa:
When you get Form I-20 from your college, the process of obtaining a visa begins. Though you can pay the SEVIS fee at any moment during the application process, it is strongly advised that you pay the SEVIS I-901 charge before beginning your US visa application.
You can apply for a DS-160 visa form after paying the SEVIS fee and receiving a receipt. It is a web-based application form.

To bring to your interview, print the confirmation paper from the application form.

Pay the visa cost via NEFT or at an approved AXIS/Citibank branch.

Make a Biometric appointment as well as an interview appointment.

You must arrive in person for the Biometric appointment to have your photos taken for the visa and your fingerprints scanned.

During the personal interview, the interviewer will ask you questions about your choice, college, money, and plan to return. If he or she is persuaded, they will retain your passport with them until the visa is stamped.
Online Student Visa Application for USA

You must apply for your student visa online on the website of the US Embassy and Consulates in India. You have up to 120 days before the program's start date to apply. Remember that your application date is the date you pay your application fee. If you are an AECC student who has received an offer letter from one of our US partner universities, we can assist you on how to proceed with the application process. We'll keep you up to date on the most recent visa criteria and conditions, as well as assist you in preparing the necessary paperwork for the application.
Student Dependent Visa USA

Many overseas students are planning to come to the United States to begin their studies as USA consulates reopen throughout the world. While some may come alone, others, such as postgraduate students, may consider bringing partners or children.


While it is possible to bring family and dependents to the United States on a student visa, there are rigorous requirements that must be followed, and the process can be time-consuming.


The student-dependent visa is referred to as the F2 Visa. The F2 visa is a non-immigrant dependent visa that allows immediate family members of F1 student visa holders to visit the United States. Dependents include the individual's spouse and unmarried children under the age of 21 who are studying in the United States.

We can assist you on how to proceed with the application process if you are an AECC student with an offer letter from one of our USA partner universities. We'll keep you up to date on the most recent visa criteria and conditions, and we'll help you prepare the appropriate paperwork for submission. 

Our team of professionals will lead you to official websites and authorised immigration representatives to guarantee you get the most up-to-date application paperwork and information. To save you time, we can additionally certify, translate, and courier your documents. 

Please check our website on a frequent basis if you are a student wishing to pursue your studies in the United States. AECC is associated with the leading colleges in the United States and will guide you through the whole overseas education process.
1. Can you visit USA with Canadian student Visa?
Canadian student visas and temporary resident visas are not valid in the United States. If you want to visit the United States, you will need a visa.
2. Can student visa dependent work in USA?
3. Can we work in USA with student visa?
4. How can i get student visa for USA?
5. Who can sponsor for student visa in USA?