How to Study in Australia from India?
Australia stands proud among the list of preferred study destinations by Indian students, with eight globally ranked universities. Perth is the most-picked city in Australia, followed by Brisbane, Melbourne, Adelaide, and Sydney. The provision of world-class education, sophisticated technology and culture, better paying job opportunities, etc., has led to Australia's spectacular position.
Hey, we'd like to know you better too!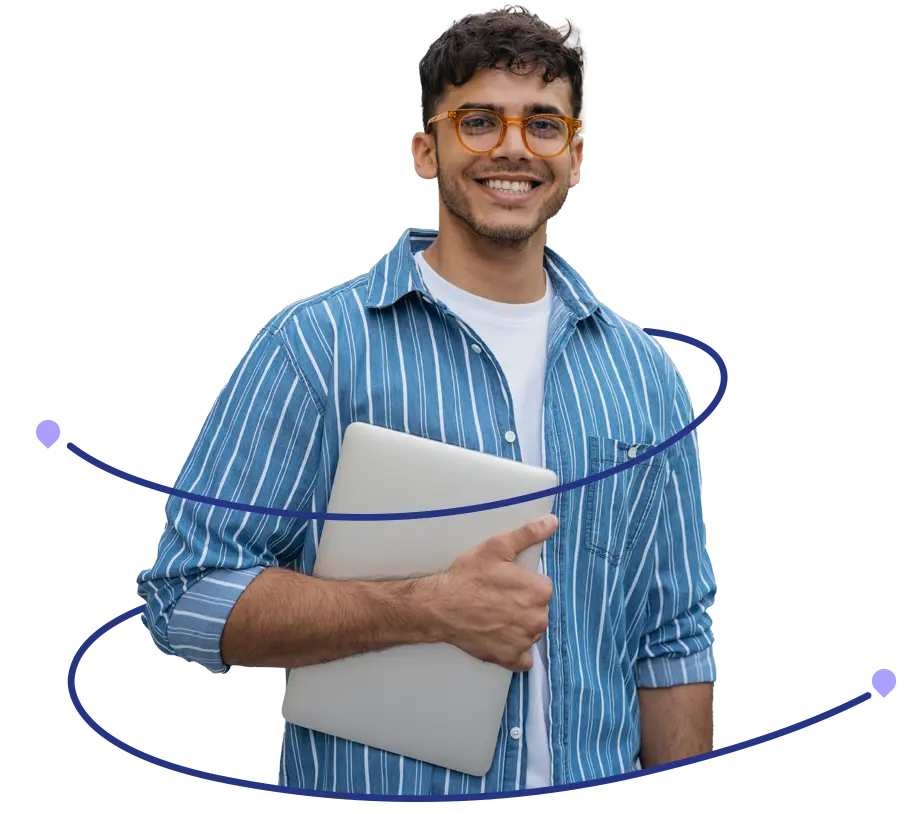 Why Study in Australia as an Indian Student?
Every student is picky when choosing their course, especially if it involves relocating to a completely different country. Each student has a different reason for choosing Australia as their study destination. A few of them would be:


First-rate education guaranteed: Australia is the "pick of the bunch", especially owing to the quality of education. It is a notable fact that out of the 100 best universities in the world, eight are from Australia, according to the QS World University Rankings 2022. Also, Australia provides several courses and programs to find at least one that fits your taste.

Ample career opportunities: Australia has comparatively simpler work visa procedures for graduates. It allows you to work for 20 hours during your semester and as a full-time worker during your semester breaks. This helps you gain some extra dollars. The visa authorities will never restrict you from exploring part-time or full-time work opportunities.

Cut down the expenses: When you compare Australia to other countries like the USA and UK, you will find that tuition fees and living expenses are quite low. Also, a wide array of scholarships await you there. Taking the University of Queensland into consideration, you will find that they offer several prestigious scholarships like the UQ High Achievers Scholarship for Indian students. 

Country of diversity: Australia is a country of diversity. You will find people from all languages and cultures there, which helps you explore new things and makes you less homesick. Over 200 languages are being spoken in Australia, and the area of New South Wales will help you find around a lakh people of Indian descent.

Globally Recognised qualifications: Australia is the 3rd most preferred study destination globally and saw more than 1,00,000 International students in the first few months of 2022. Your certificate from an Australian university has a good global reputation because it is distinguished by the Australian Qualifications Framework (AQF).

Unique teaching and learning process: Australia's teaching process is a bit different from the one that the other countries follow. They give more space to critical thinking, and the learning system goes at a pace. It does not make you swallow everything by heart.

International students' rights: None can surpass Australia when it comes to giving rights and freedom to people. The Australian Education Services for Overseas Students (ESOS) Act 2000 ensures that international students' study programs meet strict government standards.

Career-focused education: The Australian education system is more career-oriented. They provide both long term and short term study programs, the syllabus of which also includes certain skills. Apart from that, those like the University of Queensland allow students to shift from one course to another.

Research-oriented programs: Australia provides great importance to research and has several universities that led to the development of several notable inventions. For instance, the University of Queensland was the only university that was asked to develop a vaccine for the COVID-19 pandemic. 

The beautiful landscape:

Australia is one place gifted with a beautiful landscape and bustling, developed cities. If you are a fan of nature trips and adventures, you can visit the Great Barrier Reef, Bondi Beach etc. On the other hand, a visit to the Sydney Harbour Bridge, Sydney Opera House etc., will help you enjoy sophisticated Australia.
Having said this, what are your reasons for flying to Australia?
What are the Best Courses to Study in Australia?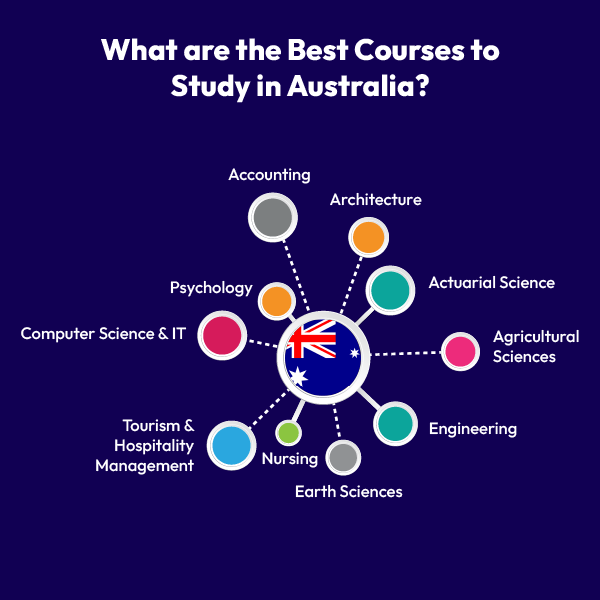 Accounting:

As is the case with India, accounting is slowly gaining importance in Australia. The number of students pursuing core accountancy and professional accountancy is increasing, and it has a good scope in the country.

Architecture:

The importance of architecture has increased over the years. It has especially been so in the case of Landscape Architecture, as landscape architects are currently in high demand in Australia.

Actuarial Science:

This discipline assesses the financial risks in insurance, finance, and other related sectors by combining mathematics, statistics, finance, computer science, and economics.

Agricultural Sciences:

Now, this is a course that Australia prefers. It covers agronomists, forestry consultants, agricultural consultants, and agricultural scientists. You can shift to Australia without a degree if you have relevant work experience. Nonetheless, an Australian degree would be given preference in the Australian job market.

Engineering:

The engineering field is vital in Australia, as in India. Yet, core and biomedical engineering subfields are in high demand there. 

Earth Sciences:

Australia has an abundance of uranium, natural gas, and coal; and hence holds a high reputation in mining metallurgy. Geologists and geoscientists are in demand in Australia.

Tourism & Hospitality Management:

Australia is a dreamland for everyone worldwide. The picturesque landscape attracts a whole lot of tourists, which explains the demand of tourism and hospitality management courses in Australia.

Computer Science & IT:

These two disciplines enjoy considerable relevance in almost all parts of the world. Business Intelligence, Machine Learning, Data Visualization, Data Management etc., are a few fields of considerable interest in Australia.

Psychology:

The field of psychology has shown a striking increase in the current years, and this trend has positively affected Australia. The discipline is attracting more and more popularity.

Nursing:

Nursing is an oft-chosen course in Australia. However, those who choose their graduation in nursing outnumber those who take it for their diploma and master's. 



What are the top 10 Universities in Australia for Indian Students?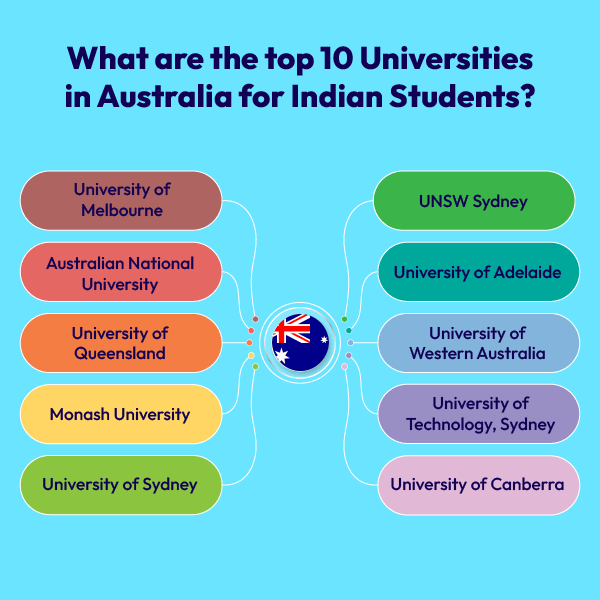 University of Melbourne:

The University of Melbourne is considered the best university. On top of that, it enjoys the highest rank in Australia, with a 67.5 score. It is also curious to note that half of the students studying there are international students. It is famous for research and teaching.

Australian National University:

The ANU is ranked second in Australia in the Times Higher Education rankings. What makes ANU stand apart from others is that it provides student accommodation, research facilities, and study spaces. It has the best humanities and social sciences faculty.

University of Queensland:

The University of Queensland is located in Brisbane, ranked 10th on the Global Liveability Index 2021 by the Economic Intelligence Unit. It is also notable that they are the country's national leaders in hospitality, tourism, and biodiversity conservation subjects.

Monash University:

If you are looking for colourful and vibrant university life, Monash is the best pick. Monash is the largest university in Australia, and around 48% of its students are international. They are famous for their nursing and performing arts disciplines.

University of Sydney:

The University of Sydney stands out in a few respects. It was the first university in Australia to admit female students on the same basis as they admit male students. Arts, social sciences, and business constitute the popular courses at the University of Sydney.

UNSW Sydney:

The UNSW Sydney saw roaring popularity in the past decade. It swiftly jumped over 100 ranks globally and has become one of the most desirable universities, especially for international students. Engineering and law are the most sought-after disciplines there.

University of Adelaide:

Best known for teaching and research, the University of Adelaide is the third-oldest university in Australia. Also, it was the first university in Australia to offer degrees in science. It is ranked 101 in the Academic Ranking of World Universities by Shanghai Jiao Tong University.

University of Western Australia:

It is the first university in Perth and is famous for its courses in agriculture and forestry and mineral and mining engineering. It is recognised all over the world as a leading research-intensive university.

The University of Technology, Sydney:

Although the UTS is comparatively young, it has carved a niche. UTS is among the world's top institutions in nursing, arts and design, sports, library and information management, according to the QS World University Rankings 2021.

University of Canberra:

If you are a sports enthusiast, this place is for you. The University of Canberra is where you can surely thrive if you give importance to sports alongside your studies. Swimming, rugby etc. are a key part of the student life there.
How Much it cost to study in Australia from India?
Australia is cheaper for international students than the USA and UK. The Federal University of Australia is considered the cheapest university in Australia for international students. The courses can never be inexpensive, but there is no place for any worries as there are grants and scholarships in several forms to help you study your dream course in your preferred university or college.
Study Programs
| | | | |
| --- | --- | --- | --- |
| S. No | Degree | Average fees (AUD) | Average fees (INR) |
| 1 | UG | AUD 20,000 - 45,000 | INR 10,64,494 - 23,95,069 |
| 2 | PG | AUD 22,000 - 50,000 | INR 11,70,841 - 26,61,002 |
| 3 | PhD | AUD 18,000 - 42,000 | INR 9,57,961 - 22,33,920 |
| 4 | Diploma | AUD 26,000 - 30,000 | INR 13,82,903 - 15,95,657 |
Cost of Living in Australia

When you plan to study abroad, cost of living is one of the first things you need to consider. Australia is never a cheap place to live, and you will have to keep an eye on your expenses to live comfortably. The annual cost of living in Australia will be over AUD 20,000. It should be kept in mind that this is beside your tuition fees. The cost of living highly depends on your place of residence and living style. You will get financial aid in scholarships and fellowships, which will help you better your financial state.  
| | | |
| --- | --- | --- |
| S. No | Type of expense | Average cost in AUD |
| 1 | Accommodation  | AUD 860 |
| 2 | Transportation  | AUD 210 |
| 3 | Basic amenities | AUD 500 |
| 4 | Entertainment  | AUD 300 |

These roughly constitute the living expenses in Australia. It can strictly vary depending on how you live and where you live. It is worth considering that Australia comes in the list of Top 10 countries in the Human Development Index and Quality of Life Index. To put it short, Australia is a developed nation. People enjoy a high level of income, and thus it enjoys political and economic stability.
What are the Requirements to Study in Australia?
Diploma Programs:

Apart from a minimum of 60% in grade 12, you will need a score of at least  5.5 in IELTS. The TOEFL internet score should be 55, and the PTE score should be between 42 and 49. Remember that these tests should be taken not more than two years before your course commencement.

Bachelor's Programs:

To do a Bachelor's degree in Australia, you require at least 65% in your grade 12. In addition, the IELTS score should be at least 6.0, the TOEFL score should be 65, and the PTE score should be between 50 and 57.

Master's Programs:

A 3-year degree from a recognised university is enough for most universities. However, specific courses and universities demand a qualification equivalent to an Australian Bachelor's degree. The IELTS, TOEFL, and PTE scores should be 6.5, 79, and 58-64, respectively. 

Doctoral Programs:

A three to four year Bachelor's degree and a two year Master's degree are essential for doing a Doctoral degree in Australia. Added to it, a minimum IELTS score of 6.5 is also required.



What are the Entrance Exam to Study in Australia?
IELTS:

A candidate needs to take the International English Language Testing System (IELTS) test to gain admission to any university in Australia. This tests the English language skills and has four components: reading, writing, listening, and speaking. The test should be completed within 2 hours and 45 minutes with a minimum score of 6 or 6.5.

TOEFL:

The Test Of English as a Foreign Language (TOEFL) can be taken in two forms; paper-based (PBT) or internet-based (iBT). An iBT score of at least 79 or a PBT score of at least 550 will be required to be accepted into an Australian university.

PTE: The Pearson Test of English (PTE) is yet another test that checks the English proficiency of a student. You should have a minimum score of 50 in this three-hour-long test to get admission into an Australian university.
CAE:

The Cambridge English: Advanced (CAE) test is organised by Cambridge University and is recognised by universities all over Australia. You should have a minimum score of 180 on this three-hour test. 



How to get Scholarships to Study in Australia?
| | | | |
| --- | --- | --- | --- |
| S. No | Scholarships  | Details  | Amount in AUD |
| 1 | Australia Awards | It covers the total tuition fees, airfare, living expenses, & health cover for 2 years of UG/PG students | Variable  |
| 2 | Destination Australia | It provides funding for each year, for 2 years | AUD 15,000 |
| 3 | John Allwright Fellowship (JAF) | It is available for students doing their PG & PhD | Variable  |
| 4 | Australian Government Research and Training Program (AGRTP) | Given to doctorate and Master's research students, it covers the tuition fees and health insurance for 3 years | AUD 28,587 per annum |
How to get an Australian Student Visa from India?
The Australian student visa allows you to live, study, and work in Australia for five years. You can work 40 hours fortnightly during your course and unlimited hours during your semester breaks. Also, you need not wait until your class commences to start working. The basic requirements for an Australian visa are
A letter of offer from your university.

Confirmation of Enrolment (CoE).

Genuine Temporary Entrant (GTE) statement.

Proof of sufficient funds in the native bank.

Overseas Student Health Cover (OSHC).

Clean criminal record.

Good medical record.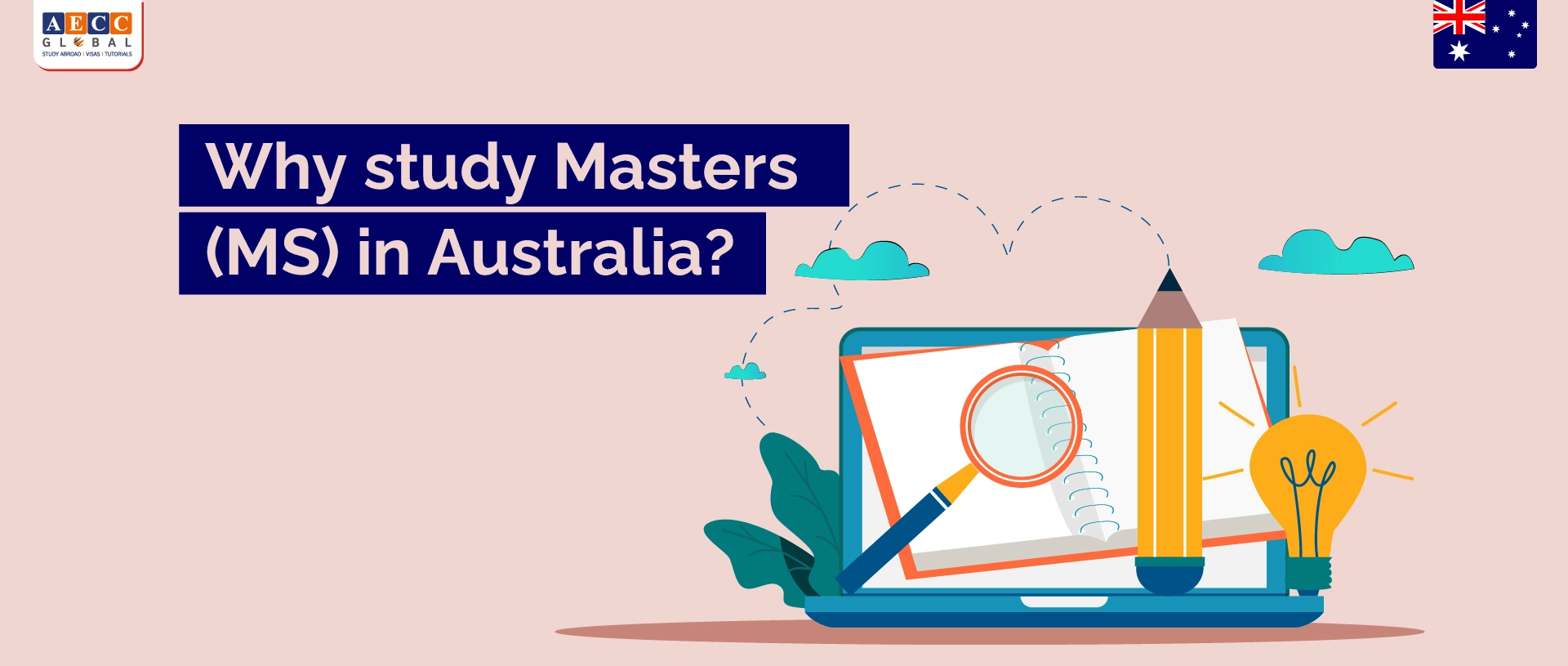 The Government of Australia laid the best foundation for overseas students to make an effective transition in education, making it easy for them to fit in. In addition to this, many top-ranked universities are the major identity of Australia which has grabbed  the world's attention. These elements altogether made Australia a favorite destination for students who love to pursue their higher studies.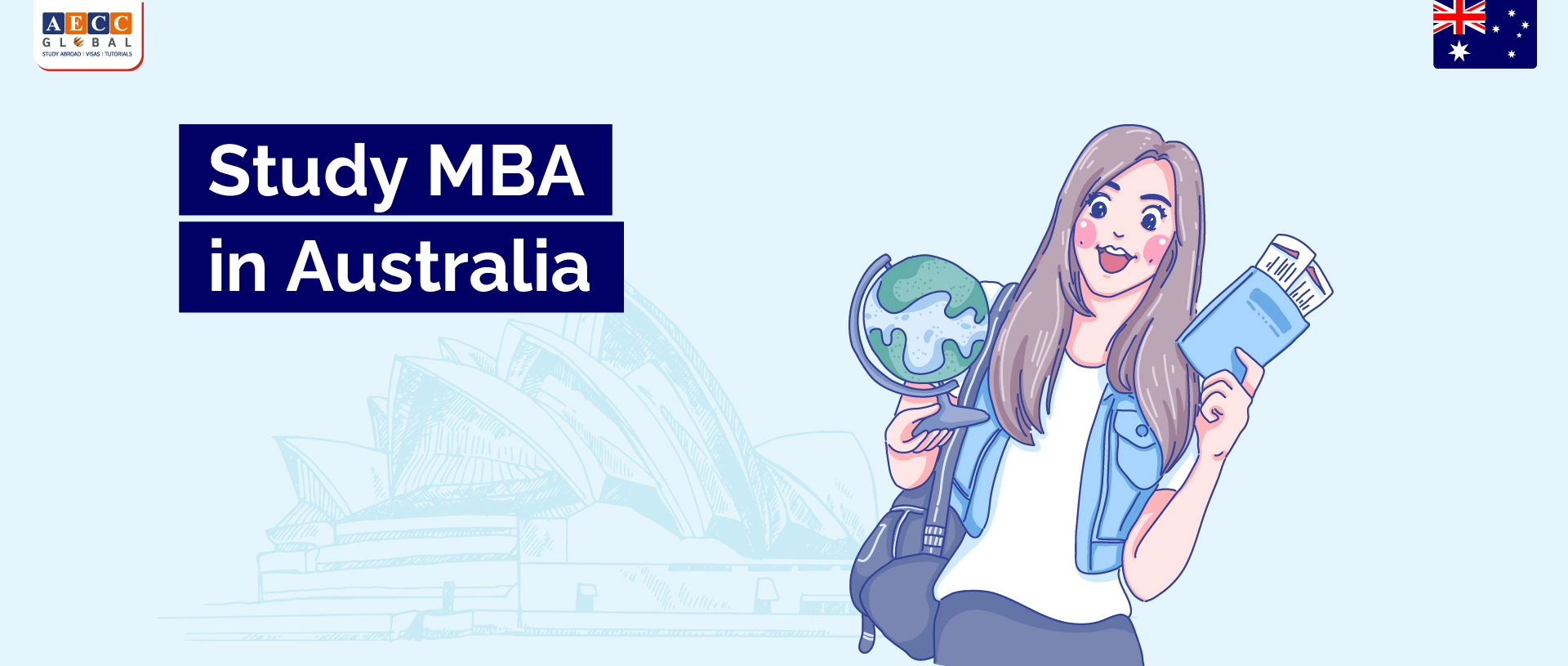 Among the top destinations, Australia is one of the most preferred to pursue post-graduate programs. If you have planned to study MBA in Australia, you've made the right decision. This article will provide comprehensive insights to the aspirants who wish to pursue MBA in Australia.