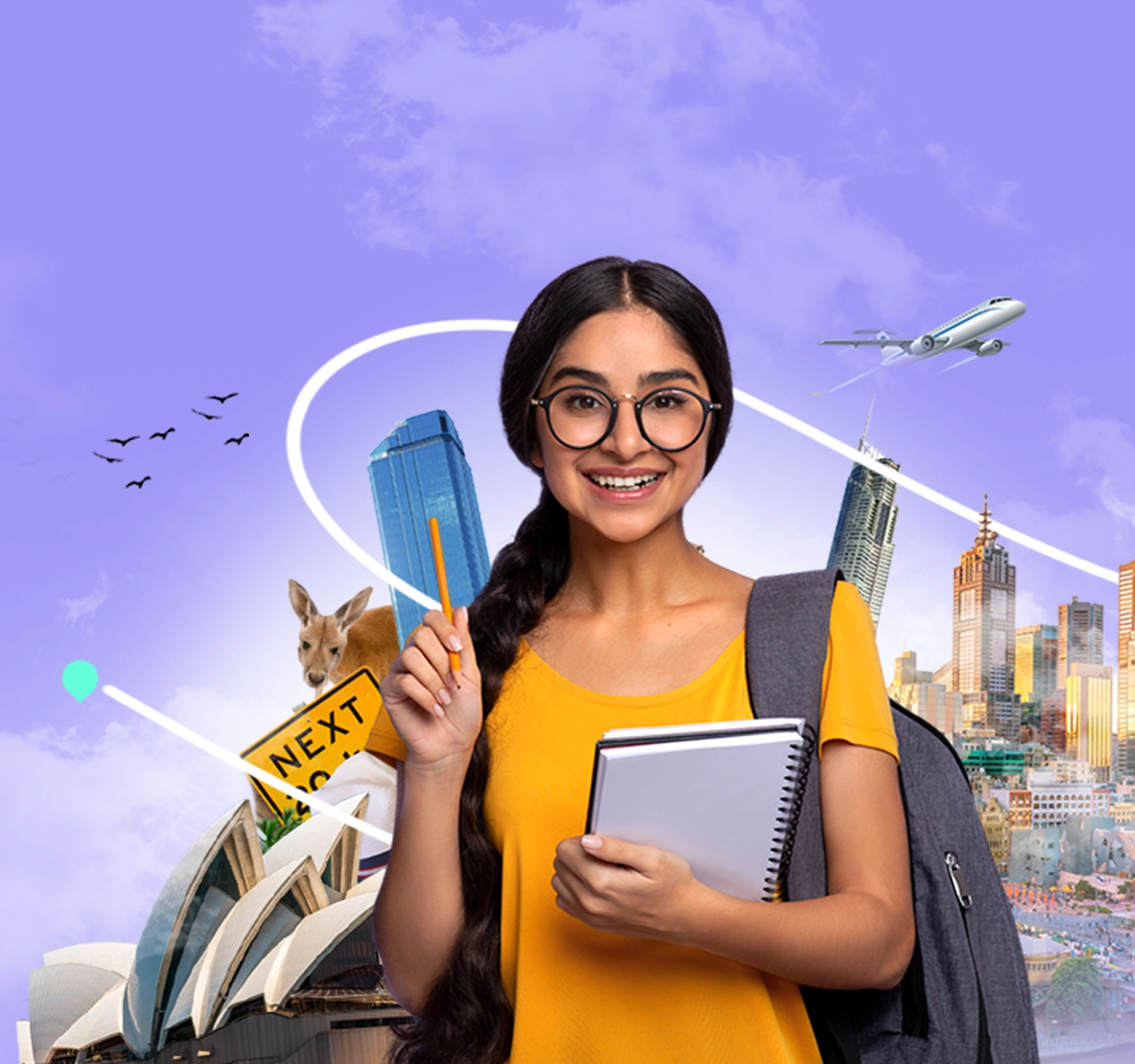 Get a step closer to your dream to
study in Australia
Apply now for Sep 2023 intake


Cost of Living
AUD 1500 per month

Intakes
Feb to June
July to November

Exams required
IELTS, TOEFL, PTE, GRE, GMAT

degrees
Diploma, Bachelors, Masters, Doctorate

Cost of study
AUD 20k-45k per year

VISA
Subclass 500 student vISA

Sources of funding
Scholarships, Aids, and part time jobs

Best cities
Sydney, Melbourne, Adelaide, Perth, Brisbane


Cost of study
AUD 20k-45k per year

Exams required
IELTS, TOEFL, PTE, GRE, GMAT

degrees
Diploma, Bachelors, Masters, Doctorate

Intakes
Feb to June
July to November

VISA
Subclass 500 student vISA

Best cities
Sydney, Melbourne, Adelaide, Perth, Brisbane

Cost of Living
AUD 1500 per month
Why Study in Australia?
Australia
, one of the most prominent lands in the Southern hemisphere, has been considered an extremely desirable destination for many decades among students looking to
study abroad
across the world over. Owing to being a fabulous holiday destination for millions of tourists,
the country has lots to offer its students with academics
, a vibrant mix of cultures and a globally inter-connected societal life. Hence, by deciding to study in Australia, students from India most certainly gain a massive understanding as they get globally connected with the larger world around them and be able to showcase vivid growth through this decision.
Having a land area similar to the size of the United States of America, Australia boasts its own fair share of natural landmarks unique to it, such as the Great Barrier Reef and Bondi Beach. But beyond all these, what Australia is known most for is the excellence of its Universities and Research Institutions, which are considered to be among the best in the world. Some of the long-standing Universities and Institutions in Australia are not only highly advanced in regards to their quality of delivering top-notch education, but they also have broadened their perception to incorporate international students and, thus, provide a huge array of academic opportunities for prospective students who desire to study in Australia.
Benefits of Studying in Australia
Now, as an International Student who seeks to
Study in Australia from India
, you might wonder
what benefits you obtain from studying in Australia
. You can rest assured that 
1,100+ Australian Universities
and Educational Institutions offer over
22,000 courses
that range wide among an entire spectrum of all streams and disciplines. 
Interested yet? Read on more to learn more about what Study in Australia offers!
The growth of any organisation or community depends on what they have to offer. Likewise, any study destination that provides quality education and a fabulous experience is bound to grow. Did you know that there has been a steady increase in the number of international students arriving in Australia for the year 2023? According to The PIE News, it is estimated that the increase will be a growth between 8% - 12% in 2023, from the 1,00,000+ Indian students who've enrolled to study in Australia only in 2022.
You might ask, why do International Students seek to Study in Australia? Well, why not! When there are top universities that are ranked among the top 100 worldwide universities, offering not only the best education but also the best in accommodation, food, culture, lifestyle, and the biggest of them all, security and safety, then it is indeed a no-brainer to have young and budding student aspirants to choose Australia as their dream study destination.
We understand that some of you will be willing to seek out more information about Post-Study Work options and what you can gain by seeking to study in Australia for Indian Students. Well, we have got just the thing for you. But, before that, there are lots more equally important information that you will need to know about Why Study in Australia for Indian Students, which we have shared with you below.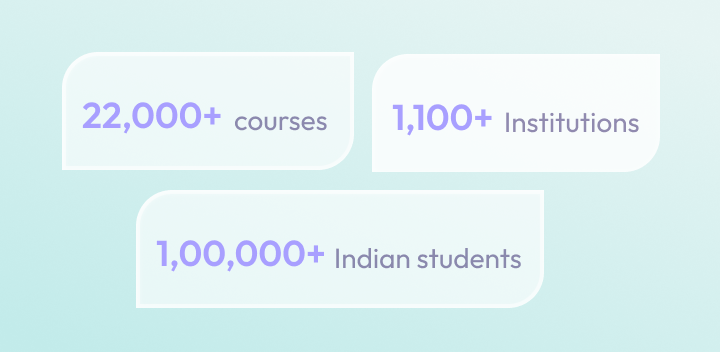 Get in touch for a free counselling session
1,00,000+
Indian students
Australia's education system comprises innovative teaching with equally latest learning facilities.
All 38 prominent Australian universities offer internship opportunities to their students.
There are innumerable Scholarships available for eligible students.
Studying in an English-speaking country will improve English vocabulary and communication skills boosting self-confidence.
Australia also caters to the needs of graduates by extending support via the option of post-study work opportunities. This enables the graduates to continue working in Australia for upto 3 years based on the level of education pursued.
The Healthcare System followed in Australia is one of the best in the world, enabling its citizens and its international students to enjoy their perks through a well-defined process to access premium healthcare treatment when required.
Australia is a country that strives to maintain a safe and peaceful environment that welcomes international students without any bias or discrimination.
Need to learn more about Applying to
Study in Australia
and all the benefits that you can gain by it? Contact AECC and book a FREE consultation Today!
Popular Courses in Australia

As mentioned earlier, there are numerous courses available to pursue from Australian Universities and educational institutions, and the students are given a wide range of freedom to choose from them and personalise their curriculum according to their taste. While that may be the case, you can still find yourself in a tight spot if you're uncertain about which courses to pick. So, to help you ease in your hunt, we've listed down a few of the most popular courses to Study in Australia
.
The courses can be widely categorised as: -
Besides these, Australia also offers study programmes in all streams and disciplines where you can opt to suit your interests. An interesting point to note is the Average Annual Tuition Fee to study in Australia ranges from
AUD 20,000 to AUD 60,000
. This incorporates the factors of course, program, and university you choose. 

We know that you are curious about how much most of the well-known courses that are offered might cost you. Fret not because we have got you covered! Below listed are some of the
Popular courses in Australia
chosen by international students.
| | |
| --- | --- |
| Name of the Course | Average Annual Tuition Fees (in AUD) |
| Business Administration and Management | AUD 30,000 - AUD 60,000 |
| Computer Science and Information Technology | AUD 30,000 - AUD 45,000 |
| Education | AUD 20,000 - AUD 35,000 |
| Environmental Science | AUD 25,000 - AUD 40,000 |
| Engineering | AUD 35,000 - AUD 50,000 |
| Finance and Accounting | AUD 30,000 - AUD 45,000 |
| Law | AUD 40,000 - AUD 55,000 |
| Medicine | AUD 55,000 - AUD 80,000 |
| Nursing | AUD 25,000 - AUD 40,000 |
| Psychology | AUD 30,000 - AUD 45,000 |
Intriguing, isn't it? Curious to know more, aren't you?
Then click below to learn more about the Best Courses to Study in Australia for Indian Students!
Top Universities in Australia

You would probably know by now that Australia is home to some of the most reputed and well-ranked universities in the world. To help ease your search time, we have compiled a list of a few of the Top Australian Universities for International Students
 to ensure that it will help you when you choose to make a decision to Study in Australia when the time is right for you!


To choose the Popular Courses and Universities in Australia, you would need to invest quite some time and effort in researching the details. 
Name of University
University Best Known For
QS WUR, 2023
THE, 2023
University of Melbourne
Leading University known for Research and Teaching.
35
38
Australian National University (ANU)
A renowned Public Research University best known for Research, Teaching, and Small Classes.
31
27
University of Sydney
Leaders in Education, Research, Student Experience, and Graduate Employability.
38
51
University of Queensland (UQ)
Known for its Teaching Excellence and has Won Most National Teaching Awards than any other Australian University.
47
47
University of New South Wales (UNSW)
A Public University, part of the Group of Eight AUS. Universities, Ranked #1 for Research Quality and Impact.
Most known for interdisciplinary research on Inequality and Climate Change.
43
67
Monash University
Most well-known for Pharmacy and Pharmacology, Pharmacy and Pharmaceutical Science under Life Science and Medicine.
58
64
University of Western Australia (UWA)
Renowned as a Research-Intensive University across a range of Disciplines.
92
92
University of Adelaide
The 3rd oldest university in Australia that is centred on Discovering New Knowledge, Pursuing Innovation and Preparing Educators of Tomorrow.
106
106
University of Technology Sydney (UTS)
Well-known among the top institutions globally in 27 of 51 subjects, including: -
Nursing, Art & Design, Sports, Library & Information Management, Law, Accounting & Finance, Business & Management Studies, Communication & Media Studies, and many more…
160
160
University of Wollongong
Established an excellent reputation for Teaching and Learning across 4 Faculties:
Arts, Social Sciences & Humanities, Business and Law, Engineering
218
243
Why spend your time when you can seek an expert's help all for free?
Contact AECC and get Free assistance to Study in Australia today!
Requirements for Studying in Australia

Let's do a quick recap of what we've seen so far - We have given you a brief about the Benefits of Studying in Australia
 are, and have listed some of the Popular Courses along with their annual average tuition fees and their rankings and the Top Universities with a few key factors about what they specialise in, which we believe you have found them interesting and have kept you updated so far!


Hurray for keeping with us so far! Because there's more! 


We understand that what you're seeking to learn is more in-depth information, and we're happy to unveil it for you! The information that we have compiled below will help you understand the requirements that enable you, as an International student, to apply, go through every stage of the application process and eventually land you in your dream university pursuing your favourite course. So continue reading and reap the benefits that await you!
As a student seeking to study abroad, one of the first things that you should consider is that the application process is very different from when applying for a college or university in India. Applying to an international university abroad, be it for an undergraduate or postgraduate or even a doctorate level course program, is very diverse and has numerous steps before cracking the process.

To help you digest these steps clearly, stay on with us as we dive deeper into the requirements - what they are and which qualifications are necessary to ensure a successful application to the chosen university.
First of all, as an international student seeking to 
study in Australia
, be it for an Indian student or any other nationality, unless you're an Australian citizen, you will have to obtain 
a valid student visa
 to ensure that you get to 
study in Australia
 at an Australian University.
So, we have jotted down some of the burning questions you may have in your mind and answered them!


How to apply for a Student Visa in Australia?


Arrange the necessary documents

Pay the study visa application fee

When to Apply for an Australian Student visa?


Being early to any occasion is a good habit to maintain. As such, applying early for a student visa is essential, as it takes
17 - 32 days
for an
Australian student visa
application to be processed. There have been instances where the visa application process can be
extended upto 3 months
, so keep in mind that your application has a chance of being processed for the aforementioned duration.


What is the cost of applying for an Australian study visa?


Indian students seeking to
Study in Australia
to bear in mind that the application for an
Australian study visa
or
Australian student visa
costs around AUD 620. Also, the visa that you should apply for is a
Subclass 500 visa
.


What is a Subclass 500 - student visa?


An Australian student visa (Subclass 500) is a temporary visa that has a validity period of
5 years
. The cost of this student visa is
AUD 650,
and with it, you will be able to travel in and out of the country unlimited times.


What are the requirements to apply for a subclass 500 student visa?


To apply for a Subclass 500 Student visa, these criteria must be met: - 

Meet the Genuine Temporary Entrant (GTE) Requirement

Have the required English Proficiency test score to be submitted

Pay the study visa application fee

The Letter of Acceptance from a recognized Australian university

Have sufficient funds to support yourself

Meet the health and character requirements
Once you clear these requirements, you will certainly obtain your
Subclass 500 student visa for Australia

Now, let's discuss the
Requirements for the Australia Study Visa
:


There are a few mandatory documents that you will need to submit along with your application, among other documents, during applying for your Australia Study Visa
, i.e., the Subclass 500 visa. We have listed them below, so ensure that you keep them ready with you during your application for the course and university of your choice.







Proof of previous employment


IELTS or TOEFL score report

Always remember that unless you are a native English speaker, you will have to present proof of English proficiency to the university, as a proof. Hence, a document stating valid proof of clearing a certified English language Test that is approved by the University is necessary to be submitted along with the application. The English language Proficiency Tests, such as - IELTS, TOEFL, PTE, etc., are recommended by most, if not all, universities in Australia and other English-speaking countries. So ensure to get proper communication with the university that you obtain the correct English language test and submit it during your application.
With regards to academic qualifications, please confirm that you submit your updated certifications and do not falsify any of the documents to avoid unnecessary complications towards your study abroad
in Australia as an Indian Student
.
So, onto the next burning question asked by many aspiring international students!

What are the additional documents that are required to study in Australian Universities?
You are expected to meet a few requirements to
Study in Australia
. Though there can be minor variations in the criteria, depending on the university you apply to, most of them will be asked for. They are as follows: - 

Statement of Purpose (SOP)

Letter of Recommendation (LOR)



English proficiency test scorecard

Subject-specific test scorecard
Compiling these documents may take considerable time and effort, and though you will be able to compile them, chances are that it will be a tedious task. So to ensure that you succeed in drafting a good SOP, LOR, etc., seek an expert's help to ease your work and get them done with professional assistance and avoid the hassle of uncertainty with your documents.
Intakes to Study in Australia
To ensure a successful enrolment in a university in Australia, you should have prior information regarding the intakes and the process the universities conduct across the academic year for student intakes. Most of the top Australian universities conduct 2 intakes in a year, whereas few universities offer even a third intake. Hence, it is important to decide for which intake you are applying so that you will have sufficient time to make the necessary arrangements accordingly.

Here is a short list of information to help you understand what the intake followed by most, if not all, universities across Australia and their deadlines to give you an edge in the game!
Admission Deadlines to Study in Australia
As a note of additional advice, we advise you to keep track of the application and the deadlines for Admissions to your favourite universities to ensure you are ahead of your peers who also seek to study in Australia!
Name of University
Application Deadline for Bachelor's
Application Deadline for Master's
Australian National University (ANU)
Semester 1: December
Semester 2: May
Semester 1: December
Semester 2: May
University of Adelaide
Semester 1: December
Semester 2: May
Semester 1: December
Semester 2: May
Monash University
Rolling-based
Semester 1: January
Semester 2: July
University of Melbourne
Semester 1: October
Semester 2: May
Semester 1: October
Semester 2: April
University of New South Wales
Semester 1: March
Semester 2: July
Semester 1: March
Semester 2: July
University of Queensland
Semester 1: November
Semester 2: May
Semester 1: November
Semester 2: May
University of Sydney
Semester 1: January
Semester 2: July
Semester 1: January
Semester 2: July
University of Western Australia
Semester 1: December
Semester 2: July
Semester 1: December
Semester 2: July
University of Technology Sydney
Semester 1: December
Semester 2: January
Semester 1: April
Semester 2: June
As a note of additional advice, we advise you to keep track of the application and the deadlines for Admissions to your favourite universities to ensure you are ahead of your peers who also seek to study in Australia!
Cost of Studying in Australia

One of the most important aspects of a student's life while studying abroad is the Cost of Living in Australia
. You should know that it is usually more expensive to live in the capitalof Australia than to live elsewhere, and it differs from which region of Australia you choose to live in and the University of your choice is located. 
To give you an idea of how the cost of living in Australia differs from region to region, here's a list of information for your perusal below: - 
New South Wales

- The weekly rent of a shared house in Sydney is between

AUD 200

and

AUD 300

, and for a one-bedroom, the rent is between

AUD 400

and

AUD 550

.

Queensland-

Brisbane is one of the cities in Queensland, and the rental price for a one-bedroom there is around

AUD 300

.

Tasmania-

Hobart is one of the famous cities of Tasmania, which costs around

AUD 205

for a three-bedroom apartment.

Parts of Australia, including Western Australia and South Australia-

Adelaide in South Australia rents between

AUD 165-AUD 440

per week for a house, and in Perth, located in Western Australia, the cost of a one-bedroom is around

AUD 300

.

Northern and Australian capital Territory-

the average cost estimated in the city of Darwin is

AUD 300

, and the average rental price for a unit in Canberra is around

AUD 400

.
Always ensure to check for the current cost associated with the region to ensure you save as much as you can during the course of your study in Australia.
The next big financial crunch you would meet as an International Student in Australia would be the Tuition Fees. 
The tuition fees generally vary on two fronts: - 
The Course you choose

The University you choose to study
This cost ranges between
AUD 4000
and
AUD 121,000
.
Not only this, there are other costs that are also mandatory to be aware of, such as:
Monthly Cost of Living.

Food Costs.

Entertainment Costs.

Healthcare Costs.

Other costs - such as travel, lodging, etc.
Among these, healthcare costs would mostly be covered through your health insurance for most ailments as you must apply for it alongside your visa for processing. One other step that you should take is once you reach Australia and have settled into the University, and have confirmed your lodgings, get yourself enrolled with a General practitioner near your residence with the health insurance obtained alongside your visa to ensure you avail of their services and the costs are taken care of through it.
These costs, though they may look small when compared to the higher costs that are mentioned above, care should be taken to ensure that you don't overspend yourself and have sufficient finances for any emergencies. 
Need an expert's help to structure your expenses?
Click below to learn more about the Cost of Living in Australia for Indian Students.
| | |
| --- | --- |
| Name of Scholarship, Bursaries, and Financial Awards | Eligibility |
| Australian Government Research Training Program (AGRTP) | All students pursuing Master's and Research programs are eligible |
| Australia Awards | All students from Asia, Africa, the Pacific and the Middle East |
| Endeavour PG Scholarship Awards | All international Master's and PhD students are eligible |
Scholarships in Australia

As an international student, you will find plenty of Scholarships in Australia
 that are available and funded by the Australian government, public universities and other private universities to eligible students in Australia. These scholarships consist of varying eligibility criteria and monetary value. So, ensure that you check up on which scholarships you qualify for best to ensure your financial strain is reduced to the most and you benefit the best!
To help you, we have given each of the Scholarships, Bursaries and Financial awards below that are given by prominent institutions and universities to eligible students to help grant a boost to their motivation to achieve even greater success in their studies.
You can always contact AECC to get up to date information regarding any of the Scholarships mentioned above, Bursaries, or Financial Awards that suit your needs. So don't hesitate to Register with us and get all the information you need today!
Living and Studying in Australia

Living and Studying in Australia offers a unique opportunity and experience with its diverse culture, amazing food, and vibrant and exciting entertainment options to explore. From the Outback to stunning beaches, Australia has something to offer everyone. The country is widely known for its multicultural aspects. Owing to the culmination of multiple islands, their people and the varying traditions, it results in a huge variety of cuisines you get to try out. With ever-lively cities, music festivals, enthralling sports events, and even natural wonders, Australia certainly offers a once-in-a-lifetime opportunity and an unforgettable study abroad experience.
To make sure that you get to live a complete and immersive "Aussie" experience, here are some points to help you adjust to living in Australia and make the most of your experience:

Get involved in Social Activities


Learn about the Local Culture 


Travel and explore the country


Above all, stay connected with family and friends back home
These basic steps can prove to be effective to ensure you get to live the best experience whilst your time of Study in Australia.
Need more information? Feel free to Connect with AECC - Your Study Abroad Expert, Today!
Post-study work opportunities in Australia

Did you know that International students who study in Australia get to experience an additional perk known as - Post-Study work opportunities? This opportunity can be availed by international students after their studies.


Through this, you, a student of either a Bachelor, Masters or Doctorate program, can work in the country and earn valuable work experience. If you have a valid student visa, have completed your studies from a recognised university in Australia, and have satisfied all the requirements in your academics; you will be eligible to apply for the Post-Study Work Permit (PSWP) and stay and work in Australia for a duration of 2 - 4 years depending on your level of education and the choice of your study program. To be eligible for this, you should apply within 6 months of completing your course.


Beyond education, you get to build yourself a fabulous career, and what awaits you as an international student in Australia would only be only a life of enthralling opportunities. Australia offers a very good and stable job market for graduates in almost every discipline. The average salary range can be anywhere from
AUD 70,000
to
AUD 150,000
as per the company, your qualifications, etc. 


Below we have provided for you with a short list of certain fields that employ graduates with handsome salaries as follows: - 
| | |
| --- | --- |
| Field | Average Annual Salary (in AUD) |
| Business Management | AUD 70,000 |
| Education and Training | AUD 75,000 |
| Healthcare | AUD 80,000 |
| IT & Computer Science | AUD 90,000 |
| Statistics and Data Science | AUD 145,000 |
We hope to have covered every aspect of an international student who aspires to
Study in Australia
through this compilation, and we hope that you have received most of the information that you sought out to get. 
For more information or clarity on any of the topics mentioned above, you can contact AECC, who have dedicated and experienced professionals to provide you with the latest information and give you complete assistance in any process you may need help in your application process to Study in Australia and our services provided are for FREE. 
Need more information?
Feel free to Connect with AECC - Your Study Abroad Expert, Today!
We seek to provide you with the best study abroad experience, and we wish that you get to live your study abroad dream with complete fulfilment! Thank you for reading!
Frequently asked questions
How much will it cost to study in Australia?
Studying in Australia varies from AUD20,000 to AUD50,000, but it also depends on the course and the university you select.
What is the eligibility to study in Australia?
What exam scores are required for applying to Australian universities from international students?
How much is the application fee for applying to Australian universities?