Dubai has always been one of the dream destinations for Indian students. The country, with its lower crime rates and tax-free salaries, has always been the most attractive. UAE beats the USA and comes top in the list of the preferred destinations by Indian students. Students from all over the world are enthusiastic about going to Dubai for their higher studies. Want to know why? Read further and learn why everyone loves to study in Dubai.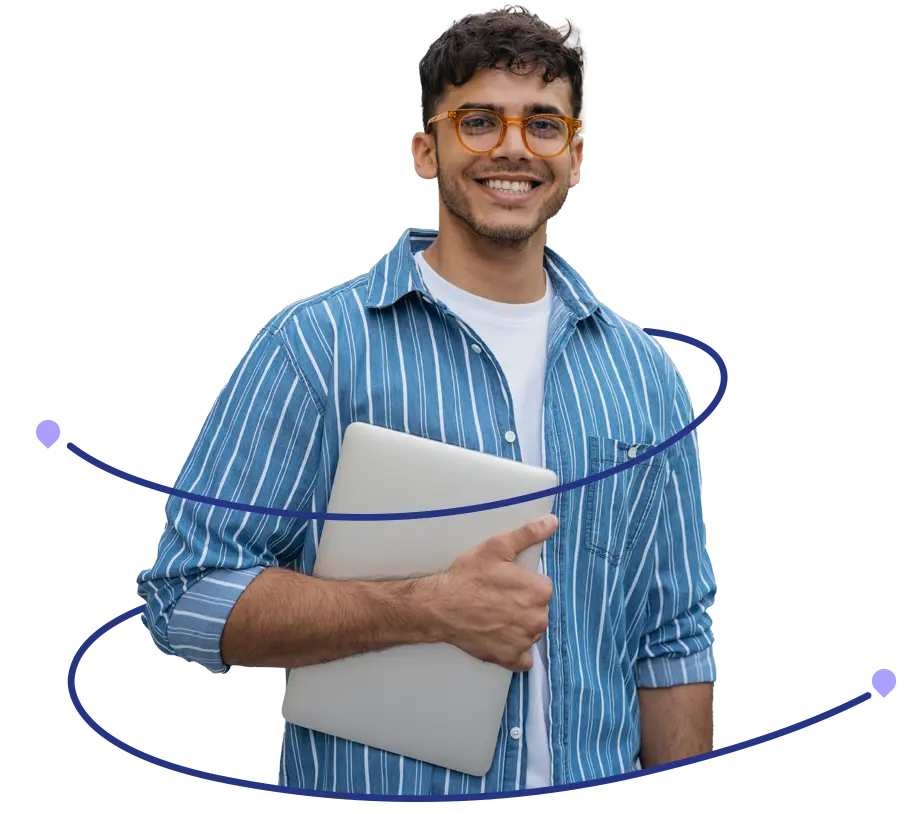 Now that you have given studying in Dubai a thought, it is necessary to know how worthy it is to spend your time and effort on it. For that, here are some points to back up your interest in studying in Dubai. These will help you have some valid reasons to study in Dubai from India.


Well-reputed faculties:

Over the years, Dubai has included some global educators from across the globe, adding value to their faculty. Dubai has risen to be an international trade and business hub, and several companies have opened up their business there. Also, quite a number of Indian, Australian and American universities have opened their branches in Dubai.
Flexible visa policies:

The Dubai government does not follow a stringent visa policy, thus attracting several international students. Starting in 2016, the government allowed students to work part-time for designated companies. You can get a five-year visa, and the visa of your dependents can even be extended. This even gives you time to complete your studies and build a career. What is more, exceptionally talented students can even get a ten-year residency. 
Scholarships:

Dubai offers scholarships of several kinds to students, both domestic and international. Because the number of Indian students is more, several scholarships are also exclusively for Indian students.
Recognised universities:  

Sever higher education institutions in Dubai, from public to private ones, are accredited by UAE's Ministry of Higher Education and Scientific Research (MOHESR) and another accrediting agency outside the country.
Innovation:

Dubai is the land of innovations. From 3D printers to special zones for healthcare, the country offers innovation on multiple levels. Also, several MNCs have their headquarters in Dubai.
Career opportunities:

Dubai has risen to a top study destination partly owing to the abundant career opportunities in the country. The country provides tax-free salaries, which is an added merit. The inbound student mobility ratio of 48.6% in Dubai is one of the highest in the world. 
Research options:

Dubai offers a scope of research in various areas like sustainability, innovative construction, oil sector, infectious diseases etc. 
Cultural diversity:

There is no doubt that Dubai has a cultural diversity like no other country. Students from every nook and corner study in Dubai, thus offering a mix of cultures. There is also a bonus point for Indian students. You will find several Indians all over the country, so it will be easier for you to communicate and feel comfortable.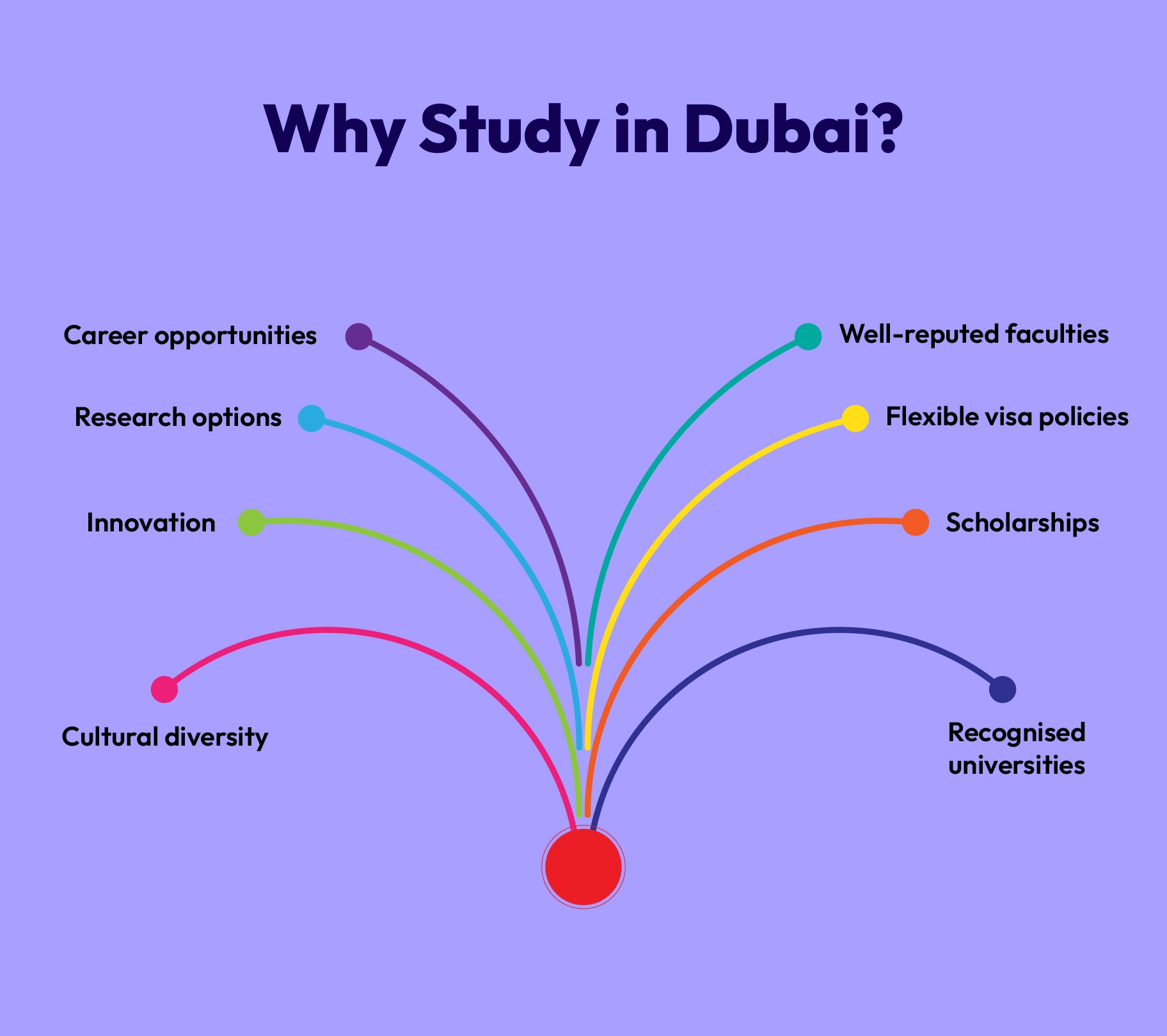 How Is The Education System In Dubai?
The education system followed in Dubai is completely different and new. There are several educational institutions in the country, both public and private. There are three tiers of education in Dubai. They are given below.


Basic Education:

At this level, students complete their grades 1-4, and it prepares a child for their future educational journey. 
Development Program(K12):

This is further divided into four tires:
Kindergarten (4-5 years old):

KG 1 and KG 2.
Primary School (6-11 years old):

Grade 1-6.
Preparatory Stage (12-14 years old):

Grade 7-9.
Secondary School (15-17years old):

Grade 9-12.
Higher Education:

This is the tertiary level where there are countless private colleges/universities, public colleges/universities, technical institutes, international universities, and special education and learning services for students with special needs.
Best Courses To Study in Dubai
You will find a few popular courses in Dubai that international students choose. These will offer better career opportunities, and you will find it easy to follow as you may find several Indian students for these courses. The top five courses are listed below.


Tourism and Hospitality Management:

This is regarded as one of the top courses in Dubai. It is one of the most exciting cities, which explains the rising demand for the field. Several jobs await you, and that explains the popularity of the course.
Business Management:

Business Management has huge popularity, not only in Dubai but in other countries as well. Several universities offer Master's courses in this discipline. 
Aerospace Engineering:

The aerospace industry is growing rapidly in the Middle East. The expansion of the aviation and aerospace industries has led to the increased demand for aerospace engineers.
Civil Engineering/Construction Management:

Civil Engineering and Construction Management courses have recently started gaining popularity. The career scope is also rising for them.
Architecture:

A degree in Architecture from Dubai will help you work anywhere. You will find several career options like spec writer, landscape architect, design architect etc.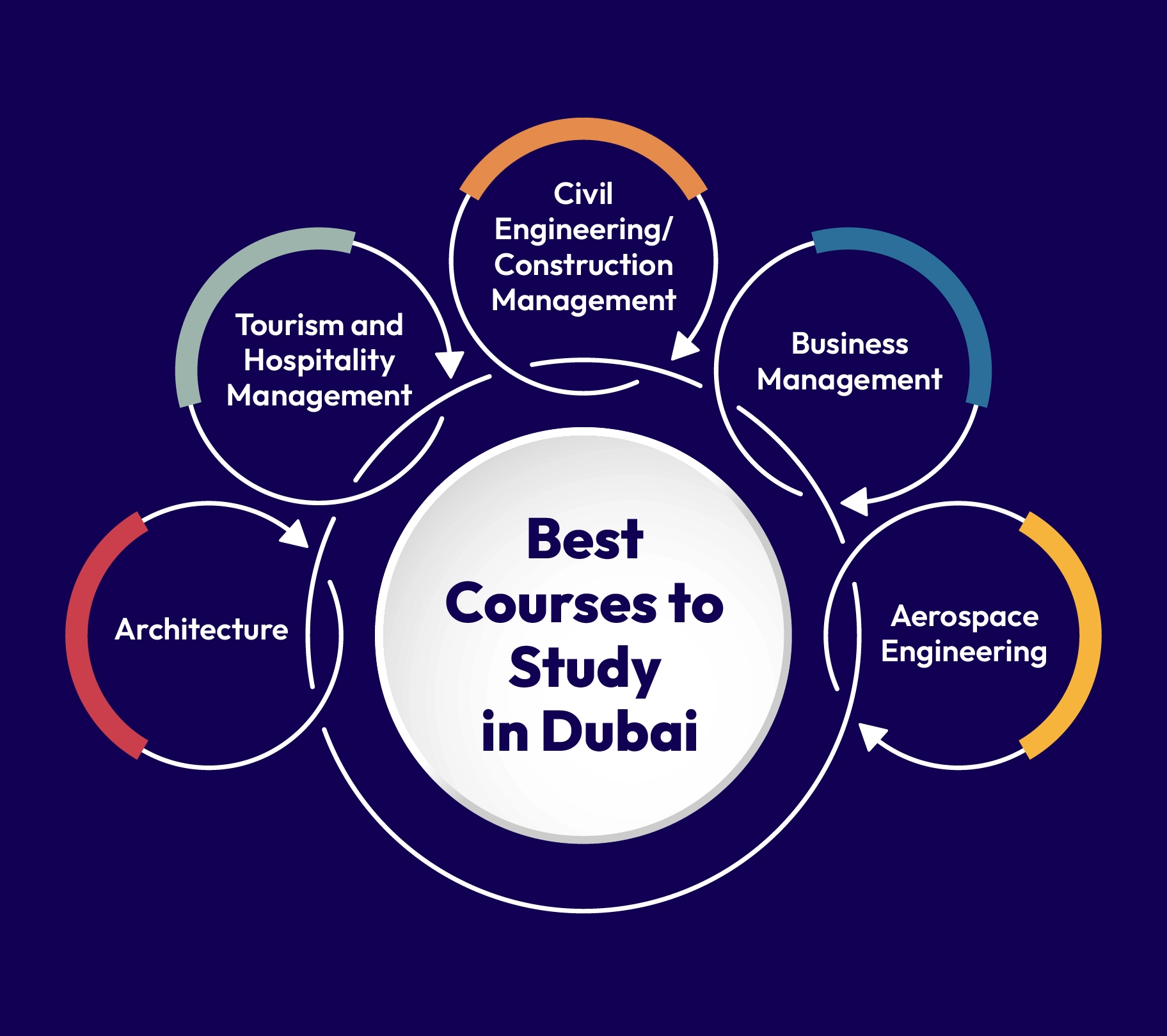 Top 10 Universities in Dubai
Dubai is a proud home to over 65 universities with advanced research and innovation options. If you wish to know which are the most prominent universities in Dubai, you can go through the table below.


| | | | | |
| --- | --- | --- | --- | --- |
| Name of University | QS Ranking 2023 | Programs Offered | IELTS Requirement | Average Annual Tuition Fees (in INR) |
| Amity University | – | UG, PG, PhD | 6.5 | INR 6,00,000 - INR 14,00,000 |
| Britts Imperial University College | – | UG, PG, PhD | 6.5 | INR 41,000 - INR 9,00,000 |
| Heriot-Watt University Dubai | – | UG, PG, PhD | 6.5 | INR 21,00,000 |
| Middlesex University Dubai | – | UG, PG, PhD | 6.5 | INR 6,00,000 - INR 23,00,000 |
| Nest Academy of Management Education, Dubai | – | UG, PG, PhD | 6.5 | INR 3,00,000 - INR 4,00,000 |
| University of Birmingham Dubai | – | UG, PG, PhD | 6.5 | INR 6,00,000 - INR 28,00,000 |
| University of Wollongong Dubai | – | UG, PG, PhD | 6.5 | INR 11,00,000 |
| Khalifa University | 181 | UG, PG, PhD | 6.5 | INR 67,000 - INR 1,50,000 per credit hour |
| United Arab Emirates University | 296 | UG, PG, PhD | 6.5 | INR 4,00,000 - INR 6,00,000 per semester |
| American University in Dubai | 651 - 700 | UG, PG, PhD | 6.5 | INR 8,00,000 |
How Much Does It Cost to Study in Dubai From India?
When you take the cost of studying in Dubai, the tuition fees encompass a huge portion of your total cost of studies. At the same time, it is not too expensive, and you will find ways to tackle your financial problems. The acreage cost of study programs in Dubai is given in the table below. It is subject to change depending on the place and course.
| | | |
| --- | --- | --- |
| Program  | Average Tuition Fee (in AED) | Average Tuition Fee (in INR) |
| UG | AED 37,500 - AED 70,000 | INR 8,14,152 - INR 15,19,742 |
| PG | AED 55,000 - AED 75,000 | INR 11,94,060 - INR 16,28,264 |
| PhD | AED 1,29,000 - AED 3,60,000 | INR 28,00,558 - INR 78,15,363 |
| MBBS | AED 1,17,000 - 1,23,000 | INR 25,40,111 - INR 26,70,373 |
| MBA | AED 1,60,000 - AED 4,00,000 | INR 34,73,475 - INR 86,83,688 |
After you have given studying in Dubai a thought, the next critical thing is to know the cost of living there. You have to consider all the costs that might come your way. Having a rough idea of the monthly expenses is essential as it will help you maintain a budget and spend accordingly. The following table gives some basic expenses and their average amount.
| | |
| --- | --- |
| Type of Expense | Amount (in AED) |
| Accommodation  | AED 1100 - AED 2250 |
| Travel  | AED 2 - AED 10 |
| Food  | AED 908 |
| Utility  | AED 500 - AED 800 |
What Are The Eligibility Requirements To Study in Dubai?
The eligibility criteria for universities can differ considerably from one university to the next. As such, given below is a list of some common requirements that almost all universities will ask. However, you must visit the official website of each university and get the criteria from there.


Bachelor's Programs
You should have a good score in your grade 12.

You should not have been expelled from any institution.

You should have completed the entire application process, including the payment of application fees.

You should have good English Proficiency Test scores.

You should have the subject-specific score card if applicable.
Master's Programs
You should have excellent scores in your Bachelor's with a CGPA of at least 3.0 out of 4.0.

The Bachelor's degree should be in a field relevant to your Master's program.

You should have prior work experience, if applicable.

You should have the subject-specific score card, if applicable.

You must have good English Proficiency Test scores.

Attachment of People of Determination card, if applicable.
Entrance Tests To Study in Dubai
There are a few tests you will be required to take to get admission to a University in the UAE. A few such tests are given below. It should be noted that you need not necessarily take these tests. You can check the requirements of the university first.


IELTS:

This is an English Proficiency test accepted by almost all universities in Dubai. You may need a score of 5.5 or 6.0.
TOEFL (iBT):

This is another English Proficiency test accepted by over 11,000 universities worldwide. The TOEFL test can be taken in Internet-based (iBT) and paper-based formats.
TOEFL Paper-Based:

The number of students who choose this English Proficiency test is too low. Only 3% of students opt for it.
PTE Academic:

PTE Academic is an English Proficiency test you can take. A minimum score of 51 might be required.
EmSAT:

It is a standardised test for college admission in Dubai. A non-Arab student doesn't need to take it.
GMAT:

You may need to take the GMAT test to do your MBA in Dubai. It is not necessary to take it, and you can decide according to what your university demands.
Step-by-Step Admission Process to Study in Dubai
The admission process to study in Dubai is not too tedious. You just need to follow the steps mentioned below, and you will be done.


Step 1:
The first step is to research the universities and colleges you are interested in joining. You can make a list of them and visit their official websites to learn about the application deadlines, among other things. If you need any help, AECC Global is here to help you always.
Step 2:
Collect and keep all necessary documents, like
Completed application form.

All academic documents.

Recent passport-size photographs.

Copy of your valid passport.

Application fee.

Scorecard of IELTS, TOEFL etc.
Step 3:
Almost all universities accept online applications nowadays. However, one cannot be sure, and you must check the official website of each university and collect all the relevant information.
Scholarships to Study in Dubai For Indian Students
As mentioned before, Dubai has an increased number of Indian students. As such, you will find several scholarships mainly aimed at Indian students. They are funded by various bodies and will have different eligibility criteria and award values. A few such scholarships are mentioned below.
S. No

Name of Scholarship

Eligibility 

Amount (in AED)

1

Outstanding Academic Excellence Scholarships

All students of the University of Wollongong in Dubai are eligible

10% - 20% off on tuition fees

2

Scholarship for Board Toppers

Those who score well in the grade 12 exam are eligible

1st rank - 100% off

2nd rank - 75% off

3rd rank - 50% off on tuition fees

3

2011 Masdar Institute Fully Funded Master Scholarships

The eligibility is based on academic excellence & English proficiency

Variable amount

4

International Student Tuition Scholarships

It is based on academic excellence

Variable amount

5

SP Jain School of Global Management Merit Scholarship

Students must have above 75% in all exams till then

Variable amount

6

Abu Dhabi University Academic Scholarship

Those with a CGPA of 3.60 for at least 2 semesters are eligible

20% tuition fee waiver

7

Education Future International Scholarship

All Indian students with at least 60% in grade 12 are eligible

AED 9212 - AED 46,027

8

Engineering International Scholar Award

Students of Science and Engineering are eligible

AED 73,461

9

UAEU PhD Students Reseach Scholarship

All PhD students are eligible

Tuition fee + health cover+ stipend

10

Horowitz Foundation Grants

PhD students of Social Policy are eligible

AED 27,548
Dubai Student Visa Process
Dubai has emerged as one of the most preferred study-abroad locations among Indian students. This massive surge is obvious post-pandemic. If you wish to study in Dubai, one of the first things you need to sort out is the student visa processing. You need a student visa to apply to the universities in Dubai. The visa cost can come around to AED 7567. It is recommended that you go through the visa process, rules and regulations thoroughly before starting to apply so that you make no mistakes. The eligibility criteria to get a student visa is listed below.


You should have a medical fitness certificate from the General Directorate of Residency and Foreigners Affairs (GDRFA).

Letter of acceptance from a recognised university in Dubai.

You must have a visa sponsor who can be the parent, guardian or the university.
Jobs After Studies in Dubai
Dubai offers some of the best opportunities in terms of career, both for domestic and international students. That is one of the major reasons why Dubai has recently attracted several international students. Keeping all these aside, Dubai is the hub of Indians. You will come across thousands of them in almost all job sectors. As such, given below is a list of some of the popular jobs in Dubai. It will be helpful for you to understand the famous jobs so that you can decide your course of study accordingly. 
| | |
| --- | --- |
| Designation  | Average Salary (in AED) |
| Judge  | AED 4,09,200 - AED 12,96,000 |
| Chief Marketing Officer | AED 4,68,000 - AED 5,52,000 |
| Lawyer  | AED 2,18,000 - AED 7,54,000 |
| Actuary  | AED 2,57,000 - AED 4,56,000 |
| Chief Financial Officer | AED 3,00,000 - AED 7,08,000 |
| Accounting Manager | AED 3,54,000 |
| IT Manager | AED 2,14,000 - AED 6,25,000 |
| Human Resources | AED 2,17,000 - AED 2,97,000 |
| Financial Analyst | AED 3,07,000 |
| Data Scientist | AED 2,16,000 - AED 5,88,000 |
| Graphic Designer | AED 1,48,000 |
FAQs To Study in Dubai
Can I study in Dubai while working?
Dubai does not allow international students to work while studying unless they have a work permit. The work permit allows students to work legally in Dubai.
Is it worth studying in Dubai?
Can we do part-time jobs while studying in Dubai?
Can I study in Dubai after 12th?
Is Dubai expensive for students?