Ireland is one of the popular destinations for students studying abroad. It is only recently that Ireland saw this massive popular growth. There are around 40,000 international students from over 160 countries in Ireland. The Ireland qualifications have the same validity as the UK ones so that you will benefit from them to a great extent.
Why Study in Ireland?
Top-Ranked Universities:

It is a lesser-known fact that Ireland is home to some of the world-famous universities and colleges. The Dublin Business School, Griffith College, Trinity College etc., are a few famous institutions.

Work Part-Time:

Ireland provides the opportunity to work part-time to earn money and experience. The country allows its students to work for 20 hours a week during their course. During their breaks, you can work for 40 hours.

Top Companies To Work With:

Ireland is known worldwide for its leading IT, Finance, and Pharmaceutical companies. It is home to over 1000 world-class companies.

Lovely Ireland Life:

Ireland is a fun-filled country full of different cultures, myths, festivals, food etc., and you can make the most use of it. The green landscapes and countryside make it a blissful place to live in.

PSW Visa: Students can avail of the PSW visa, which will allow them to stay back in Ireland after two years of study. However, this is non-renewable. If you wish to work in Ireland after two years, you must get a work visa.
Learn English Better:

 

Ireland is England's only English-speaking country after Great Britain, which would mean conversing with everyone in English. This would help you better understand the language, which will benefit you.

Research and Innovation:

 

The Irish curriculum is similar to the Indian curriculum and emphasises problem-solving, creativity and innovative thinking. Notably, Irish colleges comprise the top 1% of research universities.

Lower Study Costs:

 

The tuition fees in Ireland are lesser than those in Australia, the USA, and the UK. A wide majority of Undergraduate courses are one year long. The tuition fees in Ireland typically cost between €7000 - €12,000.

Better Job Opportunities:

 

Ireland is home to several multinational companies and corporations. The country provides ample opportunities for students to work while they study or after their studies. You can also do internships which will give experience certificates as well.

Affordable Transportation Options: 

It is convenient to commute in Ireland. The transportation costs are lower, which helps you cut down your expenses further. 
Best Courses to Study in Ireland
Investment Banking & Finance:

Dublin has a lot of investment banks and asset management companies working there, which increases your chances of getting hired as a financial regulator, financial analyst, financial trader, retail banker etc. This explains the increased demand for this course in Ireland.

Data Science:

A Data Science course covers a wide area like intelligent data capture techniques, mathematics, data cleansing, statistics, mining and programming etc. All the MNCs and IT companies in Dublin ensure you get a job.

Pharmaceutical Sciences:

Ireland is the popular pharmaceutical hub in all European locations. The degree comprises a wide range of subjects, including pharmacology, toxicology, analytical and medicinal chemistry, physiology, biochemistry etc.

Business Analytics:

It is good news for people interested in Business Analytics that all industries across Ireland, like banks, telecom, commerce & IT companies, are looking for Business Analysts. You can be employed as Business Analyst, Data Scientist, Data Analyst, Financial Analyst etc.

Construction:

If you wish to see yourself as a Site Technician, Estimator, Quantity Surveyor, Site Manager etc., then this course is for you. This is an emerging field in Ireland, and its popularity cannot be underestimated.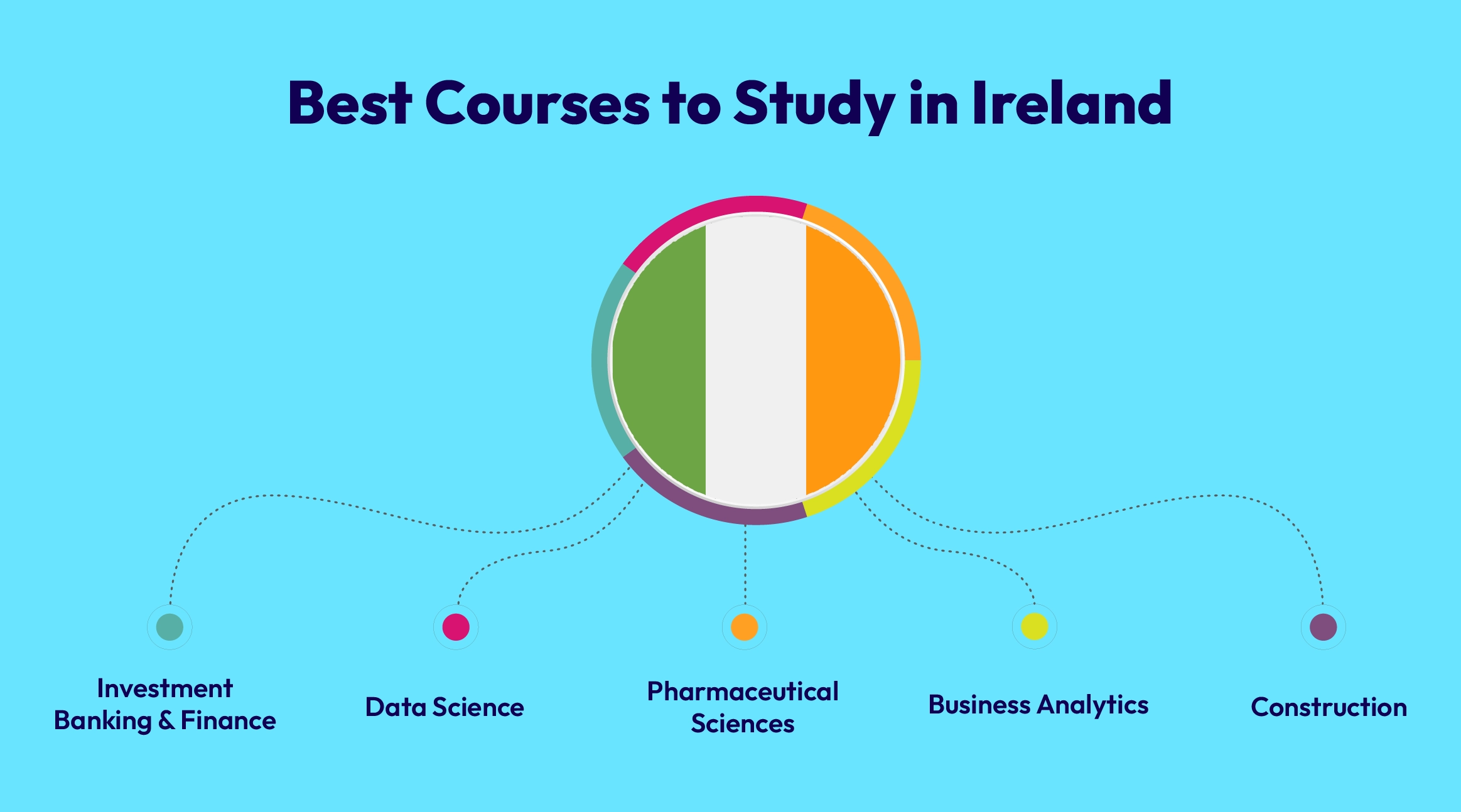 Top Universities in Ireland
Trinity College, Dublin:

Trinity College is known for producing some of the best entrepreneurs. It is estimated that over 95% of college graduates are employed, which is a good rate.

University College, Dublin:

The UCD is better-known for producing MBA graduates. In this term, it is ranked 70 globally and 25th in the European Business School Rankings.

Dublin City University:

The DCU has an 85-acre campus and is near the Dublin Airport, which makes it a good location. DCU's Business, Computing, and Engineering departments are the best.

National University of Ireland, Galway:

The NUI comprises over 2000 international students. It is renowned worldwide for its quality of research and teaching.

University College Cork:

It has been awarded the Irish University of the Year five times and belongs to the three Queen's colleges. It offers degrees in over 120 streams and is best known for Humanities, Business, Law, Architecture, Food etc.

University of Limerick:

The University of Limerick is a comparatively new university with a student satisfaction rate of 85%. They offer specialised scholarships for students from India. English Language and Literature, Law, Education etc. are the best courses there.

Maynooth University:

Maynooth University is ideal for those who want to have a classic, peaceful college life. It is located in a less crowded area, in a quiet city. Though younger, Maynooth University ranks 106 in the world in the Times Higher Education ranking. It concentrates on STEM courses, social sciences, humanities etc.

Technological University of Dublin:

It is ranked in the top 500  universities globally for engineering and technology in the QS World Rankings. It boasts of its students employed in leading companies like Facebook, Citi, LinkedIn, Google etc.

Royal College of Surgeons in Ireland:

With a strong focus on advanced medicine and clinical skills, the RCSI provides Undergraduate courses in Medicine, Pharmacy, Physiotherapy etc.

Shannon College of Hotel Management:

An Undergraduate degree at Shannon College includes two paid internships. It is one of the best colleges in Ireland, with the rare achievement of 100% employment on its graduation day.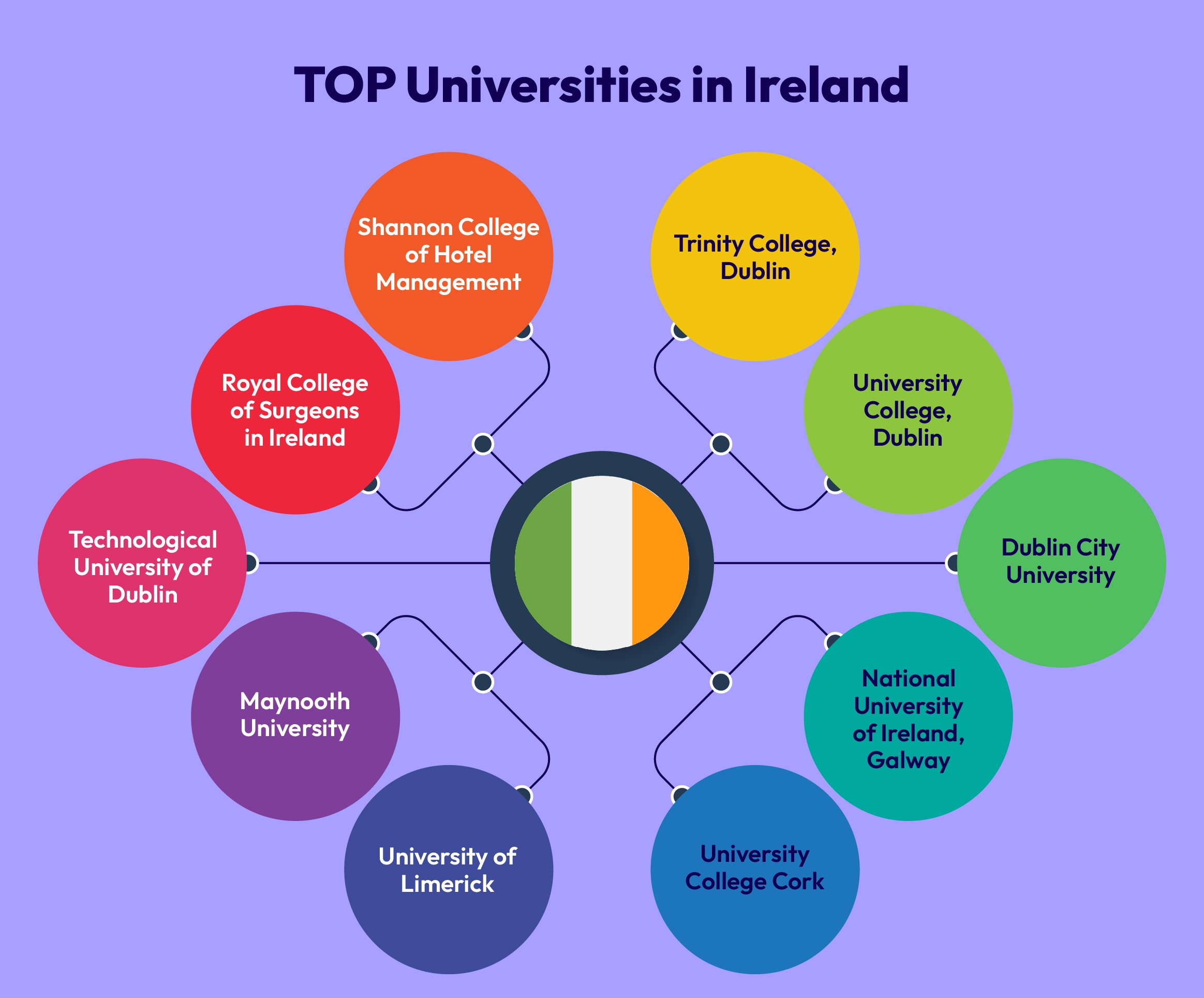 Cost of Study in Ireland for Indian Students
Ireland is one of the few countries that offer quality education to its students at an affordable rate. The University College Cork, St. Patrick's College, Cork Institute of Technology, University of Limerick etc., are a few affordable educational institutions in Ireland.
STUDY PROGRAMS

| | | | |
| --- | --- | --- | --- |
| S. No. | Programs  | Amount in Euro | Amount in INR |
| | | | INR 4,90,000 - INR 20,00,000 |
| | | | INR 3,50,000 - INR 7,90,000 |
| | | | INR 3,50,000 - INR 8,16,000 |
| | | | INR 17,50,000 - INR 30,79,000 |
| | | | INR 24,00,000 - INR 36,00,000 |
Cost of Living in Ireland

Ireland does not belong to the group of the cheapest countries in the world for international students. At the same time, it is cheaper than in countries like the UK, the USA, Australia, etc. Housing is one of the first things you need to consider before moving to Ireland because it costs more. Nonetheless, transportation is cheaper. Also, Dublin is considered to be an expensive place in Ireland.


KIND OF EXPENSES
| | | |
| --- | --- | --- |
| S. No. | Type of Expense | Amount in Euro |
| | | |
| | | |
| | | |
| | | |
| | | |
| | | |
What are the requirements to study in Ireland?
Bachelor's Programs:

To do a Bachelor's Program in Ireland, you must furnish all necessary academic and unacademic documents. You must also supply your IELTS, TOEFL, PTE Academic, or C1 Advanced. It is dependent on your university, and you can submit it accordingly.

Master's Programs:

A Master's program in Ireland would need you to have a satisfying score in your Bachelor's. You will also need anyone of TOEFL (iBT), IELTS, PTE Academic, C1 Advanced or C2 Proficiency.

Doctoral Programs:

To do a Doctoral program in Ireland, you should obtain at least 60% in your Master's. Your IELTS score should be 7, TOEFL 100, and PTE 66. It is to be kept in mind that you may not need to attempt all of them. It depends on what your university demands.
Which exam is required for study in Ireland?
IELTS:

The Ireland criterion to study in their universities is a minimum IELTS score of 6.5. It is an overall band score; the individual score should never be below 5.5. However, it varies with the university that you are applying to.

PTE:

The results of the PTE score are also considered by several recognised universities in Ireland. A minimum PTE score of 63 should be obtained to clear the test, and it should never go below 59.

TOEFL:

Ireland admits students with a TOEFL score between 79 and 92. Though most universities' minimum score remains 79, the top ones ask for at least 90. There are paper-based and internet-based tests available.
Scholarships for Indian Students to Study in Ireland

If you wish to study in Ireland at an affordable rate, several scholarships and fellowships are available at your disposal. You can check the table below and find the one that suits you the best. These scholarships and fellowships can be either partially or fully funded. It depends on the university or trust that is providing the scholarship. Similar scholarships will help you cut down your tuition fees which count the more significant portion of your expense.
| | | | |
| --- | --- | --- | --- |
| S. No. | Name of Scholarship | Details  | Amount in Euro |
| | BeArt Presets Academic Scholarships | It is available for students pursuing any degree | |
| | Boehringer Ingelheim Fonds PhD Fellowships | It is given to students pursuing a doctoral program in Biomedical research  | |
| | Educational Future International Scholarship | Students seeking all Bachelor's & Master's are eligible | |
| | University of Westminster Undergraduate Distant Horizons Awards | The University of Westminster provides this to all Bachelor's degree students | |
| | Richard. A Freund International Scholarship | All Master's and PhD students can apply for this | |
| | NUI Undergraduate Merit Scholarships | All Bachelor's students in NUI are eligible for it | |
| | Sports Scholarships at Maynooth University | Everyone pursuing Master's and PhD is sports-related disciplines at Maynooth University are eligible | |
| | JN Tata Endowment for the Higher Education of Indians | All Indian students pursuing their Master's, PhD, and Post-Doctoral are eligible | |
| | Narotam Sekhsaria Scholarship | All Indian nationals seeking their Master's are eligible | |
| | Khyentse Foundation Individual Practice Grants | Students pursuing Master's in Buddhist Study and Practice are eligible | |
Student Visa for Ireland from India

Ireland does not follow a stringent measure for your student visa, and you can get your visa a bit easier. Ireland offers two types of visas: C Study Visa and D Study Visa. The C visa is for students whose course duration is less than three months. The D visa is for students whose course duration is more than three months of course duration.

The documents you require to get a D visa are


Letter of acceptance from an Irish university.

Medical insurance details. 

All academic and unacademic documents.