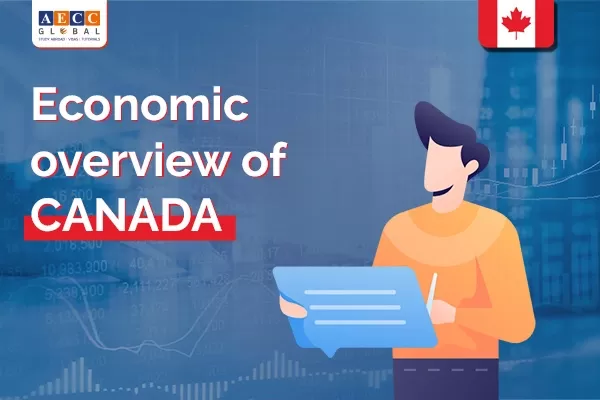 Economic Overview of Canada
Canada Economy
Knowing and understanding a country's economy will assist you in putting new concepts into context. You'll discover how to analyse your personal spending habits, the Nuances of the profession, how to Leverage Economic Tools, and how to better your job prospects by putting this knowledge into practise. So, If you choose Canada, you must also be aware of the country's economic situation.
Canada's economy is driven by robust service industry and an abundance of natural resources, making it one of the world's wealthiest countries. Because Canada has some of the best-educated people in the world, many industries have relocated to the country's largest cities, where qualified labour and economical resources are numerous.
In order to influence economic growth, researchers must look at cause-and-effect correlations. When suggesting how to allocate resources, economists will consider the risks and rewards to people, the job market, and society as a whole.
This has hence made the economy of Canada, a highly developed mixed economy, which is one of the crucial reasons why you should know about the Canadian economy if you wish to pursue your higher studies or job in Canada.
Canada Economy Overview:
As of 2018, Canada is the tenth-largest economy in the world, with a nominal GDP of US$1.73 trillion. It is one of the world's least corrupt countries and one of the top ten trade nations, with a highly globalised economy. On The Heritage Foundation's Index of Economic Freedom, Canada has a mixed economy that ranks above the United States and most Western European countries, with a relatively low level of income disparity.
It has the world's seventh-largest economy. Although the government plays a key role in the healthcare system and operates various services such as transportation and utilities corporations, the majority of enterprises are privately owned. The Canadian economy is broad and well-developed, and it is remarkably similar to that of the United States but smaller.
The service industry, manufacturing, and natural resource sectors are the three primary industries of Canada. The requirement for skilled and trained labour has become a need as these industries grow and flourish.
In Canada, the service industry dominates, employing three-quarters of the workforce. Transportation, lumber, paper goods, minerals, natural gas, fish products, and chemicals are all key sectors. Natural minerals like gold, nickel, aluminium, and crude oil are produced in abundance in the country. Canada possesses the world's second-largest oil reserves.
Canadian industries use a large number of foreign-trained skilled and semi-skilled workers as a result of immigration. Working and residing in Canada as a skilled or semi-skilled worker allows you to apply for permanent resident status in Canada. This means that you and your family will relocate to Canada.
Economic growth in Canada
Exploiting and exporting Canada's abundant natural resources was critical to the country's early colonisation and progress. Manufacturing and service industries grew in importance through the twentieth century. Agriculture and mining employed less than 5% of Canada's workforce by the end of the twentieth century while manufacturing employed one-fifth and services, such as transportation, trade, banking, and other activities, employed about three-quarters of the workforce.
Canada GDP growth rate:
And if you're wondering what Canada GDP (growth) per capita was in 2020, go no further. It cost 43,872.628 dollars! (Canada gdp 2020)
In June 2020, Canada's Gross Domestic Product (GDP) per capita was 43,872.628 USD, up from 45,574.980 USD in June 2019 (Canada GDP 2019).
Canada population
With about 38 million Canadians as of 2020, Canada ranks 38th in terms of population, accounting for around 0.5 percent of the global total. Despite being the fourth-largest country by land area (second-largest by total area), the vast majority of Canada is sparsely populated, with the majority of its people concentrated south of the 55th parallel north, and more than half of Canadians living in only two provinces: Ontario and Quebec.
Despite Canada's low population density, certain southern regions, such as the Quebec City–Windsor Corridor, have population densities that are higher than numerous European countries. Toronto, Montreal, Vancouver, Calgary, Edmonton, and Ottawa are Canada's most populous cities, with those six being the only ones with populations above one million.
The country's carrying capacity is greatly reduced due to the vast area of Canada's north, which is not arable and thus unable to maintain huge human populations. As a result, depending on the region, the population density of the livable land in Canada can range from low to high.
According to the Ministry of External Affairs of the Government of India, the Indian population in Canada reached 1016185 (more than 1 million) by the end of January 2015. There were roughly 184320 Non-Resident Indians (NRIs) and 831865 People of Indian Origin (PIO). According to UN estimates, the total population of Canada in 2020 is expected to be 37,742,154 people by mid-year (Canada population 2020). The population of Canada is 0.48 percent of the world's total population. The population of Canada in 2019, was predicted to be 37,589,262.
Canada Economy Data:
| | | | | |
| --- | --- | --- | --- | --- |
| Main indicators | 2019 | 2020 | 2021 | 2022 |
| Canada GDP (billion U.S. dollars) | 1,741.58$ | 1,643.41$ | 1,883.49$ | 2,030.62$ |
| Canada GDP per capita (USD) | 46,399.71 | 43,278.22 | 49,221.69 | 52,501.98 |
| General Government Balance (in % of GDP) | 0.54% | -10.66% | -7.76% | -3.9% |
| Inflation Rate (%) | 1.95% | 0.72% | 1.69% | 2% |
| Business Growth | 1.5% | 1.7% | 6.5% | 3.7% |
| Export Rate | 774.37 CAD | 683.08 CAD | 14.4 % | 51200.00 CAD |
| Import Rate | $15.4 bn | $37.3 bn | 41.2 USD bn | 51000.00 CAD |
| Unemployment Rate | 5.73% | 9.6% | 8% | 6.52% |
| Stock Market | -0.21% | +6.8% | +7.2% | - |
| Exchange Rate (Vs USD) | 1.32 | 1.34 | 1.16 | - |
Contact AECC Global, if you are keen on pursuing you higher education in one of the wealthiest nations in the world, Canada. We provide devoted students an exceptional international education guidance and counselling, as we have a dedicated team of highly experienced and trained professionals who can assist students in selecting the best courses available in foreign universities throughout the world, including Canada.
---
By accepting you will be accessing a service provided by a third-party external to https://www.aeccglobal.in/