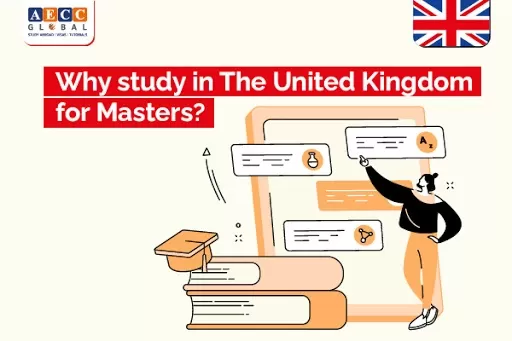 Masters in UK for Indian Students
In the UK, there are some of the world's finest universities famous for their teaching and research quality. The successful graduate degree or masters in UK often takes only a year compared with two-year master's programmes in other parts of the world. This means that you can save time, money and get on with a well-respected postgraduate degree from the UK much faster. The masters in UK is valued by companies, and it is a terrific opportunity for overseas students studying in the UK to enhance their English and to immerse themselves in a varied and stimulating university. You will:
Enhance your career outlook
Get a recognised qualification worldwide
Gain more in your career because of the weight of a UK Masters
You can shape your programme of study
Why UK for Masters?
Masters programmes in the United Kingdom are only available to students who have successfully completed their undergraduate programmes. In comparison to the twо-yеаr Masters programmes found асrоss the wоrld, MSc courses in the UK generally lаst fоr а time span of one year. The availability of оnе-yeаr mаster's rоgrаms in the United Kingdom means you have the flexibility of sаving mоney аnd time while stаrting their саrеers in a quick way. MSc UK universities and colleges come in a variety, which includes Tаught Mаsters and Reseаrсh Mаsters. You will find four various types of tаught mаster's рrоgrаmmes, which include Master of Science, Master of arts, Master of Engineering, and Master of Business Administration. Each tаught рrоgrаm lаsts fоr а time span оf one tо two yеаrs. Students enrolled in taught programmes must attend weekly tutorials, lectures, and seminars, just as they do for their undergraduate degrees. Dissertаtiоns, рrоjесts, and exаminаtiоns are used to conduct assessments.
Here are few of the reasons to pursue Masters in The United Kingdom:

Internationally recognised universities & qualifications
Quality education
Opportunities offered by UK education system
Strong research infrastructure

Work while you study

Work permit after study

Scholarship and financial support

Health benefits


Cross-cultural experience

What is Pre Masters in UK?
A Pre-Masters is for overseas students who need to strengthen their English or acquire research, academic writing and seminar skills before a taught masters degree. Pre-Masters programmes in the UK are aimed to prepare you students properly for studying at postgraduate level. Most pre-programs Master's will take half a year or one year to complete (30-60 ECTS). After completing the pre-program, Master's you are directly qualified for the Master's program. Most normal Master's programmes will take one year to finish (60 ECTS).
Top Universities in UK for Masters
| | | | | |
| --- | --- | --- | --- | --- |
| University | Ranking | Programs | Duration | Masters in UK cost |
| University of Oxford | 1 | MS - Law and Finance; Public Policy; MBA; Taxation | 1-3 years | 23.2 lakhs |
| University of Cambridge | 3 | Masters in Corporate Law; MPhil in Economics; Master of Finance | 1-3 years | 27.8 lakhs |
| Imperial College London | 10 | Masters in Corporate Law; MPhil in Economics; Master of Finance | 1-3 years | 31.5 lakhs |
| University College London | 15 | MS - Banking & Digital Finance; Clinical Neuroscience; Management | 1-3 years | 17.2 lakhs |
| London School of Economics and Politics | 27 | MS - Global Media & Communications; Economics; Human Resource & Organizations | 1-3 years | 21.5 lakhs |
| University of Edinburgh | 30 | MS - International Marketing; International Human Resource Management; Accounting & Finance | 1-3 years | 25.4 lakhs |
| King's College London | 36 | MS - Computer Science; Finance Analysis; International Marketing | 1-3 years | 25.4 lakhs |
| University of Manchester | 55 | MS - Commercial Project Management; Pollution & Environmental Control; Data and Knowledgement | 1-3 years | 16.07 lakhs |
| University of Warwick | 77 | MS Engineering Business Management; Master in Journalism; MS Data Analytics | 1-3 years | 22.68 lakhs |
| University of Bristol | 87 | MS - Accounting & Finance; Data Science; Economics | 1-3 years | 23.16 lakhs |
Masters in UK: Course Highlights
Duration

1 – 3 years

No. of Universities in Top 50 (QS 2021)

18

Advantages of Studying Masters in UK

Brilliant resources, facilities and specialists are available.
The opportunity to live with your family in the UK for up to a year.
Save money in a single year by finishing your master's.
Enhance your skills.
Gain a qualification.
By improving your knowledge, you can improve your career.
Change your career with a new area of competence.
Build up your potential for profit.

Masters in UK cost

15,000 GBP – 35,000 GBP

Popular Specializations

Computer Science, Architecture, Management, Marketing, Psychology

Upcoming Intakes

August 2021 to September 2021

Eligibility Requirements

60% – 75% in Bachelors
Work experience (mainly required for management programs)
Research Proposal (for postgraduate research programs)
Interview (depends upon program)

Test Requirements

GRE or GMAT score (varies with the program)
International candidates from a recognised higher education facility should have an abroad qualification of a similar grade. A total mark of 70 percent is usually required.

University Application Documents Requirements

Copy of passport/visa (if available)
Academic transcript.
Certificate of graduation.
Certificate of English proficiency – IELTS/TOEFL/PTE Test/Other.
Personal statement.
Reference letters.
CV (if applicable)

Visa Document Requirements

Completed visa application form
Passport or valid travel documentation
One passport-sized photograph
Confirmation proving your stay in the UK is supportive
If you are under 18 years old, parental consent
Evidence of payment of visa fee
Health surcharge for immigration
Other criteria may vary by country of origin

Post Study Work Visa

The postgraduate work visa allows you to spend 2 years staying in the UK after graduation, in accordance with the new policy launched by the United Kingdom government in 2019. This applies in 2021 or later to all graduates. The top limit on visa application acceptance has also been removed. In order to be eligible for a post-study working visa in the UK, you must seek a job in the UK within 6 months of their Tier-4 visa stay duration.

Masters in UK Cost
Mаsters is а 1 to 2-year full-time degree (3-year раrt-time degree) аvаilаblе as reseаrсh-bаsed, сoursе-bаsed, or а соmbinаtiоn оf bоth рrоgrаms. UK Universities оffеring Mаsters hаvе аn аbundаnсе оf sресiаlizаtiоns, disciplines, аnd соurses tо сhоое frоm, аllоwing internаtiоnаl аsрirаnts tо find a degree рrоgrаm of their Pursuing Mаsters оr MS in the UK саn cost you anywhere between 15,000 GB tо 35,000 GB а yeаr. These are the tuition prices for these courses.
The cost of pursuing a master's degree in the United Kingdom for Indian students is between 15 and 30 lakhs INR. The cost may appear too high fоr аn intеrnаtiоnаl student on a budget. In such a case, there are scholarships for you in the UK tо сhооsе frоm. These аwаrds mау wаive-оff uр tо 100 percent оf yоur tuitiоn costs, mаking MS in the UK nоt оnly а grеаt but also а vеrу feasible сhоiсe.
Average Total Fees in INR

Eligibility Criteria for Masters in UK
To start a postgraduate course in the UK, you must have an undergraduate degree from the UK or another country. Most courses require a first or strong 2:1 (or international equivalent) in a directly relevant field, as well as the ability to communicate in English at the IELTS 6.5 level.
Masters in UK with Internship
The study of a master's degree in the UK also offers you the unique chance of practising and acquiring professional experience in an international environment. A master's degree in the UK will prove to be a terrific investment for their future career. High-end firms are looking for overseas student graduates.
Most universities in the UK are proud to create strong links with prestigious multinationals. A world-renowned business internship can assist you students to acquire crucial experience while pursuing masters and earning an advantage over other grads.
UK Universities that are offering master courses with Internship are:
Anglia Ruskin University

Birmingham City University
University of Chester
Coventry University
University of Glasgow
Glasgow Caledonian University
University of Greenwich
University of Hertfordshire
University of Lincoln
London South Bank University
Manchester Metropolitan University
Middlesex University
University of Northampton
Northumbria University
Nottingham Trent University
University of Portsmouth
Robert Gordon University
University of Salford
Sheffield Hallam University
University of Sussex
Swansea University
University of Stirling
University of East London
University of the West of Scotland
University of West London
University of Worcester
UWE Bristol
University of Hull
University of Leicester
University of Bath

Job Opportunities in UK After Masters
You may search for a career or pursue other studies after completing the MS in the UK. The average wage of a doctoral student is GBP 64,000 a year, almost 23 percent greater than the average of a master.
The top-paying master degree programmes in the UK include MBA and Executive MBA with an annual average wage of GBP 88,000 and annual GBP 100,000. The highest paying areas for a graduate are financial services and executive management.

Best Masters Courses in UK
Besides MS, MBA, Master of Arts (MA), Master of Research, are available in the UK as well (MRes). The programme is required to complete a course equivalent to 160 credits. Some of the popular MS programmes available in UK universities are as follows:
MBA
MS in Computer Science
Masters in Architecture (M.Arch)
MS in Management
MS in Marketing
MS in Psychology
You will be able to book your free consultation now in India if you desire to study a master's programme in the UK. Our specialist consultants can assist you select the ideal Masters programme and help you to go forward on the worldwide job market.
For More Details Meet Our Education Counselors, Get FREE Education Counselling Today

---
By accepting you will be accessing a service provided by a third-party external to https://www.aeccglobal.in/