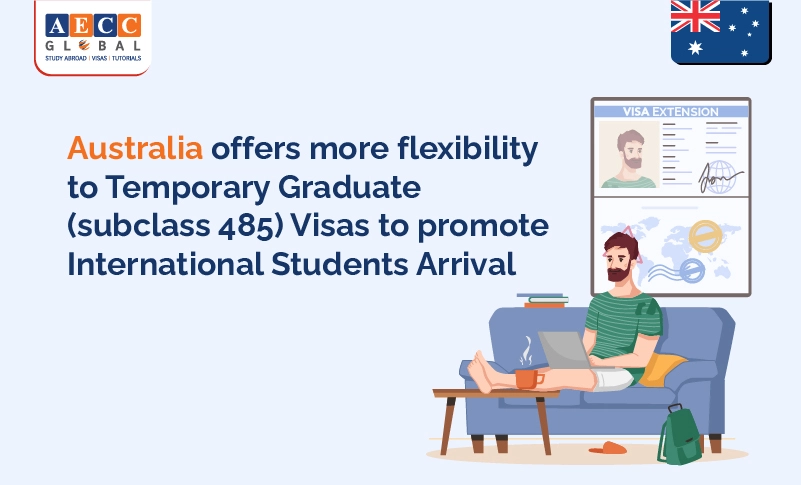 Australia offers more flexibility in Temporary Graduate & Migrant Visas to promote International Students Arrival
AECC Global India . Study in Australia . Monday, 19 January 2022

The Australian government led by Prime Minister Scott Morrison has made a lot of positive changes over the past few weeks regarding the Visa policies to encourage more international arrivals.


The latest announcement declares that Australia will now allow the re-entry of current and former Temporary Graduate (Subclass 485) visa holders from 18th February 2022 thereby permitting them to apply for an extension of stay.  In addition, the Government has not missed out on extending visas for International students who held a valid temporary graduate visa but were outside of Australia between the period of 1st February 2020 to 14th December 2021.


This announcement will take effect from the 18th of February 2022 and the eligible temporary visa holders will be notified directly by the Department of Home affairs about their visa extension from 18th February.  More temporary graduates will benefit from these government policies which will support them to return to Australia as early as possible.  It is also expected that further extensions for former graduates are planned to be announced on 1st July 2022.
Positive Spike In International Students Arrival:
Australia has recently welcomed 43,000 international students to their universities since the official announcement that fully vaccinated students with valid visas can enter their borders from Dec 2021.  This has been an opportunity for skilled and student cohorts, Humanitarian, and family visa holders.  As per the official report from Australian immigration, there are about 150,000 international student visa holders who are in other countries and continuing their Australian education.


Also, the government will extend skilled regional provisional visas i.e. (subclass 489, 491, and 494) by 3 years wherever these visa holders experienced negative impacts during the covid 19 international travel restrictions.  This announcement will directly impact 10,000 skilled regional workers who are current and former skilled regional provisional visa holders and gives them the time to resume their working in regional Australia.


There are hundreds of top educational institutions in Australia that have opened their gateway to the international student community to enroll for this 2022 intake.  


To know more about renowned universities, best courses to enroll in, connect with AECC Global's International education experts.  Our counselors can guide you through the courses and universities that are tailored to fit your career goals.