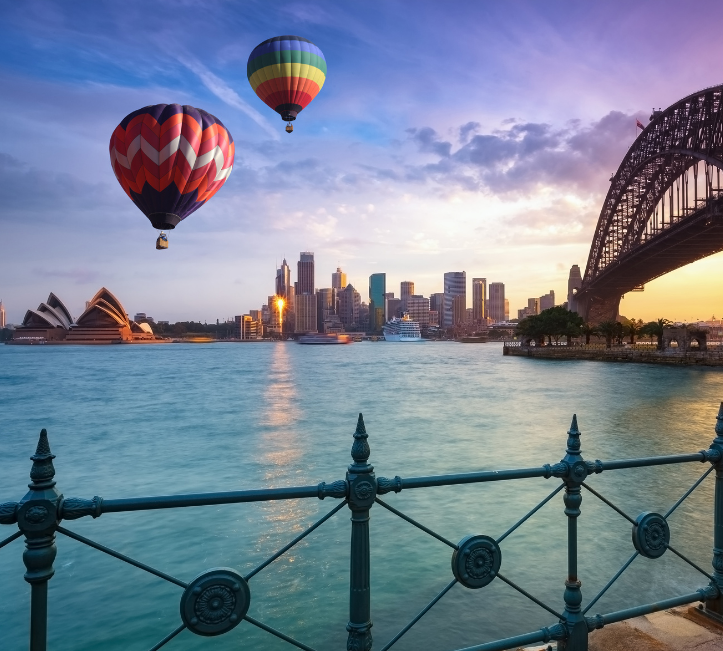 Gain quality education in a culturally diverse society
Institutes in Australia
If you are a keen student wishing to study in one of the top universities in the world then, Australia is the right study destination for you.
Enquire Now

Discover diverse culture and incredible landscape of Australia
A laid-back lifestyle, exciting world-class educational institutions and a diverse society makes Australia a perfect destination for international students. During your stay in Australia, you'll enjoy the incredible natural landscape as you explore their beaches. You will get to study with the leading universities in a most flexible and student-focused learning environment.
Learn in some of the world's best universities and institutions
Enjoy the beaches, beautiful natural landscapes and exciting adventure opportunities
Explore the innovative learning environment and cutting-edge technology of the Australian universities.
Top reasons to choose Australia as a study destination
Australia is home for 7 out of top 100 universities in the world
Streamlined immigration process & post-study work visa
Living expenses and tuition costs are considerably lower in Australia in comparison to US and UK.
International students in Australia are allowed to work 40 hours every fortnight during term time and fulltime work during vacations.
Attractive scholarships and internships
There are over 40 accredited universities in Australia.
Australian qualifications are recognized by employers and top-notch educational institutions throughout the world.
Australia has 7 cities ranked in Top 75 best student cities in the world.

Find out where you can study in Australia Universities
There are over 43 major universities in Australia, with a huge range of courses to choose from. Most of the universities in Australia offer services to assist international students to make the most of their experience. Our partner institutions in Australia:
Australian Catholic University
Bond University
Carnegie Mellon University - Australia
Charles Darwin University
Charles Sturt University
Curtin University
Deakin University
Edith Cowan University
Federation University Australia
Flinders University
Griffith University
James Cook University
La Trobe University
Macquarie University
Monash University
Murdoch University
Queensland University of Technology
RMIT University
Southern Cross University
Swinburne University of Technology
The Australian National University
The University of Adelaide
The University of New England
The University of New South Wales
The University of Newcastle
The University of Queensland
The University of Southern Queensland
The University of Western Australia
Torrens University Australia
University of Canberra
University of South Australia
University of Tasmania
University of the Sunshine Coast
University of Wollongong
Victoria University
Western Sydney University
Ability English
ENGLISH LANGUAGE SCHOOL IN SYDNEY
IES College
Kaplan International Englsih
Navitas English Services Pty Ltd (formerly ACL)
Private College - Higher Education
Academies Australasia Polytechnic Pty Limited
ANU College
ATMC Fed Uni
Australian Institute of Higher Education Pty Ltd AIH
Australian Technical and Management College ATMC CDU
Australian Technical and Management College ATMC USC
Canterbury Business College
Charles Sturt University - Study Centres
Deakin College
ECA - VU Melbourne
ECA - ZBA Education Centre Australia
Edith Cowan College
Education Centre of Australia ECA - APIC
Education Centre of Australia ECA - VU SYDNEY
Education Centre of Australia ECA Graduate Institute
EduCo - CIC Higher Education
Educo Strathfield College
Engineering Institute of Technology
Excelsia College
Flinders International Study Centre
Griffith College
James Cook University Brisbane JCUB Sarina Russo Higher Education
Kaplan Business School
Kaplan University of Newcastle (Pathways)
Melbourne Institute of Technology
MIT - Federation University
Monash College
Navitas Limited
Newcastle International College
Sheridan Institute of Higher Education
The Hotel School Sydney
University of Wollongong College
USQ - Sydney Education Centre
UTS College
Western Sydney University, The College
Baxter Institute
Canterbury Institute of Management
Eynesbury College
International College of Hotel Management
International Institute of Business & Information Technology
International Institute of Business & Technology
Kaplan International English - Adelaide
Kaplan International English - Melbourne
South Australian Institute of Business and Technology
Strathfield College
Accountants Resource Centre ARC
ATMC - PY
TAFE
Learn essential career skills and gain practical experience as you prepare for your career with a TAFE course. You can choose from diverse range of courses from counselling to beauty therapy, and you'll graduate with job-ready qualifications. We work with these institutions:
Box Hill Institute of TAFE
Canberra Institute of Technology
Chisholm Institute of TAFE
DET Victoria DEECD
DET WA
Government Education and Training International-Tasmania
Holmesglen Institute of TAFE
Kangan Institute
Melbourne Polytechnic
TAFE NSW Institutes
TAFE Queensland
TAFE South Australia
TAFE Western Australia
TasTAFE
To get in touch with our expert team, simply leave your details below and we'll call you for a FREE consultation.

To get in touch with our expert team, simply leave your details below and we'll call you for a FREE consultation.
AECC is a wonderful agency and I had an excellent experience with them. Be it applying to the university or for the visa, the staff there helped me immensely in every step thoroughly. I would like to specially thank my counsellor for the expert guidance and support she had rendered throughout the entire process. She was of great help whenever I had doubts regarding any of the processes and was someone I could call on anytime. I would gladly recommend the agency to my peers. Thank you, AECC Global!
Absolutely one of the best! Received excellent service and guidance and very accommodating! Thank you AECC Global for fulfilling my study abroad dream.
All the information provided by my counsellor is excellent and process of visa file was very fast as compared to my other friends. Excellent services of AECC Global. It is a great place to visit for student visa service.
I would like to thank the whole AECC Global team because the experience here was altogether very lively and friendly. They gave every information to me starting from the selection of course till my documentation process. I would really recommend AECC for overseas education consultation.
At AECC Global, I was allotted with a counselor who accompanied and explained the whole application process. Special thanks to the counselors and the other advisors. I would highly recommend AECC Global to everyone.
The overall process was very smooth and the counsellor at AECC Global was very polite and guided me throughout the application in a simple, understandable way. I am very happy with the service and I got my visa granted after one day of application. I'll be recommending AECC Global to my friends, whosoever plans to study abroad.