GRE Exam 2023: Exam Fees, Dates, Registration, Eligibility, Syllabus, Pattern & Preparation Tips
GRE Full Form - Graduate Record Examination

ETS created and administers the GRE to give graduate and business schools with standardised criteria for assessing candidates' capabilities and readiness for graduate-level academic work.
What is GRE Exam?

The GRE is a multiple-choice, computer-based, standardized exam that is often required for admission to graduate programs and graduate business programs (MBA) globally. GRE is one of the most commonly accepted exams by universities and colleges abroad for admissions to graduate programs.


Students who want to pursue a master's, Ph.D., or MBA are also required to take the GRE General Test. In addition, students give the GRE exam to get a merit-based scholarship for grad school. Thousands of graduate schools across the world accept the GRE test score. Besides this, various law schools and business schools, and different departments within these institutions accept the GRE test scores.
Why GRE Exam is Required?

The GRE is a standardised test for students who want to go to graduate school. Consider it similar to an ACT or SAT for graduate school applications. It assesses linguistic, mathematical, and analytical writing abilities. The GRE is the most generally needed and most commonly taken graduate school entrance exam. If you apply to graduate school, your GRE scores will most certainly be utilised as one of the factors admissions staff consider when determining if you'd be a suitable fit for their institution and programme.
GRE Exam Highlights 2023
Exam Name

GRE

GRE full form

Graduate Record Examinations

Official Website

Most popular for

MS courses in the USA

Also accepted for

MBA courses outside India

Conducted by

ETS (Educational Testing Service)

Mode of Exam

Computer-delivered test

Paper-delivered test

GRE at Home

GRE Fee

US $213

Verbal Reasoning score range: 130–170

Quantitative Reasoning score range: 130–170

GRE Contact

+91-1244517127 or 000-800-100-4072

Monday–Friday, 9 a.m. to 5 p.m. IST

Email: [email protected]
Types of GRE Exams
There are Two Types of GRE tests,
GRE General Test
GRE Subject Test.
What is GRE general test?

Students who desire to study for an MS degree in a variety of subjects overseas take the GRE General Test. A student's numeric aptitude, analytical writing ability, and verbal thinking abilities are tested in this test. The exam is given throughout the year, and students can take it whenever they like. In places where computer-delivered testing is not accessible, the paper-based GRE General Test is administered up to twice a year.
The GRE General Test is offered in three different formats:
GRE Computer Based Test

GRE Paper Based Test

GRE at Home Test
What is GRE Subject test?

The GRE Subject Test is designed to assess candidates' knowledge in a specific subject. The GRE Subject Test is administered in the months of September, October, and April, and it lasts 2 hours and 50 minutes. Physics, psychology, mathematics, literature (English), biochemistry, biology, and chemistry are all included in these exams. This test is generally necessary for entrance to specialised courses.


Candidates must appear for only one of the following subjects from the list below:


Chemistry

Mathematics

Physics

Psychology
GRE general test vs subject test
Candidates can check the table below to understand how the GRE General Test differs from the GRE Subject Test.


| | | |
| --- | --- | --- |
| Query | GRE GENERAL TEST | GRE SUBJECT TEST |
| Type of test | An aptitude eligibility test to seek admission in a B-school or a Masters abroad | Subject-based eligibility test to seek graduation or a post-graduation abroad in a specialized subject |
| Conducted | Computer-based center, or via a paper-delivered test | A paper-delivered test conducted thrice a year in the months of September, April, and October |
| Test  | Overall aptitude test of Verbal Reasoning, Quantitative Reasoning, and Analytical Writing | Tests conducted in various subjects - Mathematics, Physics, Chemistry, and Psychology  |
| GRE  Test Duration | 3hrs 45mins | 2hrs 50mins |
| Scoring | 260-340 score scale, in 1-point increment | 200 to 990 score scale, in 10-point increments |
When to apply for GRE?

There is some uncertainty about the best timing to take the GRE Exam. Candidates should be aware that both the GRE at Home and the GRE test at test centres are offered all year. Candidates who are unsure when they should take the GRE exam are recommended to register for the GRE exam once they have thoroughly studied for it. According to GRE experts, the best time to take the GRE exam is 60 to 90 days before the university application deadline. This manner, the candidates would have adequate time to retake the GRE test if necessary.
GRE form fees vary depending on your place of origin and the type of GRE test you choose to take. As a result, the GRE exam fees for the General and Subject examinations differ. While the cost of the GRE General Test differs depending on the applicant's region, the cost of the Subject Test is the same all across the world.


Candidates who wish to use additional services will have to pay an additional cost. Charges for special processing of service requests are shown below.

Exchange Rate: US $1 = INR74.45


| | | |
| --- | --- | --- |
| GRE Services | GRE Fee | GRE Exam Fee in INR  |
| GRE General Test Fee | $213 | INR 15,857.70 |
| GRE Subject Fee | $150 | INR 11,164.92. |
| GRE Reschedule Fee | $50 | INR 3,661 |
| GRE Late Registration Fee | $25 | INR 1,830.50 |
| GRE Standby testing Fee | US$ 50 | INR 3,661 |
| GRE Changing the test centre Fee | $50 | INR 3,661 |
| GRE Subject Change Fee | $50 | INR 3,661 |
For students registering from India, the GRE Exam Fee is $213 USD. Candidates should be aware that the GRE application charge, GRE form fee, and GRE General Test fee all relate to the GRE registration fee of $213 USD. In India, the GRE exam costs roughly INR 15,857.70 (US $1 = INR74.45). Candidates who choose to take the GRE Subject test must pay a GRE Subject Fee of US $150. In Indian rupees, the GRE Subject Fee is roughly INR 11,164.92.
How to register for GRE?

GRE Registration: There are several methods for registering for the GRE exam. The most common methods for hopefuls to register for the GRE exam are online and over the phone. Aside from that, candidates can register via mail or fax. Candidates must have a valid passport or Aadhar Card and a debit or credit card to pay the Registration cost of US$213 in order to reserve a slot for the GRE test.
Ways to register for GRE Test:


GRE Online Registration

GRE Phone Registration

GRE Mail Registration

GRE Fax Registration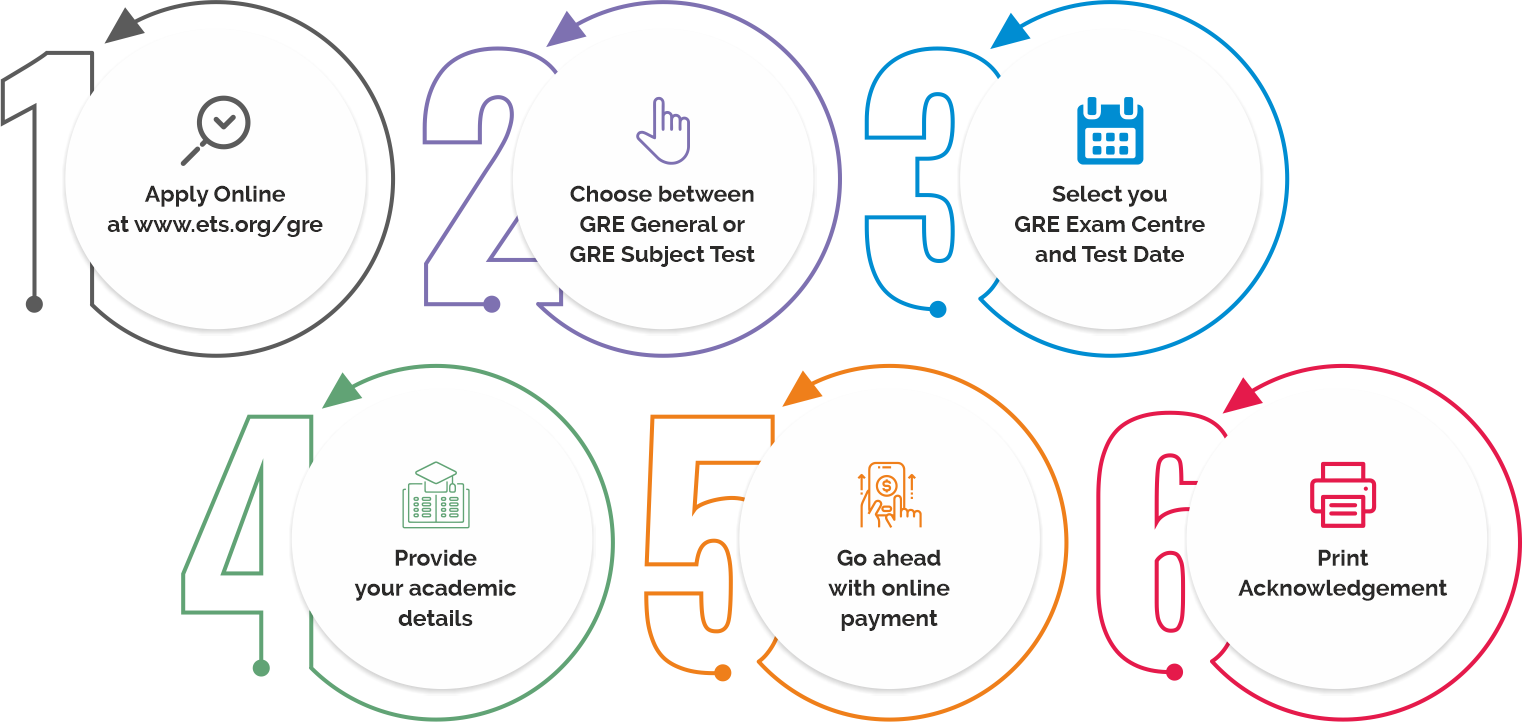 To register for the GRE online, candidates must first complete the procedures outlined below.


Candidates must register for an ETS account on the official website.

Choose whether they wish to take the GRE General or GRE Subject Test.

Choose the day for which they wish to take the GRE Exam and locate the nearest test centre.

Provide their academic information.

Proceed to pay the $213 registration cost.
GRE Phone Registration

Candidates can contact the 'Prometric' Regional Registration Center (RRC) in Gurgaon, Haryana. 91-124-4147700 is the phone number. The call must be placed at least two working days prior to the selected test date. When you phone to register, you will be given a confirmation number, a reporting time, and the address of the test centre. Payments can be made online with a JCB, MasterCard, American Express, Discover, or Visa credit or debit card. As previously stated, you can also register for your GRE Exam via mail or fax.
GRE Mail Registration

Select Register/Find Test Centers from your My GRE home page. Continue once you have verified your email address. To choose your test appointment, either confirm your time zone or choose a new one. Select the two-month period in which you want to take the test, and then select an available test day from the calendar.

[email protected]. State the following in your letter: name and address of the test center.

GRE Fax Registration

Print and fill out the GRE application form 2023, then mail it to 91-124-4147773 together with the GRE registration fee. The GRE application form must be submitted at least seven days prior to your preferred GRE exam date.
GRE Exam Dates

GRE Exam Dates: Like other worldwide standardised exams, the GRE has numerous test dates from which students can pick based on their convenience and availability. You should schedule your exam at least two to three months before your first university application deadline. So, if your application deadline is in November, you should schedule your exam date in August or September. If you feel the need to retake the GRE, you can do so in October. As a result, you must make an informed decision about when to begin preparing for the GRE.


GRE Exam Dates 2023: The following are the GRE exam dates for 2023. Candidates can verify the available dates at their local test locations before proceeding with the GRE registration procedure. Candidates who meet the system requirements and have a suitable environment to take the GRE can register for the GRE at the Home version of the test.


Candidates should keep in mind that dates may change based on the availability of seats at their preferred GRE Test Center. As a result, applicants should only use the table above as a guide. Candidates are encouraged to check the official website for further information about GRE dates:
GRE Exam Center

As most candidates are aware, the GRE General Test is offered at the GRE Test Centers listed below, as well as at home by selecting for the GRE at Home - which is the GRE General Test from the convenience of your own home. Candidates can view a list of GRE Test Centers in India collected by us for the convenience of our readers, which is provided below. Before reserving a GRE slot, candidates should verify the official GRE website or with the GRE test centres to ensure that the test centre is operational.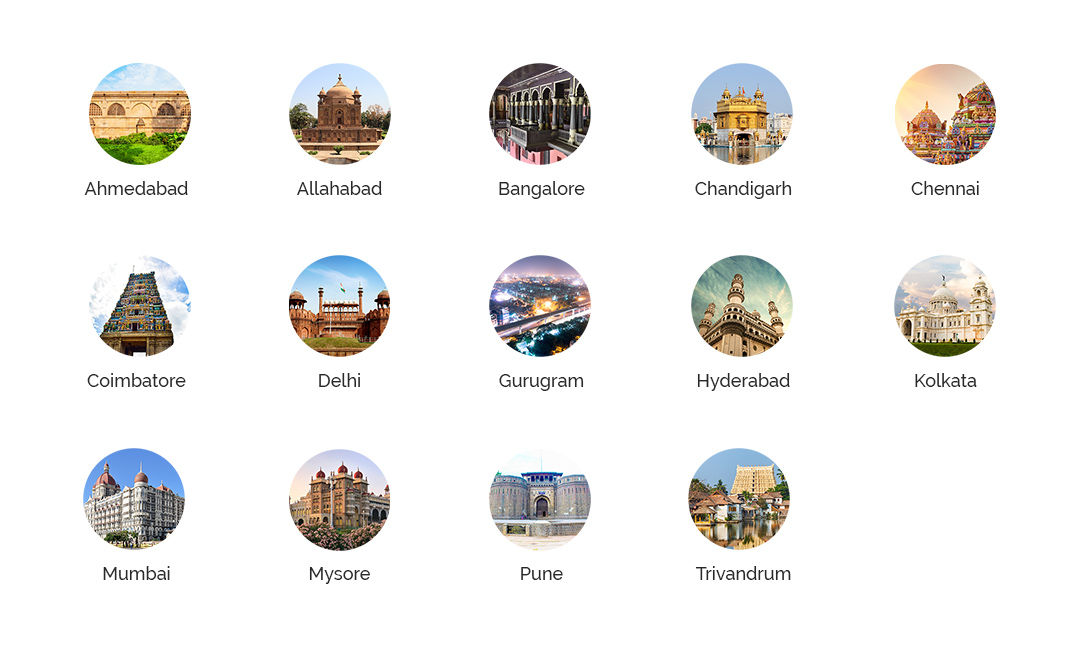 GRE Test Centres in New Delhi

Council for American Education - A-260 (3rd Floor), Defence Colony, New Delhi

Cyberstation - CPS Global, E-512, 3rd Floor Sector 7, Dwarka (Near Ramphal Chowk), New Delhi

Merit - A-9, Qutab Institutional Area, Qutab Institutional Area, Near JNU, U.S.O Road, Shaheed Jit Singh Marg, New Delhi

GRE Test Centres in Chandigarh 

Saint Kabir Public School - Sector 26 – Computer Lab, Chandigarh

GRE Test Centres in Gurugram

ETS Onsite UAS Intl Production Lab - 2nd Floor, DLF Infinity Tower A, Sector 25, Gurgaon

Prometric Testing Private Limited - Iris Tech Park, 2nd Floor Tower A, Sector 48, Sohna Road, Gurgaon

GRE Test Centres in Bangalore

IDomain Technologies - No 65, First Floor, 2nd A–Cross, KHB Colony, Koramangala, 5th Block, Opposite to Peas Park, Bangalore

Prometric Testing Private Limited - 3rd Floor Tower B Prestige Shanti Niketan, Whitefield, ITPL Road, South Taluk, Bangalore

GRE Test Centres in Mumbai

Everonn Systems India Limited - Marwah House, Saki Vihar Road, Saki Naka, Andheri East, Mumbai

Prometric Testing Private Limited - 6th Floor, Techniplex1, Goregaon (W), Ratnakar Bank Building, Balwa Group, Mumbai

GRE Test Centres in Hyderabad

Prometric Testing Private Limited - 9th Floor, Unit -2, Kapil Towers IT Block, Survey No 115/1, IT Park, Nanakramguda

GRE Test Centres in Chennai

Everonn Systems India Limited - 15, Jagannathan Road, Nungambakkam, 2nd Floor, Romar House

Prometric Testing Private Limited - Unit #8, 3rd Floor, Centennial Square, No 6A, Dr Ambedkar Road, Kodambakkam

GRE Test Centres in Kolkata

Indexpo Corporation - Binary House – 2, Circus Market Place, 2nd Near Our Lady Queen Of The Missions School, Park Circus

GRE Test Centres in Pune

GRAD Dreams Education Consulting Private Limited - 205–206, 2nd Floor, Manish Plaza, Opposite Bhramha Majestic, NIBM Road, Kondhwa

GRE Test Centres in Trivandrum

Prometric Testing Private Limited - 7th Floor, K.E.K Towers, Maloor Lane, Vazhuthacaud

Prometric Testing Private Limited - C/o Hotel Ruby Arena, Kumarapuram Road

GRE Test Centres in Ahmedabad

Prometric Testing Private Limited - 5th Floor, Unit 501, Parshwanath Esquare, Prahaladnagar Corporate Road, Prahaladnagar

GRE Test Centres in Allahabad

IPEM - 119/25A Mahatama Gandhi Marg, Civil Lines

GRE Test Centres in Coimbatore

ANCONS International - #15, Sethuram Bldg, Ground Floor, Sundaresan Layout, Lane adj IOB Race Course Br., Trichy Road

GRE Test Centres in Mysore

Exuberant Technologies Private Limited - #19, Block No 8, Diya Complex, Dr. Rajkumar Road, JSS Layout
For those who will take the GRE, AECC Global wishes you the best of luck for the exam. And for those who don't need to take it, congrats — one less worry on the way to your grad school dreams!
What is the full form of GRE?
GRE stands for Graduate Record Examinations, and it is administered by Educational Testing Service (ETS).
What is the use of GRE exam?
What type of GRE test should I take?
When GRE exam is conducted?
What should I carry for GRE exam?
How often can I take the GRE?