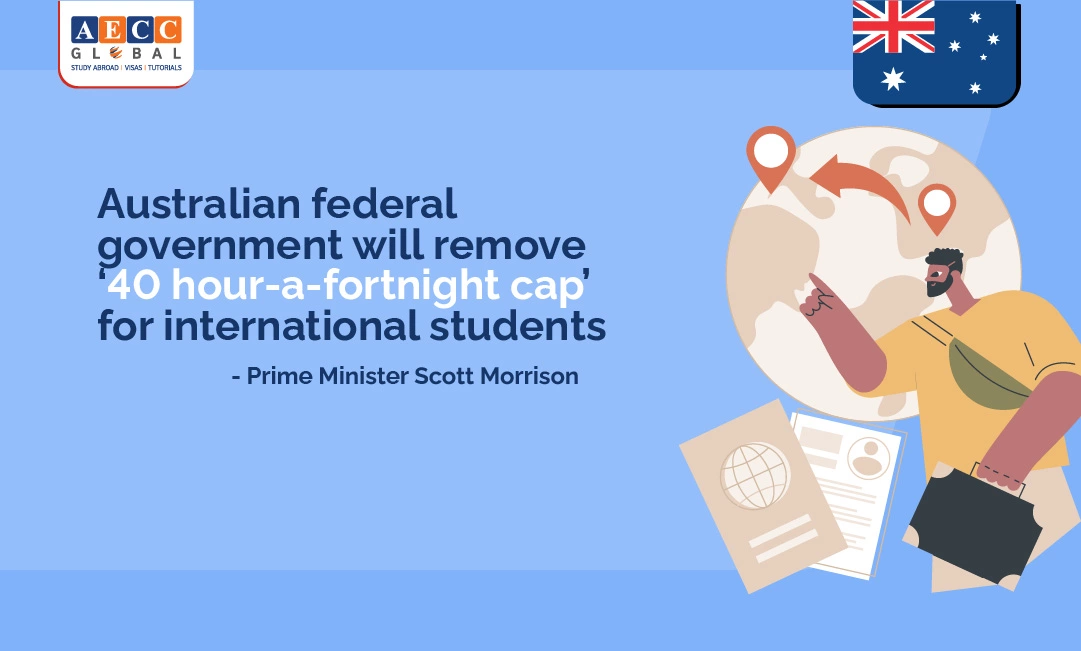 Australian federal government will remove the `40 hour-a-fortnight cap' for international students - Prime Minister Scott Morrison
AECC Global India . Study in Australia . Monday, 17 January 2022

Good News yet again! Especially for the international students who wish to earn more through part time jobs while studying in Australia. Following the opening of Australia's international borders, there is another boost for student visa holder workers. 


Prime Minister Scott Morrison recently announced that international students and backpackers who return to Australia are allowed to work more than the existing work hours. Also, he announced that the existing working policy `40 hour-a-fortnight cap' will be removed by the Australian federal government. This clearly states that there will be no more restrictions on the number of hours students can work. The government encourages returning students as well as backpackers to make use of this opportunity.
 
This decision is now taken based on the consequence of the Covid-19 outbreaks in previous years. Australia finds a workers shortage in recent months due to the Omicron (Covid-19) outbreak. Thus, there is a huge need for international students to alleviate the demand for workers in food distribution, emergency services, and manufacturing industries.
International students feel delighted about this announcement,
A survey was taken from the students of different destinations about this decision. Malvin Geonardo - an Indonesian student who is studying human resources management and is working as a part-time bricklayer in Sydney says' "I'm happy with this new regulation because this means that my [international student] friends can work longer hours and I don't need to cover too many things at work,"


Generally, the decision on part-time work is truly based on the own choice and requirements of every student. However, international students can make use of this chance to earn more while studying.


Every country has advantages in terms of education and lifestyle. Don't worry if you're perplexed! We at AECC Global are ready to give you the most required professional advice and assistance in selecting the right destination, university, and programs that are most suited to you and to your career objectives. Reach out to us

@ 18005720022
today and get yourself registered with us!