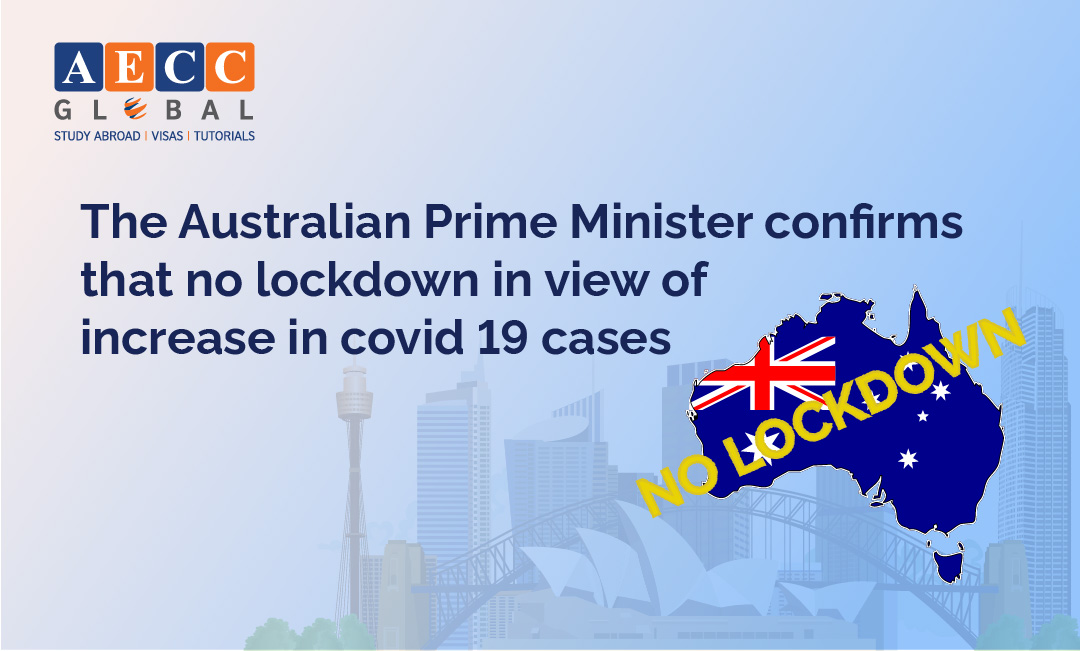 Australian Prime Minister Confirms that no Lockdown in View of Increase in Covid 19 Cases
AECC Global India . Study in Australia . Wednesday, 05 January 2022
Australian Prime Minister Scott Morrison has claimed that the days of lockdown are over as the daily COVID-19 case statistics continue to rise throughout the country. After 18 long months, Australia opened its borders on 15th December 2021 for international students and skilled workers. But in view of the current increase in Omicron spread Mr Morrison told that:
"With the arrival of Omicron, and Australia's high vaccination numbers, the government's approach had shifted gears"

"We've really got to change the way we think about it and that's why talking about case numbers now is really not the point," he said.

"The issue is how we're managing the impacts on the health system and that's why ensuring we have sensible rules that allow people to go back to work - and that's exactly what we're doing - to ensure we can get on with it."
Mr Morrison stated that there were 148 persons in critical care with COVID-19 across the country, with 51 on ventilators. That figure has risen since Mr Morrison's remarks - "There are people being counted as being in hospital for COVID, they didn't go there for COVID, they went there for some other reason and that's why they were admitted," he said.
On 29th November 2021, it was announced that the borders opening date was moved from 1st December to 15th December in concern to the Omicron variant. Since 15th Dec 2021, fully vaccinated international students with valid study visas and secondary visas, and humanitarian workers' visa holders are given preferences to enter Australia.
International students who want to enter Australia to pursue/continue their studies will have to be fully vaccinated (double doses) with the vaccines that are recognised or approved by the Therapeutic Goods Administration (TGA). It also includes those who have had mixed doses.
Additional requirements state that a PCR negative certificate is to be carried, with the test done within 3 days of departure. International Students who will be arriving in South Australia will be quarantined for a week at the time of their arrival.