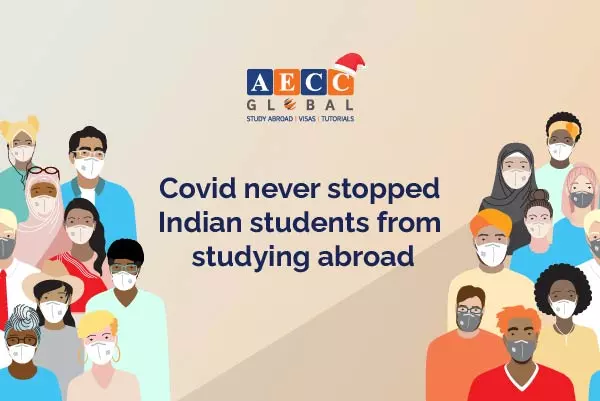 Covid Never Stopped Indian Students from Studying Abroad
AECC Global India . Study Abroad . Tuesday, 28 December 2021

It was discovered that the initial waves of the pandemic resulted in a significant drop in incoming overseas students. Countries that have opened their doors to international students, on the other hand, have rebounded significantly.


The study indicates a complicated situation in which the pandemic affected foreign students from all over the world in diverse ways. International education is a significant element of how many governments handle education investment. The study emphasizes governments' growing attention on luring overseas students.


The United Kingdom has recovered the most quickly. It has a record number of new international students – 38% more than before COVID. The disruption caused by the epidemic might be obscured by annual data. This is due to nations imposing varying levels of limitations during 2020 and 2021, causing usual enrolment patterns to shift.


This might be excellent news for countries that have lost students to other countries, such as Australia and New Zealand. The rapid return to an increasing trend in Canada, the United Kingdom, and the United States implies that there is pent-up demand among students waiting for borders to open. If this is the case, new overseas students should enroll in greater numbers as travel to Australia and New Zealand becomes more accessible.


Overseas education analysis may be a numbers game, with discussions centered on changes in enrollment and the economic contribution of international students. However, there are significant policy ramifications. International students also make a significant contribution to total spending in the education sector. Fees from overseas students account for around 27 per cent of overall university income in Australia. The loss of overseas students can have a significant impact on educational institutions, particularly universities. In the aftermath of a pandemic, countries are looking to expand and strengthen their international education sectors.