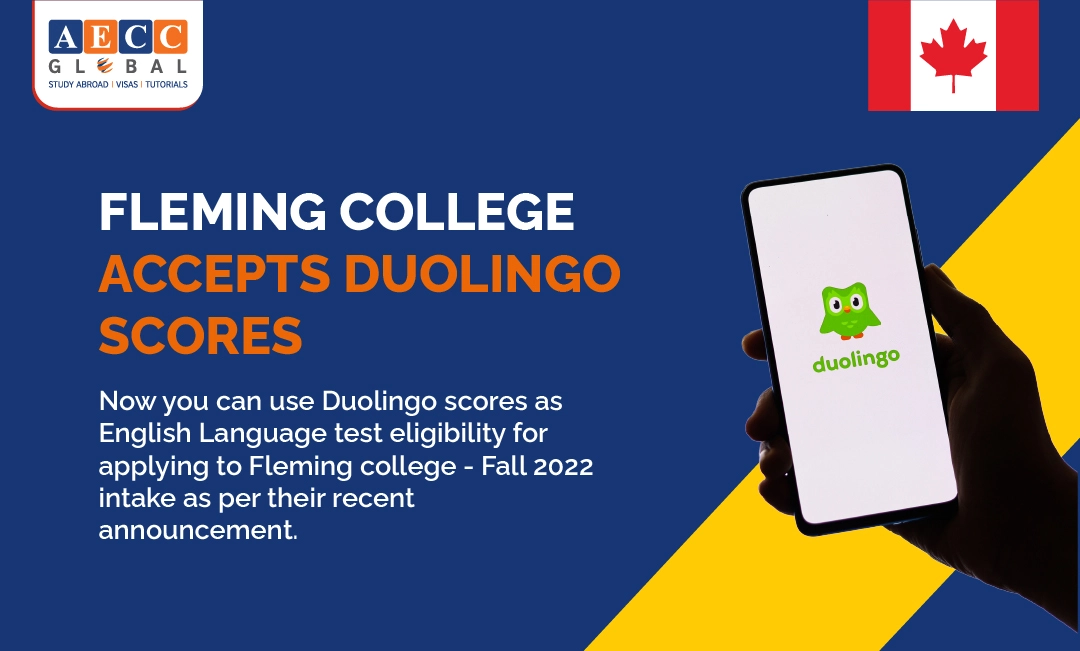 Fleming College accepts Duolingo for Fall-2022 Intake
AECC Global India. Study in Canada. Thursday, 18 February 2022

As a measure for Communication skills and to connect with subjects, Educational Institutions use different approved language tests to qualify applicants.  Among which Duolingo is also now accepted as Language score for Fleming college, Canada - Fall 2022 intakes!  Duolingo is a platform for learning 40 unique languages online/offline for FREE launched in 2011. 


Duolingo assesses an individual's English proficiency and provides results within 2 days after the completion of their tests. This exam is easy to access from anywhere and you can attend the exam at any time. Duolingo is recognized globally and accepted by over 3000+ institutions worldwide. Duolingo English test costs you only $49 for certification, score, and for an interview which is comparatively lesser compared to other tests.


Fleming college accepts Duolingo for fall 2022 intakes for both domestic and international students. Fleming College is named after Canadian inventor & engineer Sir Sandford fleming nourish learning ever since its inception.  Over 100+ full-time courses across arts, science, technology, Business & administration are offered for people from all walks of life.
 
You can keep Duolingo as eligible for applying to Fleming college as their recent announcement says.

Also, Duolingo gives access to send your test score to institutions of your choice for no costs involved.

The assessment includes reading, writing, speaking, and listening skills which are completely evaluated and offered grades.

Duolingo's online learning portal offers easy and smaller modules to learn English through fun activities.

On cracking each level you will earn points and unlock the next levels which are fun and equally contribute to communication skills.
Every country has advantages in terms of education and lifestyle. Don't worry if you're perplexed! We at AECC Global are ready to give you the most required professional advice and assistance in selecting the right destination, university, and programs that are most suited to you and your career objectives. Reach out to us at +91 7305318577 today and get yourself registered with us!