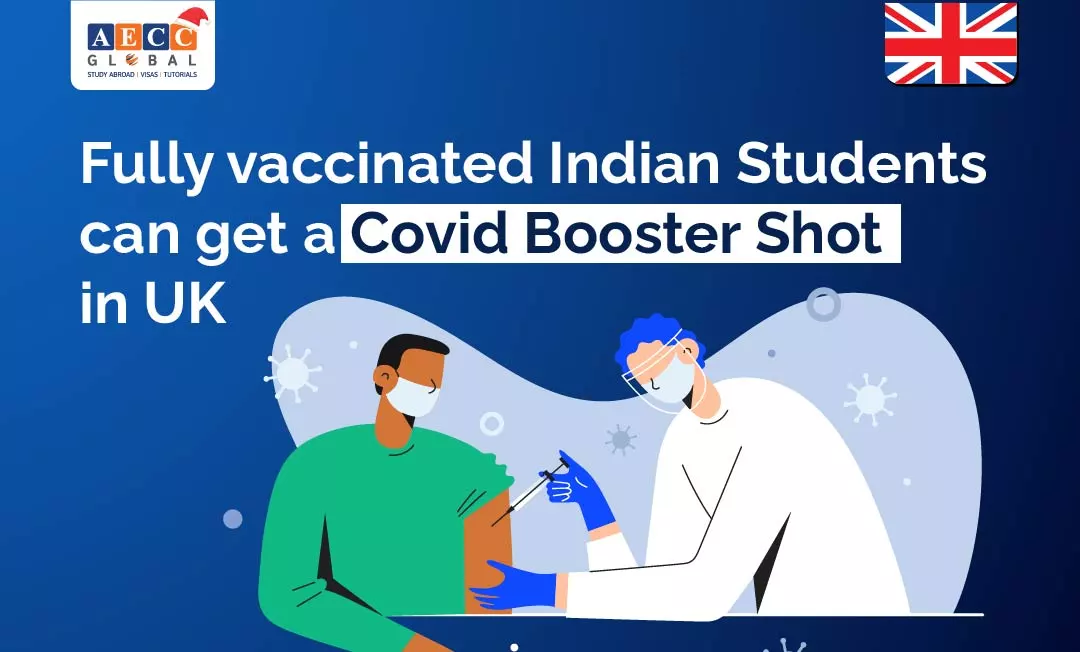 Fully vaccinated Indian Students in UK (Can Get a Covid Booster Shot in UK)
AECC Global India . Study in UK . Monday, 20 December 2021

Good News! Good news!
Fully vaccinated Indian students in UK can now get a booster dose at particular walk-in centres in UK. Prime Minister Boris Johnson announced a change in the third jab deployment, with the government aiming to provide one million boosters every day. He said that "No one should be in any doubt, there is a tidal wave of Omicron coming," the Prime Minister also said in the Press Conference that "Today, in light of this omicron emergency, I am bringing that target forward by a whole month."
PM announcement and confirmation
The UK PM warned of an impending "tidal wave" of Omicron and retreated the target period for over-18s to the end of December by one month. He declared the mutation's spreading as an "emergency," since Omicron was doubling every two to three days.


According to the revised procedure established by British Prime Minister Boris Johnson, Indian students in the United Kingdom who have received two doses of AstraZeneca's Covishield vaccination will be entitled to obtain a booster injection.


These vaccinations are available at walk-in canters since persons whose original doses are not registered in the system in England are now unable to arrange an appointment for boosters through the UK's National Booking System.


According to UK authorities, the effort is also being done to broaden the variety of vaccines that may be registered in the vaccination system.


To be considered completely vaccinated, Indian students seeking a booster dose must document that they have been fully vaccinated (plus 14 days of quarantine) and that the nation in which they were vaccinated appears on the list on the gov.uk website.
After a lengthy wait, the UK authorized AstraZeneca's Covishield for travel reasons in September.


For overseas travel, Pfizer BioNTech, Oxford AstraZeneca, Moderna, and Janssen (J&J) vaccinations are currently allowed in the United Kingdom. This includes AstraZeneca Covishield, AstraZeneca Vaxzevria, and Moderna Takeda formulations.