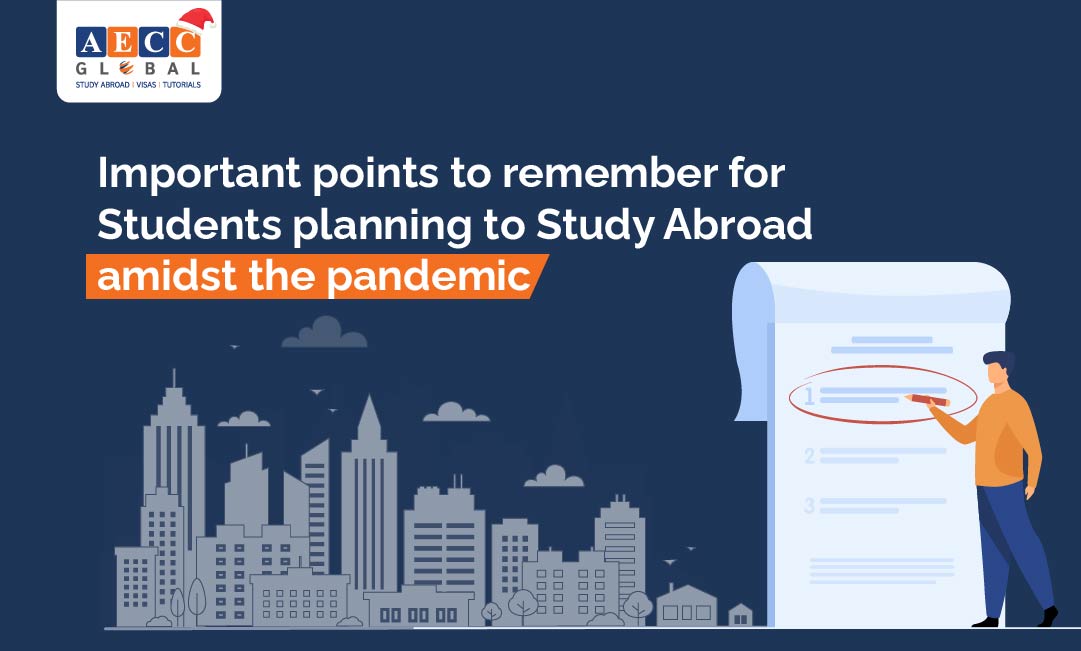 Important points to remember for Students planning to Study Abroad amidst the pandemic
AECC Global India . Study Abroad . Tuesday, 21 December 2021
Starting early allows you to choose the best location, college, and programme for you, as well as prepare your applications and determine your financial situation and ways of funding your education. Starting early gives you a better chance of qualifying for a scholarship and raises some eyebrows. Make an effort to fulfil the primary and early deadlines for all of the universities and programmes to which you wish to apply. This greatly improves your chances and also gives you time to re-calibrate if you do not receive a proposal from an institution of your choice.
Because we can't wish the pandemic away, we must keep to our strategy. Depending on their place of origin, international students may face temporary limitations and/or limits. Almost every university in the world has re-oriented its efforts to respond to specific circumstances. These activities differ from one country to the next, and each institution or university tailors its approach.
It is possible to study abroad safely!
Definitely! According to a recent poll, just 5.4 per cent of candidates around the world have not cancelled their study abroad plans because of COVID-19. This epidemic will pass, and the next stage must be anticipated.
What is certain is that this scenario has put many people's determination and thinking to the test. The number of worldwide applications has increased at many overseas colleges and institutes.
When it comes to employment, foreign university graduates have an advantage over their peers.
Studying abroad provides not only academic exposure but also a plethora of fresh prospects for personal development.

It's not only the degree; it's the life, the culture, the language, the shift in thinking, and the boost in confidence.

Studying among individuals from all over the world forces you to think and believe in fresh ways, preparing you for a courageous, creative, and inclusive future.
The epidemic has taught us some valuable lessons. You decide not to postpone your study abroad plans for the time being. You'll have to make decisions, and they don't have to be mutually exclusive.