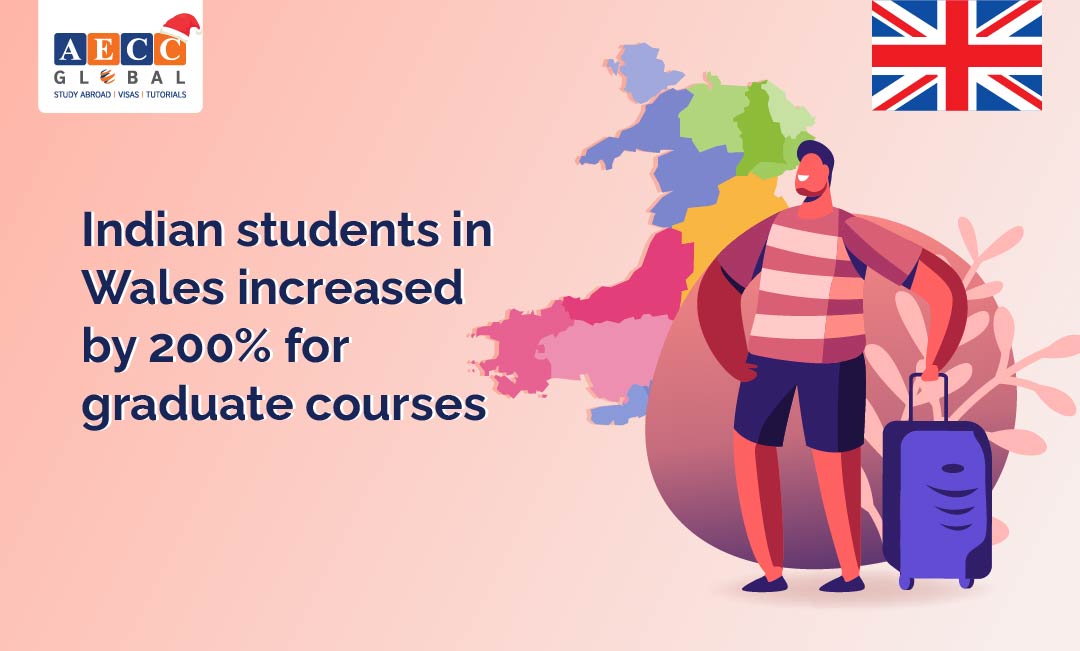 Indian students in Wales increased by 200% for graduate courses
AECC Global India . Study in UK . Monday, 27 December 2021
There are many reasons to study in Wales, UK for Indian as well as other International students. The main reason is diversity and the learning experience. High quality of education, affordable cost of living, rich and varied cultural heritage, and much more.
In recent times the number of Indian students pursuing undergraduate or postgraduate degrees in Wales surged by more than 200 per cent over the previous year, outpacing growth in any other part of the UK. There are presently 18 million Indian students studying all over the world, with over 55,000 of them residing in the United Kingdom.
Under a points-based immigration system, the UK government launched the Graduate Immigration Route in 2019 to keep the smartest and finest overseas students to contribute to society and the economy after graduation. Students with a bachelor's or master's degree can apply to live and work in the United Kingdom for two years. Since its inception, there has been a natural growth in the number of applicants for studying in the United Kingdom.
If you plan to study abroad in Wales, you'll have an excellent learning experience. The benefits of studying in Wales universities provide outstanding higher education diplomas that are acknowledged by employers and academics worldwide. Welsh universities have also long had links with some of the world's largest corporations. 92 percent of the graduates from Wales found work within six months after graduation. Wales has some of the lowest living costs in the United Kingdom. Wales is known for the reduced expenses on items such as housing, transport, food, entertainment, and shopping when compared to many other parts of the UK, while yet enjoying the same high-quality goods and services as the rest of the UK.
Welsh universities are proud of their international vision and the diversity of the international students on their campuses, including academic personnel from all over the world. Each and every international student is a valued member of the university community with great assistance whenever needed. The universities are filled with a friendly atmosphere for all international students with state-of-the-art study facilities for everyone.