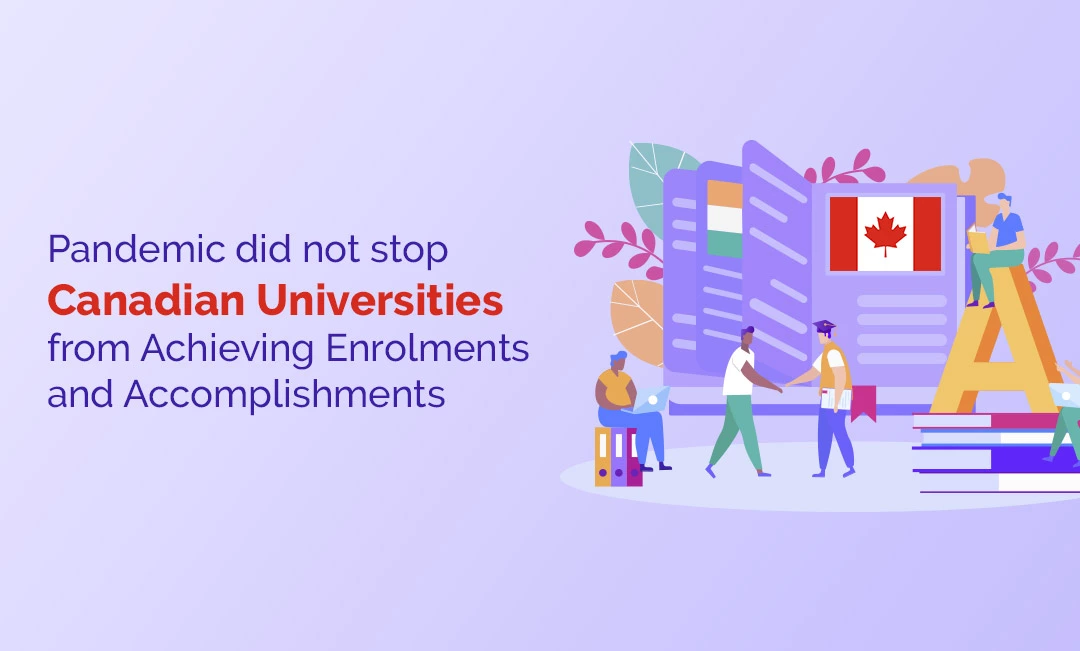 Pandemic did not stop Canadian Universities from Achieving Enrolments and Accomplishments
AECC Global India . Study in Canada . Thursday, 20 January 2022

According to Canada statistical data of 2020-2021, the university participation rate of 20 year old youngsters was 41%, which is a heartening surge in percentage in the last five years.  The previous years average records shows 36-37% and the recent increase in participation is also from the age category of 18 to 25 as per the report.


The recent outspread of Omicron variant of the SARS-CoV-2 made delays in winter program enrolments in Canadian Universities seemingly forcing them to initiate classes through online mode. This caused the students to worry about another year getting sunk inside the pandemic wave.  But despite the myths, the online sessions proved to be an effective methodology to follow.  Online learning with robust syllabus encouraged more students to make their way towards Canadian institutions.  The percentage of students being retained in recent years has increased - where at Queen's University the first year student retention in 2020-2021 increased to 95.4% up nearly a percentage compared to the previous year parameters.  There are no significant changes in student dropping out according to the University representative's report.


During march 2020, when the pandemic knocked the doors of every country - the universities had to switch immediately to online mode of teaching.  During fall 2020 the mode of teaching was mixed between in-person and virtual and it has slowly changed to in-person lectures during the fall semester of 2021.  Even though Omicron has pushed universities to start primarily through online lectures during this winter term, most of the universities are now coming back to in-person lectures in a matter of week's time allowing students to experience a live learning experience.  Speaking about the online mode effectiveness, 2/3rd of the students graduating from small and large universities were satisfied with the online mode of education.
  
Standard entrance examinations like MCAT (Medical College Admission Test), GRE (Graduate Record Examination) haven't shown much difference between pre and post pandemic records.
Are you planning for your higher education in Canada?  Universities have already opened their doors to endless learning opportunities.
  
Enroll now for May/Sep 2022 intakes with AECC Global - India's leading abroad education consultant who can chalk out a clear pathway for you towards your dream education in Canada.