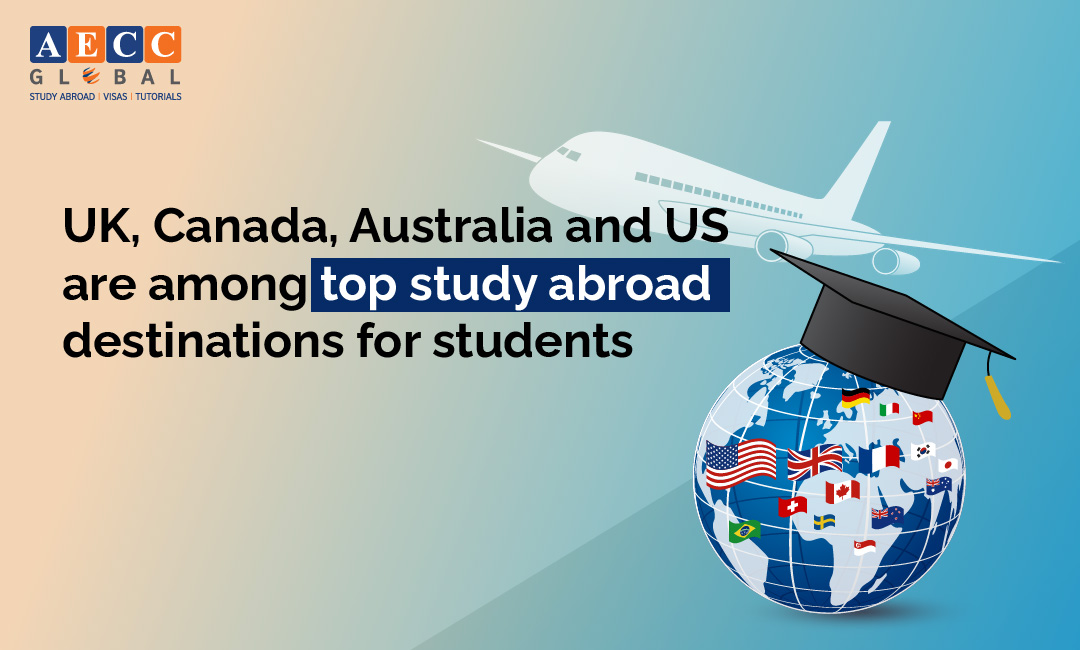 UK, Canada, Australia and US are among top study abroad destinations for students
AECC Global India . Study Abroad . Monday, 03 January 2022
The most popular study abroad destinations for Indian students have always been Australia, UK, US and Canada. All have a strong history of offering excellent education and have attained top rankings! We have prepared some critical information that you don't want to miss. Based on the students' applications for 2021, the
United Kingdom (32%), Canada (29%), Australia (21%), and the United States (18%)
are the popular study abroad destinations. BA, MSc Data Science, and Computer Science are the most popular programmes for study abroad, while MSc Management, Business Analytics, and Project Management have grown in popularity. This year has seen an increase in the number of students opting for specialised courses.


International experience helps you acquire a global perspective, which provides you with a competitive advantage once you enter the workforce. Studying abroad pushes you to venture outside of your comfort zone, encouraging you to acquire a realistic perspective. Among the benefits of studying abroad are diversified knowledge, cultural sensitivity, intercultural competency, global mentality, global network, new skill sets, new language, and flexibility. Global exposure can assist you to speed your professional advancement in today's corporate environment of innovations and competitiveness.


The United Kingdom is frequently named a top study destination, and for good reason. Its institutions are famous for their notable alumni, such as Isaac Newton and Mahatma Gandhi. The UK has a vibrant student life, and international students will find it a good location to explore the continent. Australia is chosen as the study destination primarily for the type of courses available in its many top-quality institutions. It has approximately 22,000 courses in 1,100 institutions, making it quite likely that the educational field you are pursuing is covered. Canada is well-known for having lower tuition fees than other top-ranked international education locations. The tuition for a master's program ranges from 16,000 to 30,000 CAD based on the university and the course offered by the university. How about studying in a city that never sleeps?  The USA, though considered as one of the most expensive countries to get an education, the country's diversity and global top ranked universities make it the top study destination choice for students.
As mentioned, every country has advantages in terms of education and lifestyle. Don't worry if you're perplexed! We at AECC Global are ready to give you professional advice and assistance in selecting the nation, university, and programmes that are most suited to you and your career objectives. Reach out to us

@
18005720022
number today and get yourself enrolled with us!