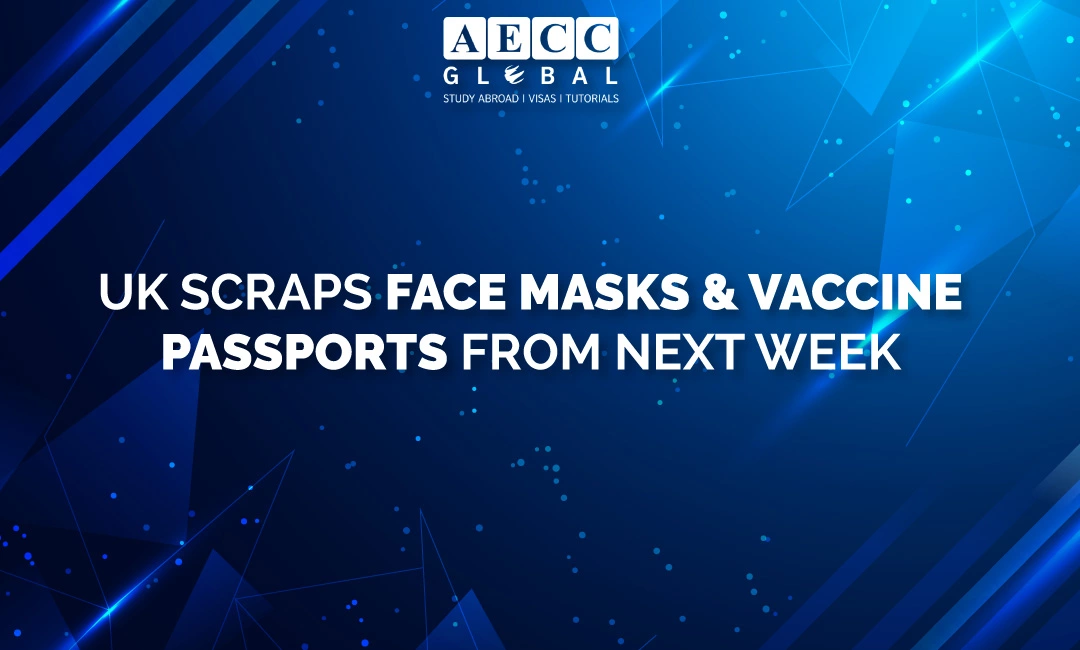 UK Scraps Face Masks & Vaccine Passports From Next Week
AECC Global India . Study in UK . Thursday, 20 January 2022

Prime Minister Boris Johnson declared that guidance to use face masks & Vaccine passports will be scrapped from 27th Jan 2022. In addition to that, employers are being asked to rip off work from home effectively from 20th Jan 2022.


The UK Government is continuing to lift restrictions for travellers and international students. Considering the safety, effort, time and money, several efforts are being taken by the government and universities. January is certainly an important month for international travellers where there is N
o COVID test upon arrival to the UK
. 
Following this announcement, Prime Minister Boris Johnson just announced about getting rid of vaccine passports along with the requirement to wear face masks anywhere indoors. Also, the guidance to 'work from home' has been dropped where the employers and international students who are having part-time jobs can resume their work in offices. 
Highlights of this announcement:
In legal terms, there is no mandatory need for facemasks with effect from 27 Jan 2022.

Further to this, commons are still advised to wear masks in crowded places, yet they will not be charged if they refuse to. 

Vaccine passports - documents that showcase that the particular person has received two doses of coronavirus vaccine - are also now scrapped off. However, it can be requested in the big venues if essential.
Every country has advantages in terms of education and lifestyle. Don't worry if you're perplexed! We at AECC Global are ready to give you the most required professional advice and assistance in selecting the right destination, university, and programs that are most suited to you and to your career objectives. Reach out to us @18005720022 today and get yourself registered with us!