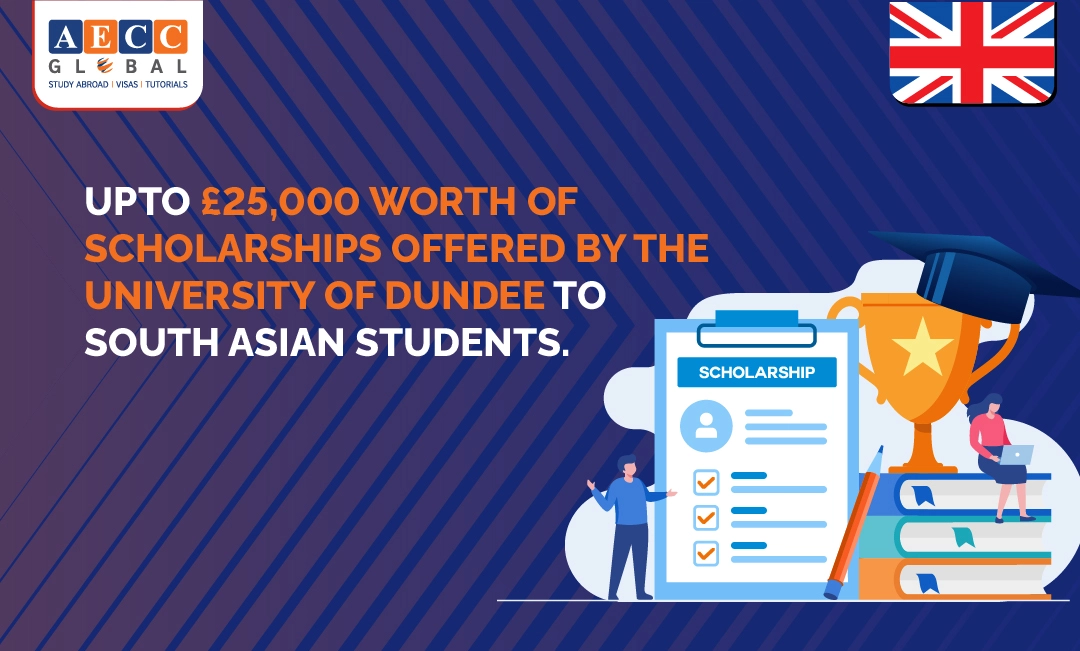 Upto £25,000 worth of Scholarships offered by the University Of Dundee to South Asian Students
AECC Global India. Study in UK. Thursday, 17 February 2022

The University of Dundee is offering a vice chancellor's scholarship to South Asian students who pursue UG and PG courses from September 2022 to January 2023. The scholarship awards are designed to offer from £5,000 upto a maximum value of £25,000.


The University of Dundee is one of the world's leading universities that offers quality education and top-class infrastructure to international students. The craze for University of Dundee among international students is increasing every year since it is one of the best research-based universities in Scotland. An amazing chance for. Exclusive scholarships upto £25,000 are announced for UG and PG aspirants who are willing to pursue their higher education in Univ of Dundee. 


Undergraduate students - £5,000 to  £25,000

Postgraduate students - £5,000
Students from countries like India, Bangladesh, Srilanka, Afghanistan, Bhutan, Maldives, Nepal, and Pakistan are eligible for these scholarships.
Other Eligibility criteria: 


International students who undertake 180-credit full-time course 

Aspirants need to prove their South Asian domicile with international fee status. 

For students who enrolled in a 2-year degree, the scholarship is applicable for both years. 
Eligible courses under this scholarship: 
Anatomy / Forensic Anthropology / Forensic and Medical Art, Architecture and Urban Planning, Art and Design, Biological/Biomedical Sciences, Biomedical Engineering / Medical Imaging, Business (Accountancy / Economics / Finance / International Business), Civil Engineering / Structural Engineering, Computing / Applied Computing / Data Science / Data Engineering, Education, Electronic Engineering, Energy Petroleum and Mineral Law and Policy, English, Geography / Environmental Science, History, Law, Liberal Arts, Mathematics, Mechanical Engineering / Industrial Engineering, Nursing and Health Sciences, Philosophy, Physics, Politics and International Relations, Psychology, Social Work.
Every country has advantages in terms of education and lifestyle. Don't worry if you're perplexed! We at AECC Global are ready to give you the most required professional advice and assistance in selecting the right destination, university, and programs that are most suited to you and your career objectives. Reach out to us at

7305318577

today and get yourself registered with us!