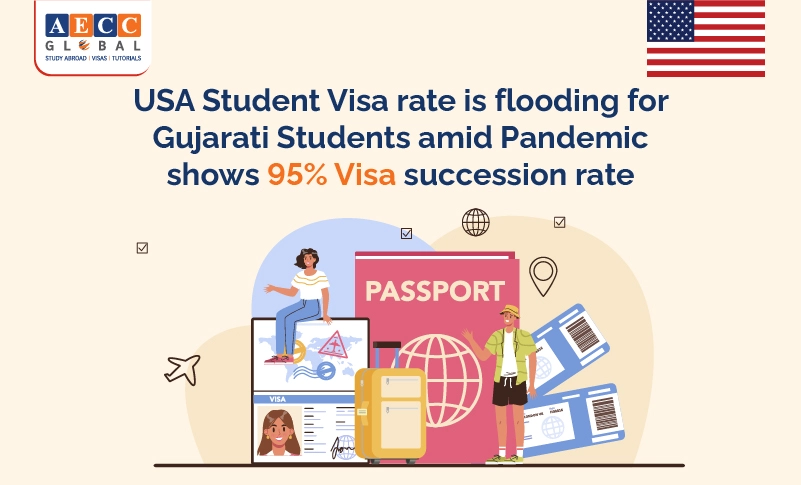 USA Student Visa success rate is surging at 95% for Gujarati Students amid Pandemic
AECC Global India . Study in USA . Tuesday, 18 January 2022

Despite the catastrophic damage done by the pandemic, students have emerged stronger as the USA student visa success rate from Gujarat increases during this time.  As the US becomes a prominent destination for international students, the country has sanctioned more student visa approvals than the previous years.  According to International education consultants, the recent spike in covid-19 infection hasn't dissuaded the students from opting USA as their study destination for acquiring knowledge.


Though Australia and New Zealand have had the profound interest of Gujarat students - the covid lockdown implications and travel restrictions have become one of the factors that have caused the surge in the interest of students towards the USA.  As per study visa consultants from Ahmedabad, "Indian students see the USA as their new ray hope", because of the continuous implication of travel restrictions and border closures by other countries making the student visa process impeccably hard.  Meanwhile,
the Visa success rate of Gujarat students going to the USA is 95%
and by far the all-time highest over the past decades.  Earlier visa rejections see the daylight and have been granted visas with proper quality measures during these pandemic times and the US Universities have been back on track.
  
The pandemic period has given a record-breaking positivity to USA education aspirants from Gujarat.  Between the period of 2015 to 2020, there were only about 40% of visa succession rates and according to the recent statistics, the figure has risen over to 95% giving hope to more students to apply for USA higher education.
  
Experience a hustle-free USA Study Visa process with AECC Global - leading abroad education consultant since 2008. Our services are absolutely FREE of cost. Reach out to us at

1800 572 0022

today and get yourself registered with us. Our USA education expert will contact you in no time! Read more about studying in the USA