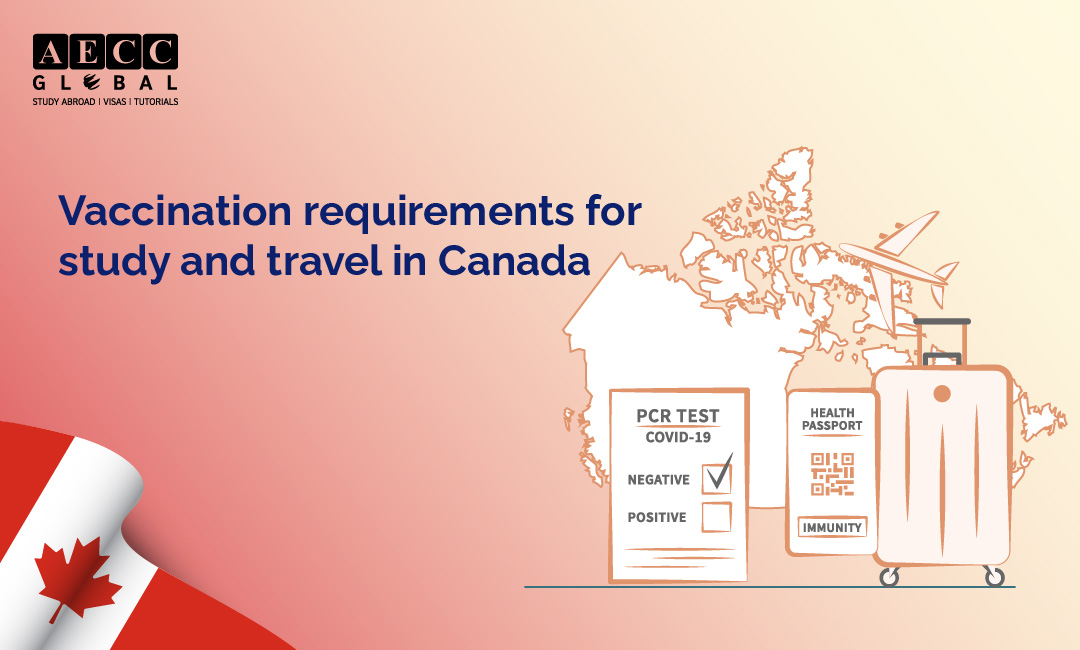 Vaccination Requirements for Study and Travel in Canada
AECC Global India . Study in Canada . Wednesday, 05 January 2022
Canada, like the United States, the United Kingdom, New Zealand, and other nations, has published a set of vaccination requirements for Indian visitors, including students. Covaxin, Moderna, AstraZeneca/Covishield, or a single dose of Janssen are among the Indian vaccines recognised in Canada. All overseas students must additionally provide proof of a negative Covid-19molecular test at the Delhi airport's Genestrings Laboratory before boarding the trip. The same must be consumed within 18 hours or 72 hours of boarding a direct trip or a connecting aircraft to Canada, respectively. 

It's highlighted that quick antigen test results would not be accepted as proof in Canada. Those who are not fully vaccinated would still be permitted to enter Canada, but they would have to satisfy certain other requirements. These prerequisites would include determining whether the university is a designated learning institution (DLI) with a Covid-19 preparedness plan and if so, bringing a valid student permit and an admission letter from the relevant university. Medical students accepted to a Canadian institution would also be required to complete a medical test.


From New Delhi to Toronto, the fastest non-stop flight takes around 14 hours and 45 minutes. On the flight, all passengers will have to complete a Declaration Card and if they are fully vaccinated.


Fully Vaccinated checklist for international students


 

Should be vaccinated at least 14 days before entering Canada

Must be vaccinated in any of the following vaccines:
Jassen/ Johnson & Johnson
To register and complete the ArriveCAN submission process and to submit the results within 72 hours.
If you are given a self-swab kit, follow the directions in the box to complete it within 24 hours of entering Canada, and arrange for it to be picked up as advised.
As mentioned, every country has advantages in terms of education and lifestyle. Don't worry if you're perplexed! We at AECC Global are ready to give you professional advice and assistance in selecting the nation, university, and programmes that are most suited to you and your career objectives. Reach out to us @

18005720022
number today and get yourself enrolled with us!